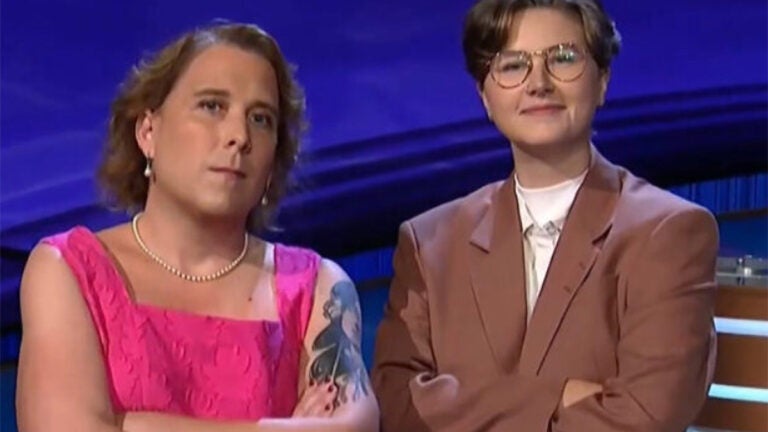 LGBTQ+ 'Jeopardy!' champions have all the answers during USC visit
Amy Schneider and Mattea Roach talk about their time on the popular television game show — and take on some trivia questions, too.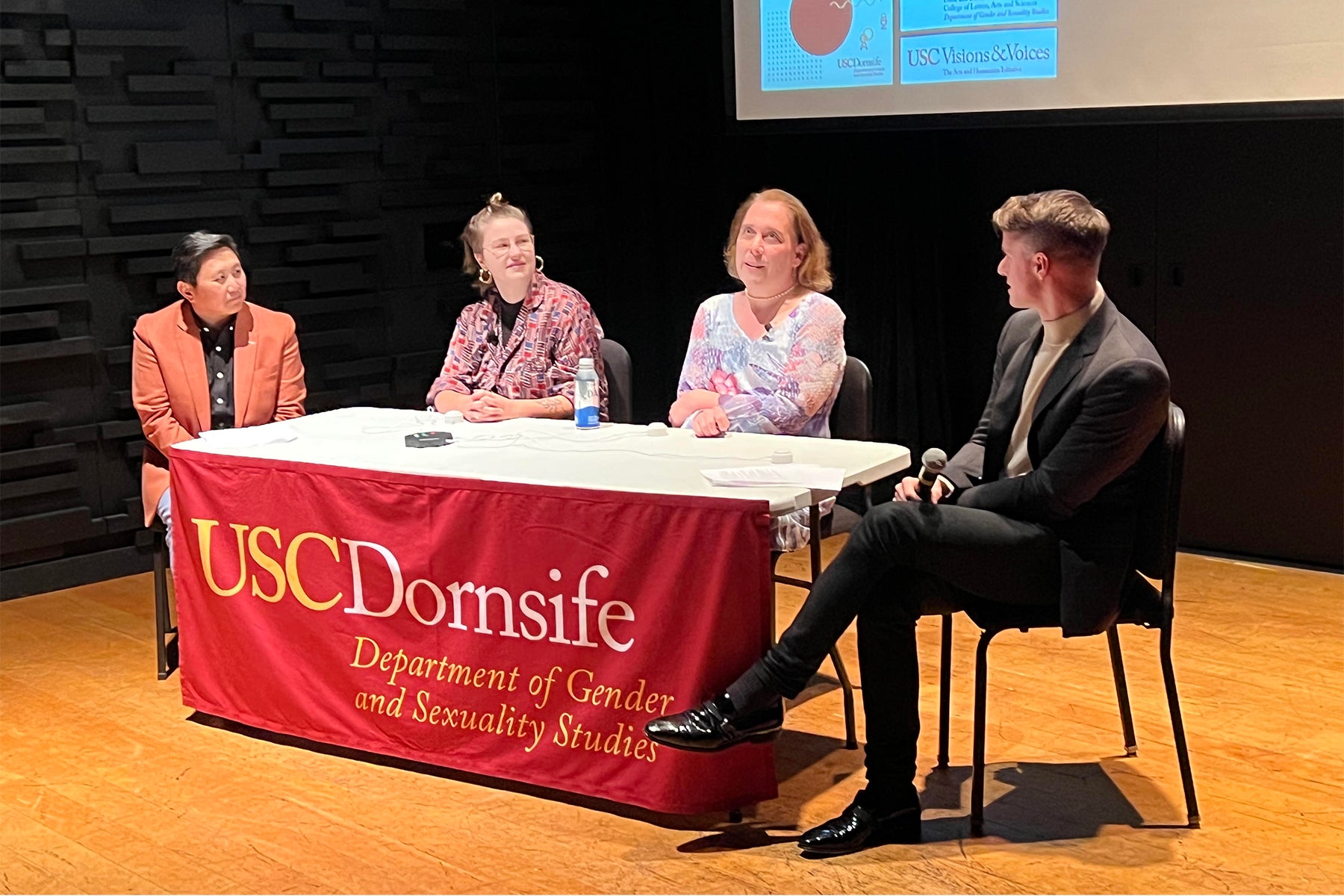 During the USC event "Queer Knowledges: LGBTQ+ Jeopardy! Super Champions," transgender contestant Amy Schneider shared that she knew the reaction to her gender identity "was going to be, like, a thing." But she had no idea how she would be received by viewers as she embarked on a 40-game winning streak on the TV game show.
"The scale of reaction was way more than I expected, and so was the positivity," Schneider said during last Friday's panel discussion in the USC Brain and Creativity Institute's Joyce J. Cammilleri Hall. "That was a very pleasant surprise. I expected the reaction to be a bit more mixed to a trans person being in public and being happy."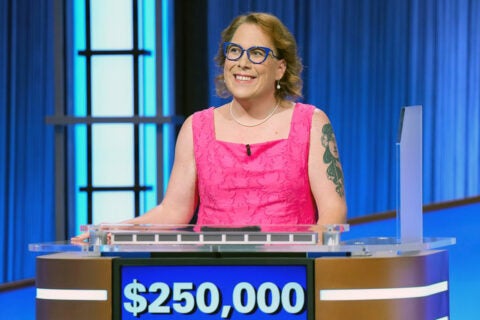 Schneider's string of wins from November 2021 to January 2022 is the second-longest streak ever on the show. She competed in the 2022 Tournament of Champions, and the $1.6 million she has won overall makes her the winningest female contestant in the show's history.
Fellow LGBTQ+ Jeopardy! champion Mattea Roach joined Schneider at the USC event. Roach — who began a 23-game streak in April 2022 and was on the show for a month — emerged as the most successful Canadian to ever play the game and placed sixth on the all-time list of regular season wins. The writer and podcast host also competed in the 2022 Tournament of Champions and has won a total of $560,983 on the show.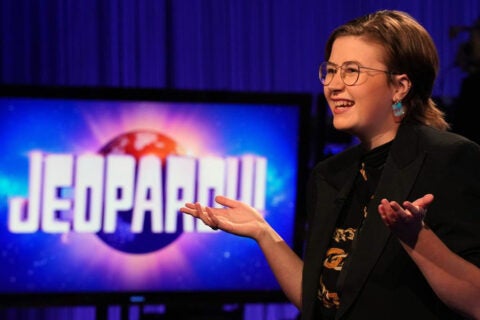 "You don't expect that you're going to go on a big run and that it becomes national news," said Roach, who identifies as lesbian. "People were getting Apple News alerts, which really surprised me. I didn't realize that I was still going to be being recognized on the street for Jeopardy! now and in America as well."
USC Professor Karen Tongson moderated the event along with former Jeopardy! contestant Louis Virtel, a gay comedian and writer who didn't win a game, but went viral in 2015 for his memorable finger snap after winning a coveted Daily Double.
"You made people really happy," Tongson said to the two champions. "Thank you for doing that and for being so public."
Schneider and Roach became friends while competing in the Tournament of Champions last year and are currently filming episodes of a new spinoff called Jeopardy! Masters. The upcoming prime-time competition on ABC features six of the highest-ranked Jeopardy! contestants facing off in two hourlong games.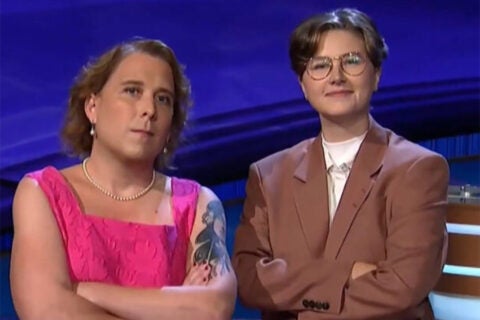 "I feel like there are so few people that have been able to do what we've done on the show," said Schneider, a former software engineer. "This connection has been really, really special."
In addition to discussing how they are handling their sudden fame, the champions shared with the audience how they prepared for their runs on the show, how they got along with fellow contestants and how they dealt with the pressures of a competitive environment that sometimes required filming up to five episodes in one day.
"This is a dream I've had essentially my whole life, so I was tense going in," Roach said. "If I lost the first game, that was it and it was over. I also knew that I was crushing the dreams of, like, 10 people a day."
LGBTQ+ Jeopardy! champions do what they do best
Toward the end of the evening, Schneider and Roach were put to the test with a lighthearted 20-question game of LGBTQ+ trivia, complete with buzzers. They correctly answered questions about Virginia Woolf, the novel Rubyfruit Jungle, the colors of the pride flag and a new stage production of Brokeback Mountain. Both champions and a contestant from the audience were stumped, however, on who was the first queer person to earn a Daytime Emmy Award nomination for outstanding game show host. The answer: Billy Eichner for Billy on the Street.
Tongson, a professor of gender and sexuality, English, and American studies and ethnicity at the USC Dornsife College of Letters, Arts and Sciences, said the event was a good opportunity to shine a spotlight on these LGBTQ+ champions at a time when state legislatures are proposing and passing hundreds of anti-LGBTQ bills around the country — many specifically targeting transgender people.
A wide swath of our culture admired their intelligence, and they are heroes who brought people together.

Karen Tongson, USC Dornsife
"These are people who the entire country rooted for during their long runs on the show," Tongson said after the event. "A wide swath of our culture admired their intelligence, and they are heroes who brought people together."
Audience member Paul Mendoza, a Los Angeles resident who made a special trip to campus for the event, said he has been a fan of Jeopardy! since childhood and had closely followed the runs of Schneider and Roach.
"It's really gratifying to see folks thriving and being successful while being very strongly rooted in who they really are," Mendoza said.
The event was presented by the Consortium for Gender, Sexuality, Race and Public Culture; the Department of Gender and Sexuality Studies at USC; USC Visions and Voices and the USC Sidney Harman Academy for Polymathic Study.