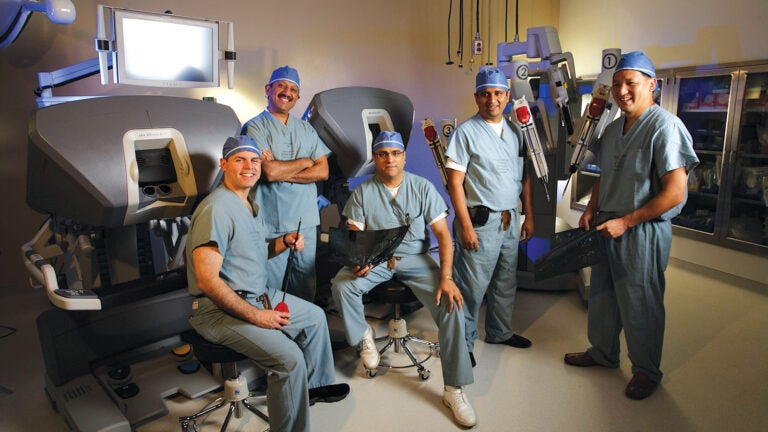 Groundbreaking Robot-Assisted Surgery Marks New Chapter for High-Tech Precision
Robotic surgery uses high tech to restore fatherhood and fitness to a man whose life was threatened by kidney cancer.
When his doctor found a tumor in Joseph LaStella's kidney, the Bakersfield, Calif., resident tried to cure himself using homeopathy. Rather than shrinking, though, the tumor began growing quickly. Within weeks, it had spread.
LaStella needed an operation, and he needed it soon. He turned to Monish Aron, a urologic surgeon at Keck Medicine of USC.
"My doctor told me that Dr. Aron is one of the best at robotic surgery and that I would be very lucky if I had him as my surgeon," says LaStella, a research engineer and entrepreneur. Robotic surgery sounded appealing because most patients bounce back quickly afterward, and they usually need less pain medicine, lose less blood and have less scarring than those who undergo traditional open surgery.
A self-described fitness buff, LaStella wanted to return to his workouts and, more importantly, get back to being an active father to his young son. "I was back on my bike two and a half weeks after surgery," says LaStella, now 73. A year and a half later, he's cancer-free and in top shape.
Aron says the number of patients coming to USC for robotic surgery has grown steadily in the four years he's been at Keck Medicine of USC. "The majority of patients now come here because they have been referred by doctors who know of our experience in robotic surgery," he says.
That experience is extensive. "Keck Medicine's surgeons have performed more than 2,500 robotic and laparoscopic kidney-saving surgeries for cancer, making us one of the most experienced groups in the country," says Inderbir S. Gill, professor and chairman of Keck School of Medicine of USC's Catherine and Joseph
Aresty Department of Urology. "In 2013, Keck Medicine urologists performed well over 700 robotic surgeries, accounting for roughly three-quarters of all urologic cancer surgeries performed at USC."
In addition, the team has vast experience with robotic surgeries for prostate and bladder cancer. Together, their experience with robotic and laparoscopic surgeries includes more than 6,000 prostate cancer cases and more than 250 bladder cancer patients.
Aron and Gill, who were previously at the Cleveland Clinic, note that experience is just as important when it comes to robotic surgery as it is with open surgery. Sure, the robot helps surgeons see clearly and up close in three dimensions, and it eliminates any hand tremors, Gill says, "but it is still the surgeon's knowledge and skill that determine the outcome of the surgery."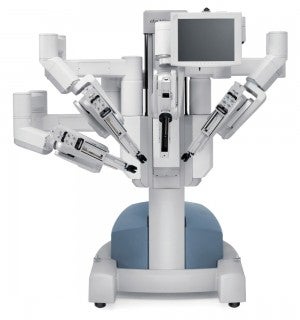 The department claims several significant "firsts" in the field as well, including developing a surgical technique that can protect the kidney from what doctors call ischemic damage—injury that occurs when the organ doesn't get the blood it needs. Called zero-ischemia surgery, it enables surgeons to remove tumors with- out cutting of the blood supply to the kidney. They also conduct their minimally invasive kidney surgeries through tiny incisions in the belly button, which hides scars.
These attention-grabbing techniques may have earned the department a world- wide reputation as a leader in treating kidney cancer, but the physicians have made other breakthroughs too. Under now- retired department Chair Donald Skinner, the surgeons became known for their inventive bladder cancer treatments. Tat carries on today through Keck Medicine surgeons' robotic reconstruction work. The team is one of very few in the U.S. that can robotically construct a new bladder from a piece of intestine completely inside the abdominal cavity—a feat that may help preserve the patient's quality of life.
These innovative procedures have drawn surgeons from other parts of the country and the world to watch and learn. Last year, their robotic surgeries were telecast to nine international and national surgical conferences, educating other surgeons so they can help patients worldwide.
LaStella is living proof of that success. In LaStella's case, Aron used surgical tools held by a robotic arm to perform a radical nephrectomy, or kidney removal, as well as an inferior vena cava tumor thrombus excision—the removal of a tumor in the vena cava, the vein that carries blood back to the heart. Aron extracted the tumor through a 3-inch-long incision in LaStella's abdomen, with the help of a tiny camera and other tools inserted into other small incisions.
As a group, Keck Medicine's surgeons have developed a particular expertise in partial nephrectomies, having performed more than 2,500 of them using robotic and laparoscopic equipment. Partial nephrectomies allow them to remove just the diseased part of the kidney, rather than the whole organ, which benefits patients' health for the rest of their lives.
As he'd hoped, LaStella was in the hospital for only three days, and the semi- retired engineer and inventor was back to working on his latest project and playing with his son much more quickly than patients could ever hope for in the past.
"Being told you have cancer, everything goes through your mind. I wanted to get through this and get through it quickly, not just for myself but for my wife and son," LaStella says. "I knew that I was in good hands at USC."
Now the only thing that will land LaStella back in the hospital is his heavy- duty workout routine, he says with a laugh. He recently competed on a television show called American Ninja Warrior, which pits competitors against one another on an obstacle course in a contest that's billed as "the toughest challenge on earth."
"That was the most grueling thing I have done in my life," he says. To have the opportunity to compete and to continue to be father to his son is a gift that he got from his USC surgeon.
"I honestly believe I would not be here if it weren't for Dr. Aron," LaStella says. "They say he is the best at what he does, but he is also a wonderful person. He really listens to his patients and he cares."