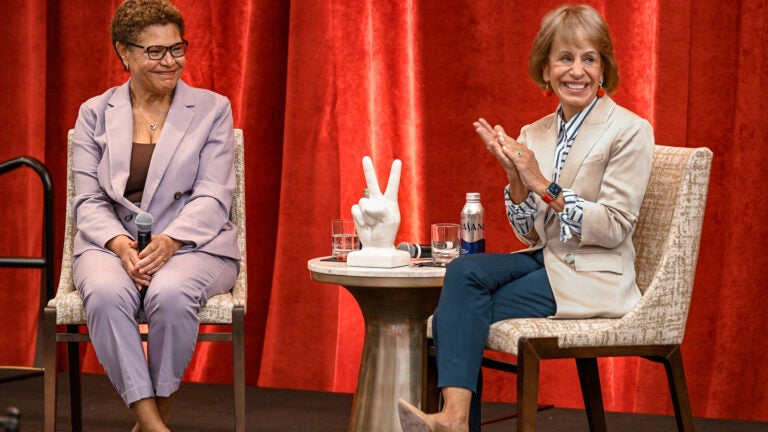 Linked through mission, L.A. and USC bring medicine and housing to the homeless via Street Medicine
A "fireside chat" between USC President Carol L. Folt and Mayor Karen Bass reinforces the university's collaborative work with the city in a united quest to care for the unhoused, whose numbers have increased since COVID.
With more than 76,000 people living on the streets of Los Angeles and neighboring cities, homelessness looms large in the region's public consciousness.
"The homeless population is probably something that everyone in this room thinks about every morning that they wake up," USC President Carol L. Folt said, nodding at L.A. Mayor Karen Bass and more than 260 medical professionals and advocates attending the 5th annual California Street Medicine Symposium on Friday.
The homeless population is probably something that everyone in this room thinks about every morning that they wake up.

Carol L. Folt, USC president
Folt and Bass met for a "fireside chat" at the symposium, which also drew more than 160 virtual attendees. Their joint appearance symbolized a growing collaboration between the city — as Bass works intensely to house and provide services to the unhoused — and the university, whose Street Medicine teams are providing daily, mobile care to thousands of homeless people and training other teams around the state.
"We really must set the pathway for ending homelessness," Bass said. "That has to be our orientation.
"I drive down a street and I see a tent and I think I have no right to think that I can't move forward and I can't do things," Bass said.
Folt noted the mayor's background in health care. Bass, a former physician's assistant and nurse, has encountered the tragic realities of daily life in L.A. in the emergency room.
"Working in the emergency room, you have a different viewpoint," Bass said, noting that her constant exposure to medical emergencies give her confidence that it is possible to solve homelessness.
"When people come up to me all freaked out about homelessness or other issues, I think, 'Do you have a pulse?' We can manage this," Bass said. "It helps to lower the temperature and calm people down and say: We can do this. We are the richest country in the world. We can do this."
L.A. funding for USC Street Medicine program
Earlier this summer, the L.A. City Council approved $4 million in new funding for USC Street Medicine. Co-directed by Brett Feldman and Corinne Feldman, the program operates four full-time teams who wind their way through L.A. streets, to stop and provide medical care to unhoused people throughout the city.
USC Street Medicine teams consist of physicians, physician assistants, medical assistants and nurses, as well as a social worker and psychiatrist "who meet people where they are at," said Brett Feldman, explaining the program's mobile model of health care in the streets. Feldman runs the program with Corinne Feldman, a physician's assistant, who oversees education and training. They are married — a power couple of Street Medicine who provide not only medical aid but compassion and love to people who may feel they have none. Through their annual symposium, they connect with and train other street medicine teams from across California, which is home to an estimated 30 such teams.
"Heart speaks to heart, as you say, Brett," Folt said after he introduced her to the crowd.
Feldman noted that with Folt's leadership, the university allowed USC Street Medicine to lead legislation, AB 369, to seek reimbursements for street medicine care. After some effort, the university, USC Street Medicine and the Street Medicine Institute pivoted the effort instead to change Medicare rules.
They succeeded.
In June, the federal Centers for Medicare and Medicaid Services officially recognized that medical care can be delivered on the street. The decision makes it possible for street medicine teams to be reimbursed for services, removing a significant obstacle to treatment.
Taking medical care to the streets
The Street Medicine teams provide on-site primary care and treatment for psychiatric disorders and substance use disorders, dispensing medications, tending wounds and performing blood draws. Through their work, the medical teams become very close to many of the patients, helping many rise from hardship, while seeing others stumble, fall or, sadly, pass on. All the same, the teams are there to aid them.
Each team cares for approximately 400 patients a year and provides around 2,500 patient visits per year. The program has been shown to decrease hospitalizations by over 70%.
Working with unhoused patients also intricately links these teams to the city's efforts. The teams serve as a conduit to housing, with almost 40% of all people seen being placed in transitional or permanent housing, including the mayor's Inside Safe program.
Months earlier, after Bass was sworn in as mayor, she declared a state of emergency in L.A. for homelessness. The move freed up funds and other resources for the city to launch the Inside Safe program to house the unhoused in motels.
We are dispelling the myth that people want to be in the street.

Karen Bass, Los Angeles mayor
"Inside Safe — it's not rocket science," Bass said. "It's spending a few days going out and asking people if they want housing. We are dispelling the myth that people want to be in the street. People don't want to be in the street. I never believed they did."
Bass explained that the two missions — housing and medicine — go hand in hand. "The day you come out of the tent is the day you should have a full physical and mental health assessment," Bass said, adding that is why she wanted the city to collaborate with USC Street Medicine.
Caring for the unhoused forges for many of the physicians a transcendent connection between the teams and their patients. Patients often list the providers on their documents as their first phone call or surviving kin, underscoring their profound relationship.
After the fireside chat, Corinne Feldman acknowledged that the teams who have devoted themselves to the mission of street medicine endure trauma and grief, losing patients to illness, violence and injustice. (See below.)
She invited attendees to pluck a ribbon from the bowls she had set on the tables, and to write with markers the names of patients whom they loved and lost. The ribbons will be gathered and made into a wreath that will hang on the wall of USC Street Medicine's offices.
"We invite you today to let suffering speak," she said.
---
'Remembrance' by Corinne Feldman
Corinne Feldman read this to the audience after the fireside chat.
"In my experience, one of the most disorienting parts of this work has been the inexplicable loss of precious life to the streets — passings which are often unceremonious, unnoticed, uncounted and unaccounted for.
"And when they are counted, lives are reported as aggregated numbers, metrics or costs — nameless and faceless.
"The lives of those who were unsheltered and the street-based teams who have come to know them are intricately interwoven. The nature of street-based work is bidirectionally rehumanizing and humbling.
"The teams witness the complexity, intolerability and devastation often borne by nearly always choosing between two impossible choices.
"And in many instances, it is a team member that is listed in a medical chart as next of kin, are the recipient of final phone calls or are the hand-holder of a terminally ill person who didn't want to die alone.
"So, what we are often left with is unexpressed love. The tension between holding it all in, and letting it all out. In other words, grief.
What if grief was no longer expected to be a solitary burden to carry alone … but rather something that could be collected, shared and held by many hands?

Corinne Feldman, USC Street Medicine
"But what if grief was no longer expected to be a solitary burden to carry alone, layered one by one onto a tiny, but sturdy, frame until it breaks, but rather something that could be collected, shared and held by many hands?
"Collective grief is justice. It is community. And it is loud because it stands in the way of the belief that no one cared anyway. That no one would miss them. No one loved them and therefore no one would grieve.
"Philosopher Cornell West teaches that in order to become a 'prisoner of hope,' we must 'wrestle with despair.' Hope is a product of witness, of being in the mess. Hope is not the product of being a spectator.
"And from that vantage point, we must be unwavering in letting suffering speak, in order to hear truth.
"So, we invite you today, to let suffering speak. To remember. First by participating in a collective remembrance project. On your tables, you will find ribbon and markers. We invite you to write the name of a person, whether patient, family, friend or neighbor, who has died on our streets.
"If you are joining us virtually, we welcome those names to be put in the chat and we will write the names for you. These ribbons will be collected today and placed on a remembrance wreath that will be displayed in the division of Street Medicine at USC and brought yearly to this symposium so we may continue to honor those who have departed."