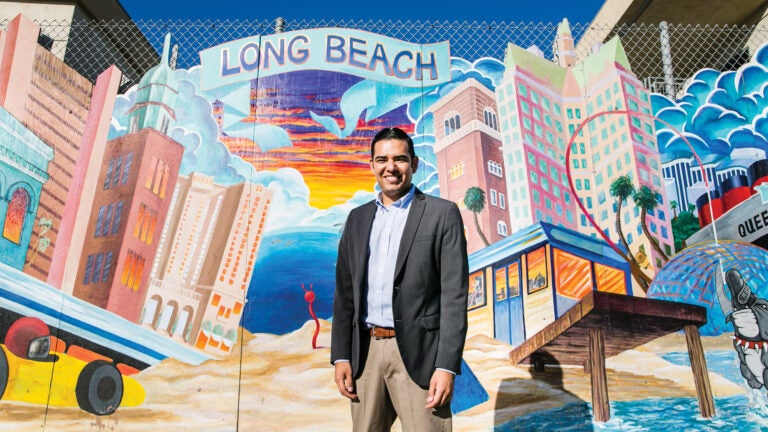 Long Beach Mayor Journeys From Classroom to City Hall
A USC Annenberg alum-turned-instructor brings his teaching skills to his job as mayor of the nation's 36th-largest city.
His five and a half years on the Long Beach City Council introduced Robert Garcia MA '05 to the players and departments that keep the California city running. But an entirely different experience trained him for his stint as the city's mayor: his time in front of a classroom.
"Teaching was by far the thing that prepared me the most for being mayor," says the 37-year-old Garcia, the youngest leader ever to take the helm of Long Beach. "Teachers have to be good listeners, experts on subjects and willing to work within a specific structure."
Garcia says he feels drawn to teaching because of his own positive experiences as a student.
He emigrated from Peru to California when he was 5, and is the first in his family to graduate from college. He earned his bachelor's from California State University, Long Beach before he headed to the USC Annenberg School for Communication and Journalism for a master's in communication management. A doctorate in higher education at Cal State Long Beach prepared Garcia to start teaching and mentoring students at USC Annenberg. He also found time to start a community news organization, the Long Beach Post, in 2007. (He gave up editorial control in 2009 when he joined the city council.)
When Garcia became mayor last fall, it was the first time in 10 years that he wasn't working on a college campus. He's determined to get back once his term is over—if not before. He's considering integrating a course into his schedule as early as fall 2016. "I love students and teaching," he says, "and I love the university environment."
But for now, his focus is Long Beach, which Garcia believes to be "the best city in the country." The American Dream is alive and well in his community, he says. "I come from a blue-collar immigrant experience, and I found success and acceptance in Long Beach. There are lots of people here like that—you could be from any background, any place and succeed in this city."
Garcia intends to take Long Beach out of the shadow of Los Angeles by attracting innovative companies, growing tourism and cleaning up the environment. He wants the rest of the country to know that Long Beach is a big city (as the 36th-largest city in the country, it has a bigger population than Miami, Minneapolis or Atlanta) and that its seaport, when combined with the Port of Los Angeles, makes the largest port complex in the country. Together they take in 40 percent of all goods shipped to the U.S.
What Garcia appreciates most about Long Beach is its sense of community. Every neighborhood has its own association, and they're strong and organized. "People look out for their neighbors here," he says. "It's one of the most welcoming, progressive, thoughtful places anywhere."