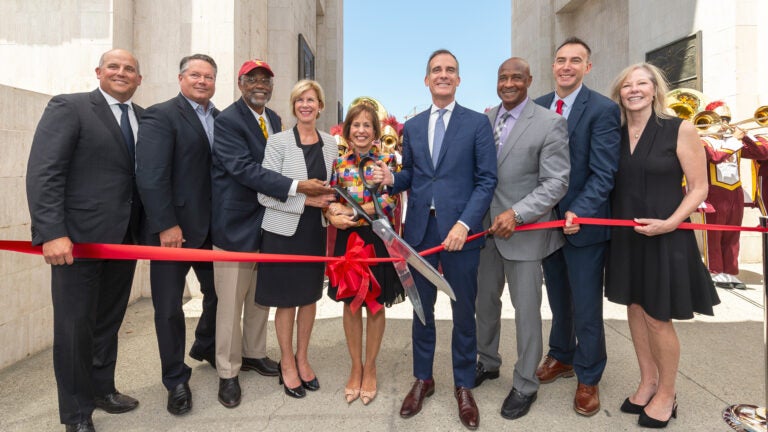 USC, L.A. leaders reintroduce the renovated Coliseum
The completed $315 million project — funded via private donations, including United Airlines' naming gift — prepares the stadium for its next 100 years.
Looking better than ever despite being nearly a century old, the renovated United Airlines Field at the Los Angeles Memorial Coliseum made its public debut at Thursday's gala ribbon-cutting.
"Today we celebrate what our city leaders, our local community and the larger Trojan Family can accomplish when we work together and dream together," USC President Carol L. Folt told the hundreds of people gathered at in front of the stadium's signature peristyle.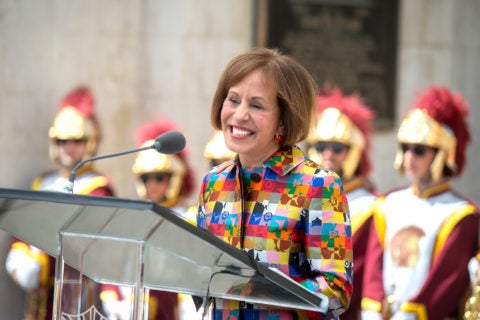 The $315 million project — which Folt noted was funded entirely through private donations, including United Airlines' naming gift — prepares the stadium for its next century, with structural and aesthetic improvements throughout. Perhaps most importantly, though, the venue continues to honor veterans.
Highlighting the project is the Scholarship Club Tower, with its state-of-the-art press box, Founder's Level suites and rooftop deck for football watching and other events. There are new seats throughout the stadium, each with their own cupholder. Additional aisles and railings have been added for safety purposes, and spectators will enjoy enhanced Wi-Fi and cellphone service.
Many concession stands have received a facelift, and new TVs and speakers will allow fans to keep up with the game while they're getting food or visiting the restroom.
For the home team, the locker room has a bright new look with updated lockers, flooring, paint and graphics — no such luck for the visiting team.
And there's more to come: Renovations to the stadium's restrooms are in the works.
Los Angeles Memorial Coliseum: more than a sports venue
In thanking the Trojan Family and everyone else who made the long-discussed renovation happen, Los Angeles Mayor Eric Garcetti noted the historic nature of Thursday's ceremony.
"In Los Angeles, we don't just mark history — like we're doing here — but we make history," he said.
County Supervisor Janice Hahn, president of the Coliseum Commission, also thanked USC for stepping up to preserve the storied structure.
"The Los Angeles Memorial Coliseum is more than just a sports venue. It's a living war memorial," she said.
[iframe src="https://e.infogram.com/c3e93de2-44d7-4dc4-8bab-2f1300d12146?src=embed" title="Coliseum – Facts" width="611″ height="635″ scrolling="no" frameborder="0″ style="border:none;" allowfullscreen="allowfullscreen"]
[/iframe]
The 18-month project had its challenges: Not only is the building 96 years old but work had to be scheduled around Trojan and Rams football games. The Rams' postseason success further reduced the construction schedule, removing a month from the timetable.
The historic venue, originally dedicated to local veterans of World War I, was rededicated in 1968 to honor all veterans of that war. In addition to sporting events, it has hosted notable appearances by John F. Kennedy, Martin Luther King Jr., Pope John Paul II and Nelson Mandela.
The stadium is jointly owned by the state, county and city of Los Angeles and is managed by USC under a lease that extends through 2111.