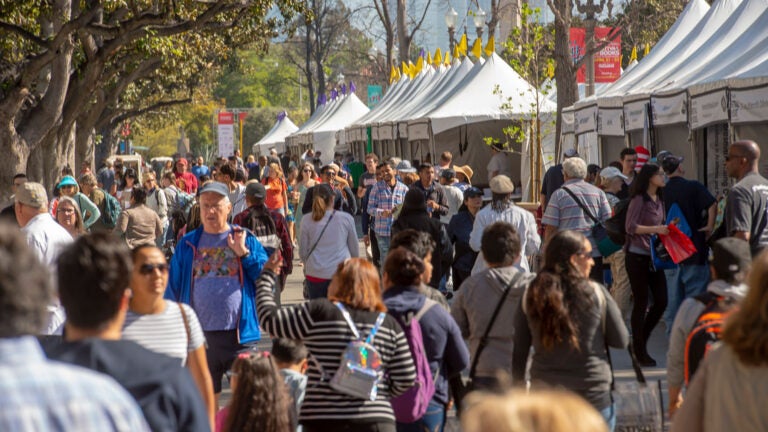 This year's Los Angeles Times Festival of Books to be held online
The event — the nation's largest literary and cultural festival — traditionally draws more than 150,000 people to the USC University Park Campus.
The Los Angeles Times Festival of Books — the largest literary and cultural festival in the nation — will be held online this year rather than at the USC University Park Campus.
The event, in its 25th year, traditionally takes place in April but had been rescheduled for Oct. 3 and 4 due to the COVID-19 pandemic. Last year's event drew more than 150,000 attendees over two days to the University Park Campus, the festival's home since 2011.
The festival will launch Oct. 18 and continue online for four weeks, according to the Times.
"Over the years, festival-goers have listened to Eric Carle read about a ravenous caterpillar, the late Congressman John Lewis discuss his lifelong work for racial equality, Julie Andrews reminisce about the Swiss Alps, Luis J. Rodriguez wax poetic about life in Los Angeles, [USC Professor] Viet Thanh Nguyen expound on reclaiming historical narratives, Padma Lakshmi dish on food and life, and gone home inspired," according to a Times statement.
"This year, the festival will make that kind of inspiration accessible from home."
The Festival of Books is a partnership between the Times and USC. In April, a dozen authors were awarded this year's Los Angeles Times Book Prizes, awards that are usually presented during the festival.
Next year's festival is scheduled to take place on the USC campus on April 17-18.
---
Read more on the Los Angeles Times website.