L.A. Times Festival of Books kicks off Sunday with compelling discussions — and the Trojan Marching Band
The festival — usually held on the USC University Park Campus — features more than two dozen online events over four weeks.
The Los Angeles Times Festival of Books — the largest literary and cultural festival in the nation — gets underway Sunday with four weeks of online events through Nov. 13.
Opening festivities at 10 a.m. Sunday will feature USC President Carol L. Folt, the Trojan Marching Band and Times columnist Patt Morrison.
The festival, in its 25th year, traditionally takes place in April on the USC University Park Campus but was rescheduled due to the COVID-19 pandemic. Last year's event drew more than 150,000 attendees over two days to USC, the festival's home since 2011.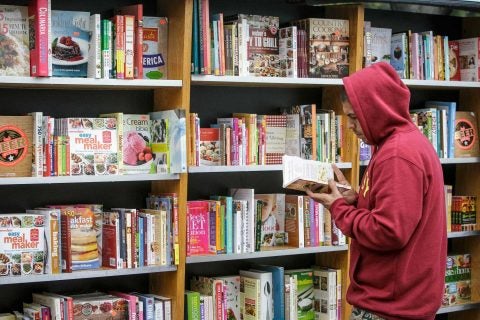 This year's schedule of events — all free to the public — features 25 panels and readings over 25 days, highlighting writers, poets, artists, storytellers and bookstore exhibitors.
Discussion topics range from presidential politics and romance novels to race and immigration in Los Angeles. Speakers, readers and panelists include former California Gov. Jerry Brown and authors Brandy Colbert, Jennifer De Leon, Attica Locke, Rachel Howzell Hall, Shaun David Hutchinson, Ivy Pochoda and Zan Romanoff, as well actor/authors Natalie Portman and Henry Winkler.
Festival of Books also features USC professors and performers
Other panel participants include USC's Manuel Pastor, Bob Shrum and Pulitzer Prize-winner Viet Thanh Nguyen, along with Times writers Gustavo Arellano and Esmeralda Bermudez, a USC alumna.
In addition to the Trojan Marching Band on Sunday, students from the USC Kaufman School of Dance will perform at 5 p.m. Nov. 6.
The complete schedule is posted on the festival website, where you can preregister for each event.
The Festival of Books is a partnership between the Times and USC. In April, a dozen authors were awarded this year's Los Angeles Times Book Prizes, awards that are usually presented during the festival.
Next year's festival is scheduled to take place on the USC University Park Campus on April 17-18.