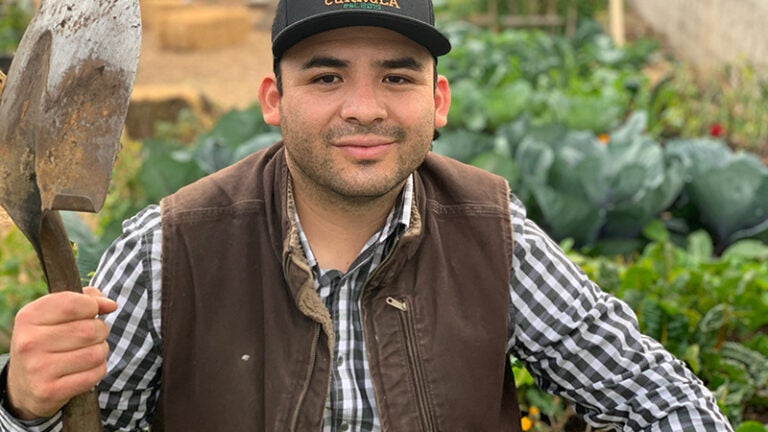 How to Make Los Angeles Greener? Urban Gardens Could Help
Jose Miguel Ruiz inspires sustainable renewal through onions, celery and Swiss chard — and it's happening one empty lot at a time.
Some 600 years ago, the Aztec city of Tenochtitlan — now modern-day Mexico City — kept its approximately 200,000 inhabitants fed through the use of "chinampas." These small, elevated gardens wound through neighborhoods in a thread of green islands, providing enough tomatoes, beans and other sustenance to keep everyone nourished.
If Jose Miguel Ruiz MSW '17 had his way, Los Angeles may someday mirror Tenochtitlan. "There's 59,000 acres of unused space across the city. If we scratch 5% or 10% of that and turn it into growing land, that's an impact," he says.
He's the mind behind CultivaLA, a nonprofit transforming agriculture through urban gardens scattered in tiny, ignored corners of Los Angeles' sprawl. Its members are working-class residents. Ruiz calls them "cultivadores" — meaning farmers or growers in Spanish — to honor how they cultivate both the earth and their community. These gardeners grow nutritious produce for themselves and neighbors on land maintained by CultivaLA.
Urban Gardens Grow in Los Angeles with USC Alum's Help
Ruiz's grandparents were farmers in Puebla, Mexico, and his father picked peaches in California's Central Valley as he dreamt of tending his own small plot of land.
The family immigrated from Mexico to Los Angeles when Ruiz was 2 years old, without documentation. Ruiz was one of many whose lives hang in the balance without citizenship. Luckily, as Ruiz prepared for college, he connected with a nonprofit organization that found him a pathway to legal status through his father's work experience as a field laborer.
She just said: 'Here's $1,000. Let's make it happen'. It was that seed money that really made me believe that we could build a nonprofit here to drive change.

Jose Ruiz
Ruiz enrolled at the University of California, Santa Cruz, where he majored in psychology and took courses in agroecology and sustainable food systems. He spent most of his time in the university's extensive gardens and campus research areas. Walking among the California redwoods, he pondered how to bring the joy of gardening into urban life.
After graduation, he headed to the USC Suzanne Dworak-Peck School of Social Work for a master's in social work. He met Pierrette Hondagneu-Sotelo, the Florence Everline Professor of Sociology at the USC Dornsife College of Letters, Arts and Sciences, who enthusiastically supported Ruiz's vision of creating an urban, community-building agricultural model.
"She just said: 'Here's $1,000. Let's make it happen,'" Ruiz says. "It was that seed money that really made me believe that we could build a nonprofit here to drive change."
Putting Down Roots in L.A. with Urban Gardens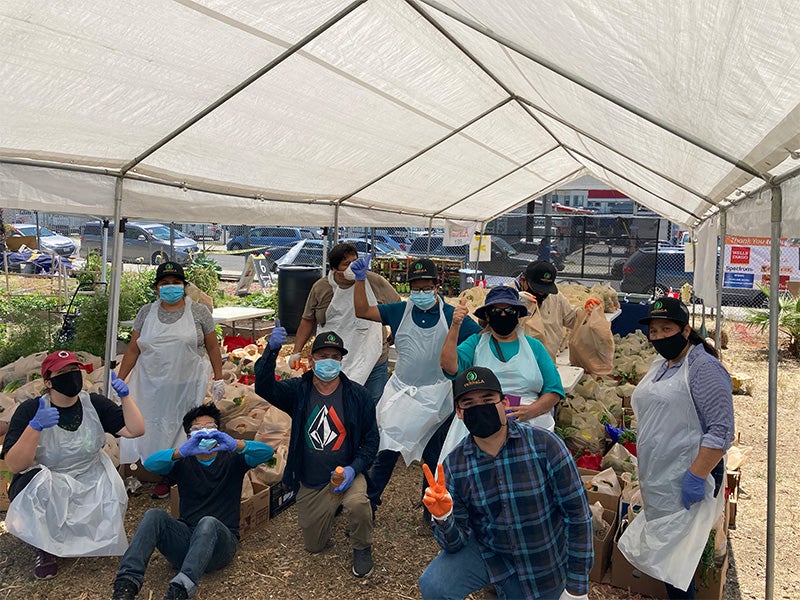 Working with L.A. City Councilmember Gil Cedillo, they identified their first piece of land: a 0.16-acre patch wedged in front of the Rampart Division police station and facing a U-Haul office. In 2019, CultivaLA sprang to life. Now the garden boxes at this Westlake location overflow with herbs and produce, some of which originate from the homeland of the many immigrant cultivadores.
Even a pandemic couldn't stop the garden from thriving. Participants grow Swiss chard, onions, celery and more to fill grab-and-go bags for families hit hard by COVID-19. Watering days continue, with Ruiz's mom pitching in to douse beds of cilantro.
Working with civic leaders across L.A., CultivaLA has renovations underway at its second site: Union Avenue/Cesar Chavez Community Garden, located south of MacArthur Park. A 4.5-acre farm will soon break ground in South El Monte. As the island chain of urban gardens in Los Angeles emerges like the chinampas of Tenochtitlan, Ruiz is on his way to bringing people closer to the land — and to one another.