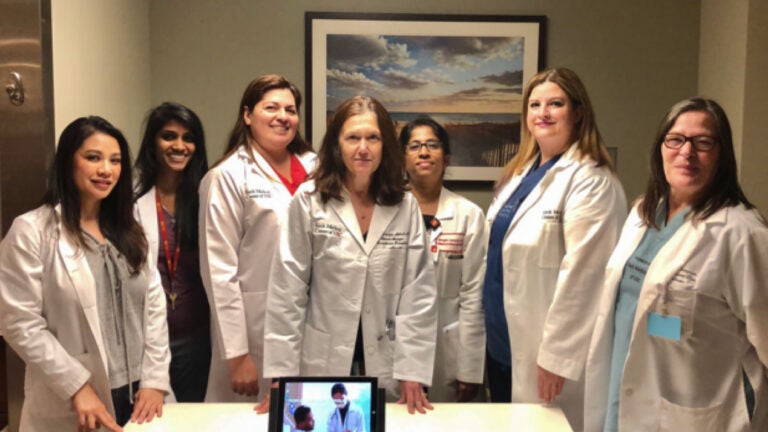 Bluetooth program gives lung transplant patients brighter outlook
Electronic tablet allows patients to log medical information and view educational videos, which leads to fewer problems and readmissions
A pilot program conducted by Keck Medicine of USC has succeeded in alleviating problems faced by patients on post-lung transplant regimens.
A failure by the patients to monitor their health and stick to medication schedules can lead to serious complications — from infection to rejection of a transplanted lung.
Cardiothoracic Transplant Manager Felicia Schenkel is the lead investigator on the pilot program that has success in preventing readmissions. There are currently 18 patients in the program, ranging from a few months to one year after transplant.
Each patient has been issued a Bluetooth-enabled electronic tablet that allows them to log a variety of information on a daily basis, including medications they've taken, weight, blood pressure, blood glucose and lung function tests. In addition to monitoring trends over days or months, the system has automatic triggers. If a patient's daily blood glucose is too high, for example, an alert goes out to the care team. The team can then act quickly to assess the problem and manage the patient's symptoms.
Patients can use the tablets to download educational videos about their transplant care — and the Keck Medicine team can see if they have actually watched them. Patients can even speak to a member of their transplant team, including their registered nurse coordinator, dietitian or social worker via video chat, as needed.
Lung transplant recovery: High satisfaction with pilot program
Patients in the program report a high satisfaction with the program because it reduces the need for in-person hospital visits while offering the benefits of increased regular contact with their medical team.
They feel safe and connected.

Marian Duong
"They feel safe and connected," said Marian Duong, a cardiothoracic transplant nutritionist.
The program also encourages patients to take an active role in maintaining their health, which in turn makes patients more likely to comply with their post-transplant management. The Keck Medicine team can reinforce that positive action by sending out congratulatory messages when patients reach key recovery milestones to help them stay motivated and on-track.
In addition to reporting vital statistics, patients in the program fill out daily questionnaires about symptoms — a process that has proved to be valuable in heading off possible problems. In three cases, the team picked up on transplant rejection earlier than they would have otherwise.
Breaking social barriers
The program can even help break past social barriers to getting proper care. Patients often don't want to bother their medical teams with what they worry may be trivial symptoms, but they do feel comfortable logging them into the daily questionnaire. One patient's abdominal pain helped the team catch a serious problem requiring surgery before it became more serious. Overall, the program has proved to be worthwhile in multiple ways.
"Patients taking part in the study experienced fewer readmissions and shorter hospital stays compared to the control group," Schenkel said. "This program has also demonstrated to be more cost-effective than conventional care."
Schenkel believes the program has a potential to improve patient education, compliance and satisfaction with post-transplant care. Results from the lung pilot project look promising enough that the technology may be applicable to other types of solid organ transplantation, such as heart and liver.
The team's success in early findings has led to an invitation to make a presentation at the annual meeting of the International Society for Heart and Lung Transplantation in Nice this month.