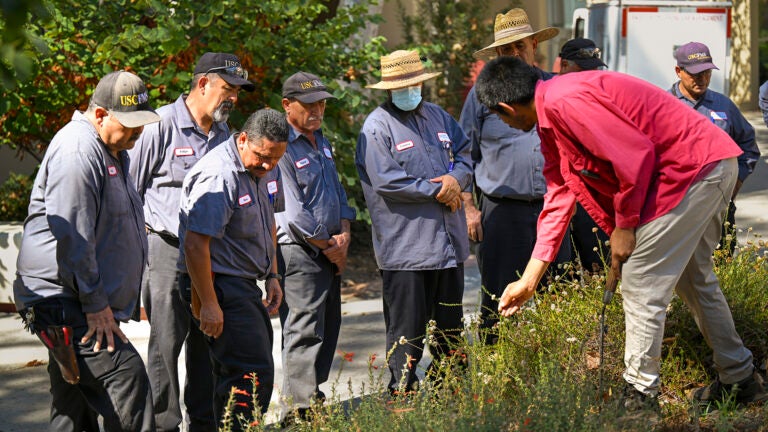 Making the future look more like the past, USC landscapers learn to nurture native plants
GREEN WEEK: Some native plants are shady characters; others worship the sun. Some look dead, but they're just sleeping in the summer heat. It takes a knowledgeable landscaper to sort things out and keep them alive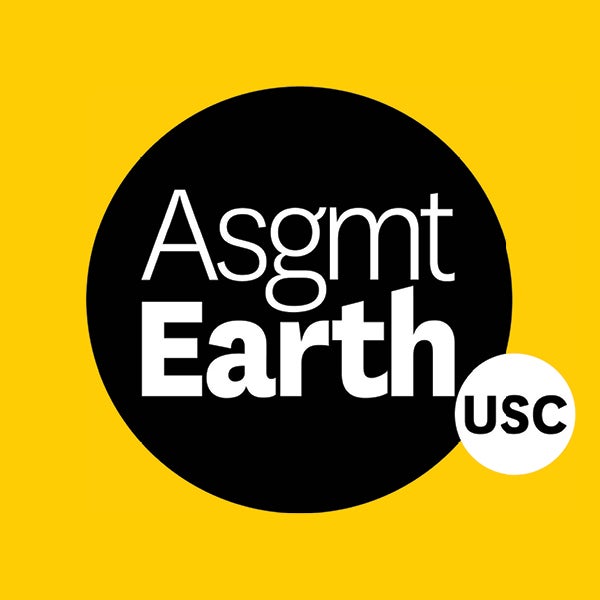 Alejandro Lemus climbs over a railing and plants his feet in the soil of Queen's Courtyard near the Bing Theatre on the USC University Park Campus. His red overshirt pops out from the greens and soft browns of the landscaping. Surrounded by an audience of USC groundskeepers, he clips, cuts and waters native plants nestled among traditional landscaping shrubs. He alternates between Spanish and English as he leads an informal outdoor seminar on native landscaping.
"This is Santa Cruz Island Buckwheat, eriogonum aboreresence. It produces these beautiful white flowers in the spring and summertime. It adapts well to these narrow spaces," Lemus says. "The California Buckwheat, eriogonum fasciculatum, it's a beautiful landscaping plant. It's evergreen. It blooms in the summer when not much else is in bloom because of the heat. This plant loves the heat."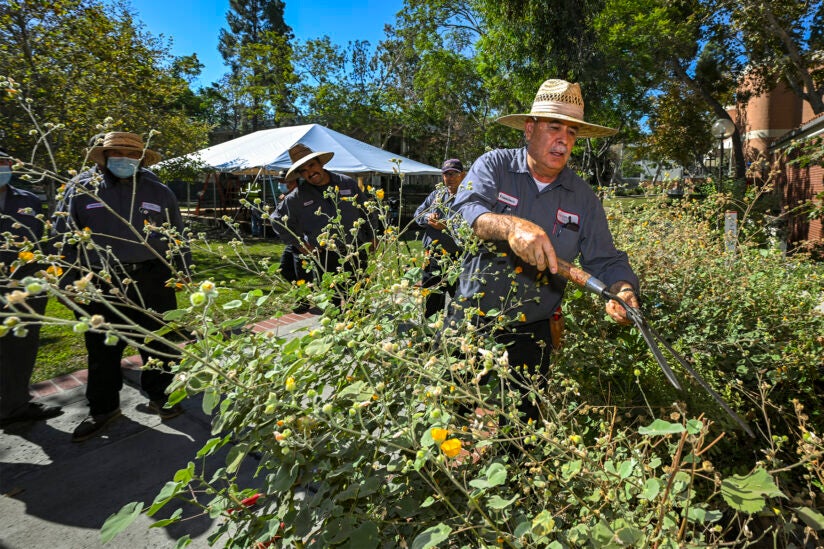 Lemus is a staff member at the Theodore Payne Foundation, an organization dedicated to educating southern Californians about native plant landscapes. The foundation is partnering with USC for groundskeeper education. Lemus displays an encyclopedic knowledge of Southern California flora that flourished here long before the first pavement was poured.
"I teach about pruning, the different cuts, different strategies, deadheading spent flower stocks, where to cut, when to cut," Lemus says. "We use practical plant examples on campus to demonstrate these techniques that not only apply to traditional landscaping but also to our native plant horticulture."
Native plants at home on the University Park Campus
Patch by patch, plants native to Southern California are sprouting around the University Park Campus. There are five test plots. The easiest to view are near Birnkrant Residential College. Those plots got started a couple of years ago, after student sustainability groups reached out to the university's landscape team with the idea.
It's fairly easy to plant these but keeping them alive over the long term is harder.

Eric Diaz, USC landscape superviso
"We're getting to know what plant material works on this campus," says Eric Diaz, USC landscape supervisor. "Watering, the balance of shade and sun, the soil — we take all that into consideration. It's fairly easy to plant these but keeping them alive over the long term is harder so we need to make sure the groundskeepers have this knowledge."
Most native plants need a deep soak to get started. They can be fragile during the first couple of years. Once they're established, though, they rely solely on winter rainfall and supplemental summer water to get them through the year.
Water conservation isn't their only benefit. With patience and care, those plants thrive and bring the campus closer to the future Lemus sees for Los Angeles:
"I envision a Los Angeles in the years to come where we can restore and connect our fragmented habitat using native plants at institutions like USC, creating green pockets of space to provide wildlife refuge for insects, butterflies, seed eating birds – anything to create an oasis not only for human health, human mental health but for the wellbeing of our local ecology."