USC professor shows math is fun, even if you're not 'good' at it
It's not about being right: Neel Tiruviluamala, a popular faculty member in residence at USC Village, inspires college students to be curious
Hanging out in professor Neelesh "Neel" Tiruviluamala's apartment at USC Village on a Friday night, a student asks, "Can we get a riddle?"
"Ok, here's the riddle," Tiruviluamala said, shuffling a deck of cards. "You have 1,000 bottles of wine …"
Anyone who hangs out with Tiruviluamala knows that any party or get-together will likely involve a little math. After all, he's a mathematician.
Tiruviluamala, a faculty member in residence at USC Village's Priam Residential College, got the idea for math parties from friends.
"On Thursday nights, some of my friends would get together," he said. "It started as, 'Let's get wine and talk,' but then I started to tell them a riddle."
They would discuss Cantor's infinities or Fibonacci numbers. These were friends who didn't study math at all, but they were absorbed.
It got him thinking about spreading the word: Math is fun.
Math is fun
"He's definitely my favorite teacher — 100 percent," said Nash Iyer, a junior studying engineering, who recently stopped by Tiruviluamala's apartment to visit.
Tiruviluamala is known for breaking down concepts in ways that are easy to understand, Iyer said. A lot of the time, students forget they're ingesting advanced calculus.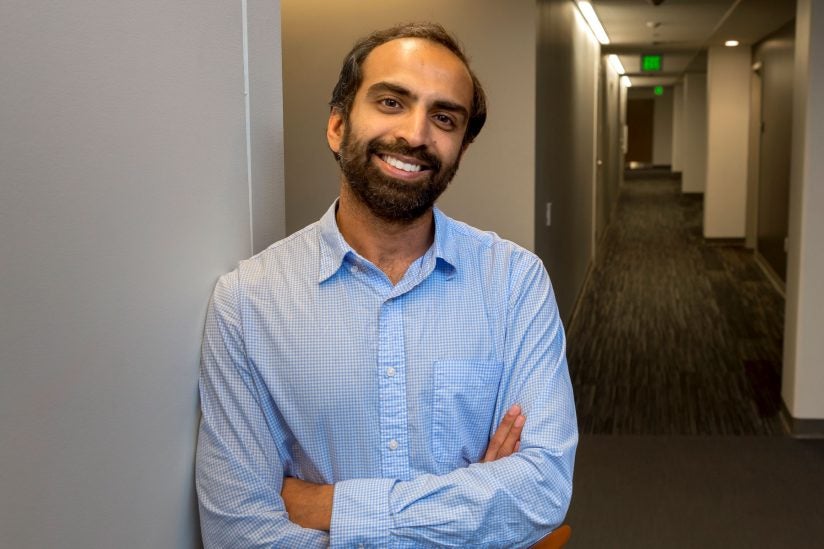 Tiruviluamala got his approach from his grandmother, a native of southern India, who watched him during the day while his parents worked. She had only an elementary school education, but she didn't let that stop her from busting out equations.
"We would just play games and talk about math together," he said. "The magic of it is that she would make it fun. Our friends would come over and she would make our friends do it. I'm sure some of them didn't like it, but it's amazing that she did that."
She taught him it wasn't about being good or bad at math. It was about figuring out a problem.
And that's something that stuck with him, because so many students get in that mindset — either "I'm good at math" or "I'm bad at math."
You may disagree with a grade you got on a paper in English, he said, but "when people get a B in math, they're like, 'This is me,' and that's dangerous."
"It's sort of irrelevant if you got a question right," he said. "What's more relevant is how you got the idea. Is there something interesting you can share with everyone else?"
Encouraging young women in math
Rithika Srivathsa can relate to that idea. Recently, the sophomore was commiserating with Tiruviluamala about math.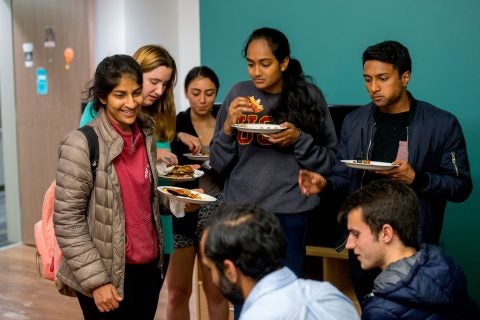 "I said, 'I don't know how to evaluate if I'm good or bad at this,' and he's like, 'This doesn't matter – what's more important is, do you enjoy it?'" said Srivathsa, who lives in his hall. "Not thinking about it in terms of good or bad takes the pressure off. Before when you gave me numbers, I was like, I don't want to think about it. Now, I'm open."
And now she's majoring in economics mathematics.
Women are commonly socialized to be less confident at math than boys. So it's especially important to reach out to female students at a time when women are underrepresented in STEM (science, technology, engineering and math) careers. While more women earn college degrees than men and they hold 47 percent of U.S. jobs, only 2 out of 10 work in STEM careers, according to a 2017 federal report.
The approachable professor
When students talk about Tiruviluamala, one quality often comes up: approachability.
"It's just his demeanor," Iyer said.
Although most days he's seen in crisp business attire, Iyer couldn't forget what Tiruviluamala wore for day one of his summer Calculus II course: a hot-pink Care Bears shirt.
"He walked in with flip-flops, 'Hey guys, I'm Neel,'" Iyer said, with a laugh.
Iyer and Solomon Kim, a junior, became friends in the class and make a point to see their former professor at least a few times a year.
"He was actually the best teacher I've ever had," Kim said.
And it's not just his party guests who are effusive. Take a look at his Rate My Professor web page, where he has a perfect score of 5.0 and 100 percent of the 57 posters say they would take one of his courses again.
His classes in the USC Dornsife College of Letters, Arts and Sciences are known to fill up within moments of posting. Students know him on a first-name basis.
It's almost comical. You think, how could he be this good?.

Nash Iyer
"It's almost comical. You think, how could he be this good?" Iyer said. But then you take a class, and you understand.
Creative math coursework
Inspired by his Thursday game nights with friends, Tiruviluamala devised and teaches the course "Mathematics for Earthling Ambassadors to Outer Space."
"The idea is the aliens have come and they want to know how everything works," he said. "They need people who are socially adjusted who can tell them about GPS, how music is compressed and search engine algorithms — basically how everything in the world works. All of that requires math, when you think about it."
Tiruviluamala just wants people to give math a chance.
"If someone came to you and said, 'I don't like music,' you'd say, 'What do you mean? Any music in particular?' They're just like, 'generally, music' – it would make you sad," he said.
And don't worry. If you don't end up taking one of Tiruviluamala's classes, anyone is welcome to chat with him about math. Just holler at him when you see him at Trader Joe's, lounging by the fountain or working out the gym. He encourages it.