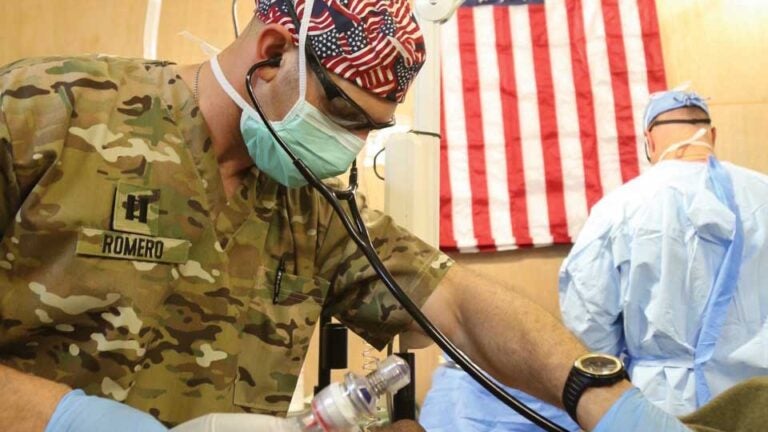 Medical specialist saves lives, lifts morale in Iraq
U.S. Army Reserve captain uses skills learned from USC's nurse anesthesia program, creating new ways to help patients
Joe Romero, a captain in the U.S. Army Reserve, deals with life and death on the battlefield.
Earlier this year, the 2013 graduate of the nurse anesthesia program at the Keck School of Medicine of USC was deployed to Iraq to serve with the 948th Forward Surgical Team (FST) in support of Operation Inherent Resolve. The operation's mission is to assist Iraqis in the fight against Islamic State militants and end the sectarian violence in the Middle East.
"The FST's role is simple, but significant," Romero said. "We provide life-saving surgery and are a morale force multiplier for the Iraqi soldiers on the ground. With us [there], they have the courage and confidence to do the dangerous work of clearing neighborhoods, removing explosives and fighting ISIS knowing that somebody will care for them if they are injured."
On average, Romero administered anesthesia to one patient each day. On the busiest days, he provided airway management, advanced trauma life support and critical care management to as many as four patients simultaneously. Most patients were men from the Iraq Army, although the FST has also saved women and small children. Typical injury patterns are the result of direct mortar fire, explosives and gunshot wounds.
On the move
To remain mobile, resources and equipment are limited compared to what one would find in a traditional surgical setting. For example, while the team has a basic X-ray and ultrasound capability, Romero does not have an anesthesia machine. Instead, he infuses anesthetics intravenously and uses a portable mechanical ventilator for surgeries. In many cases, he had to improvise equipment and create new ways of helping his patients, a skill he credits both to his clinical intuition as well as his foundational education and training at the Keck School of Medicine.
The USC Program of Nurse Anesthesia allows students to build upon their extensive experience in critical care medicine to provide evidence-based anesthesia care to patients facing all types of surgery. Students also hone their leadership and precise decision-making skills necessary to excel as independent, advanced practice anesthesia. Although some nurse anesthetists work alongside anesthesiologists, many are the sole anesthesia providers for most rural community hospitals nationwide and combat outposts across the world.
"The Keck School's top-notch program prepared me academically and gave me the confidence to take on this challenge, and I could not be more proud of my degree," Romero said. "Working with my FST is one of the most professionally gratifying things I have ever done. I am honored to serve and help these soldiers."