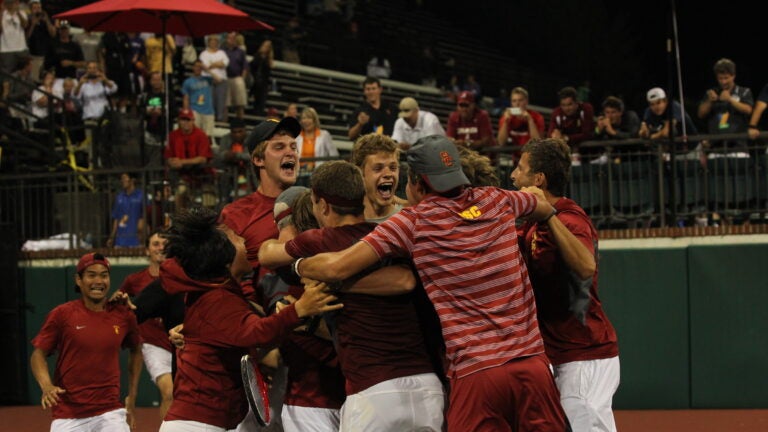 Men's tennis team title gives USC its 100th national championship
Sophomore Max de Vroome clinches the win in his first championship match
The No. 1 USC men's tennis team won the university's 100th NCAA championship with a 4-2 comeback win over No. 2-seed Oklahoma on May 20 in Athens, Ga.
The men's tennis program has claimed a record 21 national championships, helping the university win its 100th all-time NCAA championship. In all, USC has 122 national championships (22 have come in non-NCAA competitions).
The top-seeded Trojans extended their national record of titles by fighting out of an 0-2 hole, capping the victory off on Max de Vroome's clincher on court four. The sophomore was playing in his first NCAA championship match as he finished off the Sooners, who were making a bid for their first NCAA title.
In posting a 32-3 overall record in 2014, USC won its fifth NCAA championship at Dan Magill Tennis Complex. The last one was in 2012 when Yannick Hanfmann clinched a fourth consecutive national championship for the Trojans.
Now two years later, he was locked in at the No. 1 spot in singles for USC, and he'd prove worthy of the upgrade by registering USC's first point of the game to cut into a 2-0 deficit. Senior Ray Sarmiento was the next to show his moves, shrugging off deficits in both sets to claim victory on court two to tie the score. That left all the action on the bottom three courts, where Eric Johnson did his job, winning in straight sets on a tiebreaker.
Now up 3-1, the match came down to two Trojans new to the national title scene. Senior Michael Grant kept up his gutsy efforts on court six as he charged toward the finish line. He'd be trumped by sophomore de Vroome, who registered the clincher from court four in a three-set battle. Grant was all too happy to abandon his match to join the celebration two courts away.
As this year's tournament ended, the Trojans nearly swept the All-Tournament team honors. Hanfmann was No. 1 in singles, along with Sarmiento (No. 2), de Vroom (No. 4), Johnson (No. 5) and Grant (No. 6). Head coach Peter Smith is now the men's tennis program's second winningest coach, holding five NCAA championships behind the 10 won by George Toley.