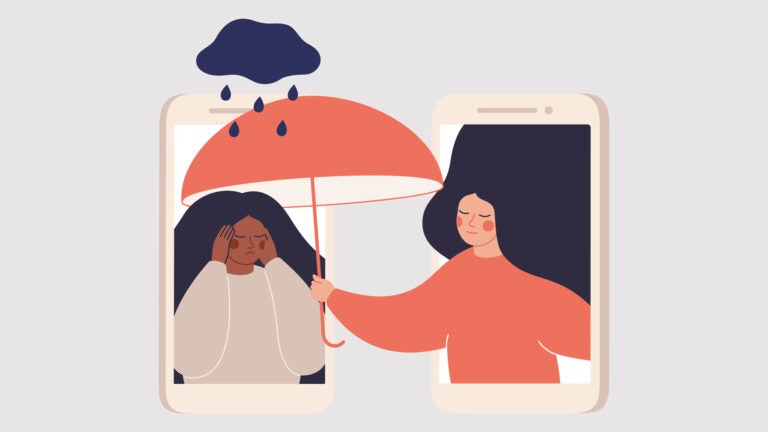 Expanded mental health support gives students tools to cope with stress and anxiety
Many students need help balancing college life, especially during a pandemic. USC has added dozens of experts in mental health who are standing by, ready to listen.
College should be a time when students grow, make new friends and explore their passions. But Americans of college age increasingly report that they feel anxious or lonely — and that was before the upheaval of COVID-19.
USC students can't hug a friend they see on campus. No longer can they collapse on a couch to share a pizza together or drop by a classmate's apartment for a Minecraft marathon. University administrators know it hurts, and they understand.
"Many students have shared with us the kinds of reactions they are having: a sense of grief, loss and even frustration," said Sarah Van Orman, chief health officer for USC Student Health. Safeguarding the physical health of students is important, especially during the pandemic, she said. But USC leaders also are committed to protecting students' mental and emotional health and helping them build resilience.
That's why USC students now have 85 psychiatrists, therapists and other mental health professionals to turn to for expert help — more than twice as many as three years ago. And these resources are still growing.
"We're all here to make sure that our student and USC community is supported," said Broderick Leaks, director of counseling and mental health services for USC Student Health. "We want to walk alongside you as we all try to figure this out together."
USC students can benefit from array of mental health services during pandemic
USC Student Health became part of Keck Medicine of USC in 2017, and all care providers are accredited faculty members of the Department of Psychiatry and Behavioral Sciences in the Keck School of Medicine of USC. Since then, mental health services have grown dramatically — by 130%, to be exact. The university has brought in dozens of new mental health care providers for students, including psychiatrists and clinical social workers.
Within the last year, the department has hired 12 new faculty members to work in Counseling and Mental Health Services at USC Student Health. An additional 18 mental health experts joined to provide care in a new clinic, Psychiatry and Behavioral Health Services, on the fifth floor of the Engemann Student Health Center.
These new resources reflect "a massive expansion of mental health services for students at USC," said Steven Siegel, the department's chair and chief of clinical services. "This has been the highest priority for our university, for our health system and our department."
The university brought in an array of professionals whose backgrounds ensure they reflect the students they serve, Siegel said.
"That means we've brought in particular expertise in certain areas, like eating disorders or sports psychology," he said. "It also means we've been extremely intentional about diversity."
In the last year, the department hired 50 new faculty members, Siegel said. About 66% are women, 55% are people of color and 30% are underrepresented minorities.
Leaks praised USC's efforts to hire mental health experts who offer specialized knowledge and who understand students' points of view. "We've been very intentional about hiring therapists who represent our study body," he said.
New resources at USC address mental health impact of COVID-19
Health experts nationwide worry about the mental health effects of the COVID-19 pandemic on young adults. College students already grapple with increased academic and social pressure, mental health disorders and loneliness. The pandemic increased their distress: 66% of students in a recent survey reported more financial stress, 60% said COVID-19 made it more difficult to access mental health care and 41% reported symptoms of depression.
Aside from worry about health or finances, students might struggle to deal with stress, isolation or a lack of physical activity, Van Orman said.
"Because of what we need to do to prevent the spread of infection in our community, we've had to limit our physical interactions," she said. "Even the term 'social distancing' is loaded with the idea that we're not as connected in many ways to people as we may have once been."
The university offers a range of ways to help students connect with each other. The new Experience USC website launched this fall to bring students together virtually. This student-only digital space features information on student clubs, events, performances and other resources in one place.
Van Orman also encourages students to engage in regular exercise, go outdoors in a safe and responsible way, or take a walk with a close friend while wearing a mask and staying at least 6 feet apart.
"All of these are successful and healthy ways that people can continue that sense of connection," she said. "We also know that many individuals may be experiencing more serious symptoms of feeling down, feeling depressed, feeling anxious and maybe feeling like they want to reach out for professional help. That's where our counseling and mental health team comes in."
Counseling and therapy services available to USC students amid COVID-19
USC Student Health offers short-term psychiatry and psychotherapy services to students physically located in California. Students enrolled at USC but who currently live outside the state can reach out to the care coordination team, Leaks said, which can connect them to help in their community. More information is available through the MySHR student health portal or by calling 213-740-9355.
Other resources include Let's Talk drop-in sessions for any student regardless of location. The one-on-one online chats provide an opportunity for students to ask questions of counselors, share their struggles and learn how to cope and connect with others.
"We have specialized services for our students of color, who may be struggling with some of the political unrest that's going on right now," Leaks said. "We also have services for some of our international students, who may be experiencing some discrimination related to the COVID-19 pandemic. We also offer services in different languages and at different times to make sure we are covering the various time zones across the globe."
Students seeking long-term counseling can contact the USC Student Health team for an assessment, resources and support. The university's new mental health clinic on the fifth floor of the Engemann Student Health Center is one source of ongoing support.
"A lot of students are being seen there for longer-term therapy needs, which has been an amazing resource that the university has put in place for the student body," Leaks said.
Students have been getting counseling and therapy through online visits, and they've been so successful that Van Orman expects that they'll continue after physical distancing measures subside. But she acknowledged that many USC students are craving the in-person connections and community that no screen can replace.
"We are committed to having our students back on campus just as quickly as it is possible to do so safely, because we know the value of that community," she said. "We know the value of the experience that our students have."