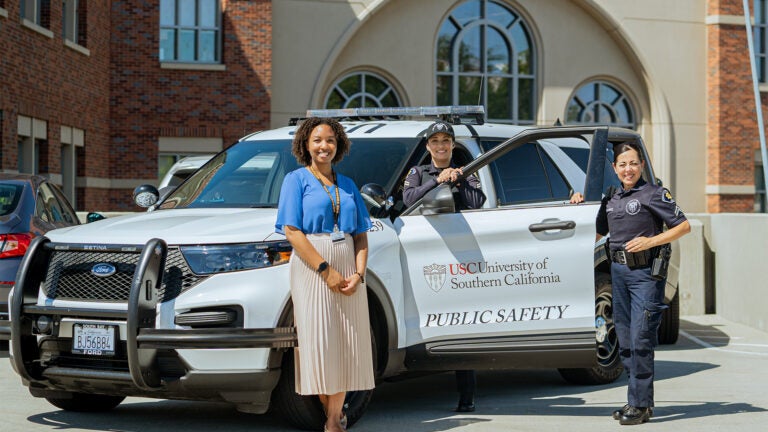 MHART program launches to help students experiencing mental health crises
Through the program — part of USC's prioritization of Trojans' mental health and well-being — students will be able to meet with a certified licensed mental health professional from USC Student Health.
Two years ago, Lennon Wesley III received a heartbreaking email.
As a senator with the USC Undergraduate Student Government, the then-junior — as well as other members of USG — read a student's personal account of a mental health crisis on campus. The USC Department of Public Safety was the primary responder during the incident. The student detailed being met by armed, uniformed safety officers, who carry firearms as part of their work equipment, and the psychological impact of that encounter.
"Reading that story secondhand was really painful," Wesley said. "From that point on, myself and my colleagues [at USG] kept in contact with that student, and it eventually reached the point where we couldn't wait anymore to reach out to the university."
The student's vulnerability inspired Wesley and other members of USG to reach out to DPS and USC Student Health about ways students' experiences with mental health crises on campus could be improved.
Discussion of the issue was also happening in another arena. The DPS Community Advisory Board had been holding input sessions with student representatives as part of its broader outreach to students, faculty, staff and neighbors. After an interdisciplinary effort, resulting in the "One USC: A Vision of Community Safety for All" report, the university launched the Mental Health Assistance and Response Team — MHART — ahead of the 2022 fall semester.
As the semester gets rolling, workloads get heavier and schedules begin to fill up, USC wants students to know that their mental health and well-being is a top priority. Students will now be able to meet with a certified licensed mental health professional from USC Student Health who is also clinical faculty in the Department of Psychiatry in the Keck School of Medicine of USC. This counselor will accompany DPS officers during a mental health emergency, and in appropriate cases will lead the response team and speak to the student first.
The program's initial hours of operation are Monday through Friday from noon to 8:30 p.m. As the program is rolled out, the goal is to eventually hire more clinicians to expand hours so that by next year the program will be available on weekends and later into the evening.
USC student mental health services: focus on clinicians
"The impetus for the program is that we want students in crisis — or potentially in crisis — that are having mental health issues to interact primarily with mental health clinicians as an alternative to law enforcement," said Steven Siegel, professor and chair of the Department of Psychiatry and the Behavioral Sciences at the Keck School of Medicine.
"Mental health providers will be with the officers when there's a call, and the mental health providers will ultimately be front and center interacting with the student to help them through the crisis, while public safety is there to support that."
Erroll Southers, associate senior vice president, safety and risk assurance, said the issue of armed officers responding to students in distress was a frequent topic during community input sessions. The MHART program is specifically designed to improve patient care and comfort, while providing a direct connection with mental health resources, he said.
"The safety and well-being of our university community are our top priorities, and this program is a welcome asset," said Southers, who also is a professor of practice in national and homeland security at the USC Price School of Public Policy.
According to Beth Kebschull, associate director of counseling and mental health at USC Student Health (a part of Keck Medicine of USC), the idea for the MHART program is not new; DPS was already working with USC Student Health on certain calls. In the program's previous iteration, DPS officers would call by phone and consult with a counselor about a student case. The counselor then might speak to the student over the phone and then advise DPS about next steps.
We're sensitive to the fact that there are people with mental health needs who need to be understood, who need to be connected to resources, and who've done nothing wrong.

Beth Kebschull, USC Student Health
"We're sensitive to the fact that there are people with mental health needs who need to be understood, who need to be connected to resources, and who've done nothing wrong," Kebschull said.
Currently, USC Student Health has five counselors who specialize in students in crisis, and each is assigned one day to work the MHART program for mental health field calls. Two of those counselors — Andy Ying and Xonielle Jordan — said a program like this is invaluable to the USC community.
Pandemic has increased need to student mental health services
"Pre-pandemic, there was a growing concern for college populations concerning underaddressed mental health issues," Ying said. "Since the pandemic, more mental health situations have been popping up and becoming a higher concern, so this is the perfect time for USC to launch this program."
For Jordan, this is an opportunity to show students from all backgrounds that the university takes their mental well-being seriously, but also understands that people respond differently to both officers and mental health care in general.
"As a Black clinician, what's always been paramount for me is that community members see that people actually care about them in a way that is helpful and beneficial, not persecutory," Jordan said.
Wesley, now a USC graduate student, said he's happy to see the university take action in implementing the MHART program. Though he said his impact on the program was relatively small, he's glad to see what has come to fruition since receiving that email two years ago.
"I'm going to be gone from campus by this time next year," he said, "but I'm just glad a whole new generation of Trojans, a whole new set of people in this community, have a renewed sense of, 'Hey, this matters.'"
---
Who to contact in a crisis
MENTAL HEALTH EMERGENCY:
• Students experiencing a mental health emergency should contact USC Counseling and Mental Health, whose phone line that is answered 24/7. Call 213-740-9355 (WELL).
• The national 988 Suicide & Crisis Lifeline also offers resources 24/7. If you or someone you know is struggling or in crisis, call or text 988 or chat at 988lifeline.org
OTHER EMERGENCIES:
• The USC Department of Public Safety can be reached 24/7 at 213-740-4321 (University Park Campus) or 323-442-1000 (Health Sciences Campus).