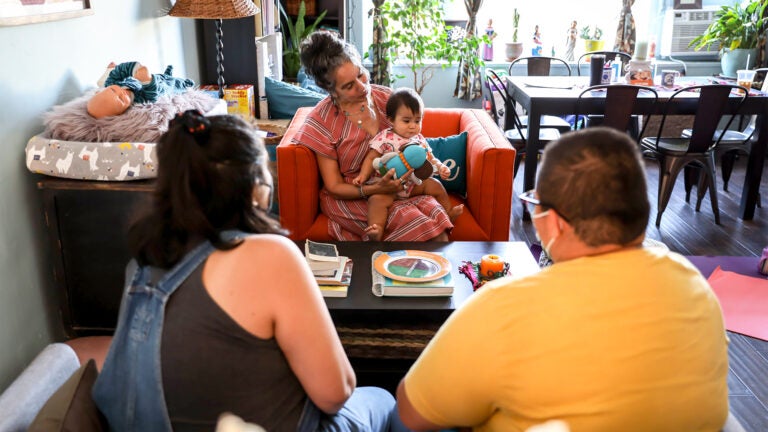 Good Neighbors Campaign grantee returns home to fight diabetes in Lincoln Heights neighborhood
Donations from university faculty and staff help Cristina Carlos and New Familia fill the void in prenatal and post-partum care for women, particularly those in traditionally underserved communities.
When Cristina Carlos embarked on opening New Familia Health Support Services in L.A.'s Lincoln Heights neighborhood, she looked to fill the void in prenatal and post-partum care for women, particularly those in traditionally underserved communities.
She also set out to spread awareness about the alarming rise of gestational diabetes in pregnant Latinas, who are two to three times more likely to develop diabetes during pregnancy than non-Latinas.
A former hospital case manager, Carlos had witnessed firsthand the lack of resources devoted to pre-natal and especially post-partum care.
"Women were having babies without a safety net," Carlos said.
She also saw the precursors of diabetes either being ignored or undermined.
"In the clinicas, we see women doing their prenatal care, and often their blood glucose levels are very high," she said. "We know that a lot of women that develop pre-diabetes or gestational diabetes during pregnancy are at higher risk to develop diabetes later."
USC Good Neighbors Campaign helps New Familia expand service
With support from the USC Good Neighbors Campaign, the university's faculty- and staff-led donation drive, New Familia Health Support Services has been able to enhance its programming and services. The USC campaign annually awards over $1.3 million to 53 community programs serving residents in South Los Angeles and the east area of L.A.
Today, New Familia offers an avenue for Latinas to receive care through dedicated programs in childbirth, breastfeeding, post-partum care and education, mental health resources and support, and gestational diabetes. Through its affiliation with USC, New Familia also has partnered with Tom Buchanan of the Keck School of Medicine of USC, a leading expert in diabetes research with a focus on the Latino community. His guidance has helped New Familia develop a program that identifies and educates pregnant women at high risk of developing diabetes.
New Familia leader inspired by her late father
Carlos' journey into public health was inspired by her late father, Jose, who advocated for health care for Latinos in Northeast L.A. She notes that the disparity in care is caused by a variety of factors, lifestyle, socioeconomics and lack of access to healthy food sources. But despite these challenges she's seen a willingness to change: "People are definitely interested in improving their health and lifestyles. "
During the pandemic, the Good Neighbors Campaign grant allowed the organization to adapt and continue its services without missing a beat. New Familia provided hotspots to participants of its online workshops, delivered breast pumps and weight scales to women in its nutrition program, and paid for grocery gift cards and Uber rides to local farmers markets so that women could buy fresh produce.
"This grant was lovely because we are able to impact more moms," said Carlos. "Our heart and soul belong in Northeast L.A., and that's where our target communities are at."