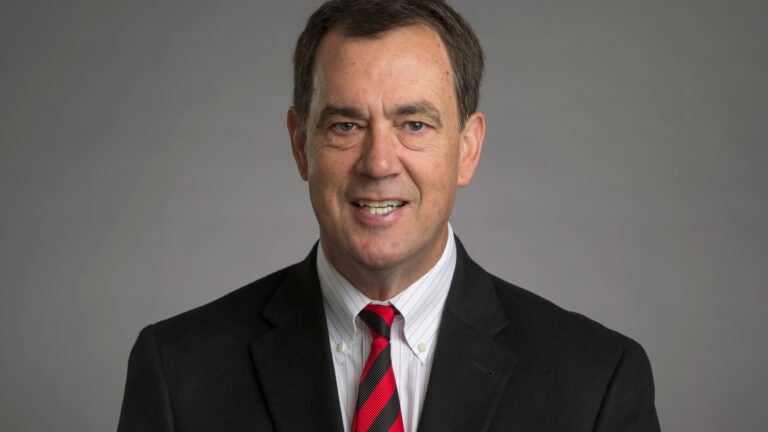 Mike Bohn named USC director of athletics
The veteran administrator, who is joining USC from the University of Cincinnati, is known for his integrity and student-centered focus.
Mike Bohn will become USC's next athletic director effective Monday, USC President Carol L. Folt announced Thursday morning. Bohn will hold the Charles Griffin Cale Director of Athletics' Chair.
With a career that has spanned more than 35 years, Bohn is known for his integrity, leadership and student-centered focus. Starting at the U.S. Air Force Academy, Bohn has held key leadership roles in different conferences and successfully led athletics departments at the University of Cincinnati, University of Colorado, San Diego State University and the University of Idaho.
"In Mike, we have selected an energetic leader who will stay true to our Trojan heritage of outstanding athletic performance," Folt said. "He has led athletics programs that are extremely competitive while demanding the highest level of integrity, and he will bring this winning combination to USC."
Most recently at the University of Cincinnati, Bohn oversaw an athletics department that won several conference championships and enjoyed postseason appearances in multiple sports, including women's basketball, women's soccer, women's volleyball, women's track and field, men's swimming and diving, and men's baseball. The school's 17th-ranked football team is 7-1 and enjoyed its first 11-win season in a decade in 2018, and the men's basketball team has won more than 28 games in each of the last three seasons.
Among many other accomplishments, Bohn prioritized academic success among the university's student-athletes. In Spring 2019, 77% of all student-athletes recorded a grade point average of 3.0 or better, achieving a departmental record GPA of 3.372.
Bohn also demonstrated a commitment to gender equity by consistently hiring female coaches at Cincinnati. His department received an "A" grade from the Tucker Center for Research on Girls & Women in Sport for seven consecutive years, the only university in the nation to do so.
Mike Bohn: ecstatic to join the Trojan family
Bohn said he, his wife Kim and their entire family are ecstatic to be joining the USC community.
"Throughout more than 35 years as an athletics administrator, I have always viewed USC as the preeminent intercollegiate athletics program in the country," he said. "Fueled by an imaginative and innovative vision, we will work tirelessly to position all of our student-athletes for long-term success and build a championship program with a level of integrity the entire Trojan Family will be proud of.
I'm honored and humbled to be leading USC Athletics into a new era.

Mike Bohn
"I'm honored and humbled to be leading USC Athletics into a new era."
As director of athletics at the University of Colorado, Bohn led the university's transition into the Pac-12 while winning four conference championship titles in two years, including its first for men's basketball in more than four decades.
Bohn received a bachelor's degree from the University of Kansas — where he was recruited as a quarterback and also played baseball — and a master's degree in sports administration from Ohio University.
USC's 11-member search committee, chaired by USC Trustee Suzanne Nora Johnson, included faculty, staff, alumni and two student-athletes. The committee conducted three listening sessions with 200 student-athletes, coaches and staff, which shaped the candidate criteria that led to Bohn's hire.
"It was an unbelievable honor to be part of the search committee, and know that voices from across our students, coaches and staff were being heard," said student-athlete Anna Cockrell of the USC track and field team. "I was most impressed with AD Bohn's passion, integrity and real examples of how he has connected with students in the past."