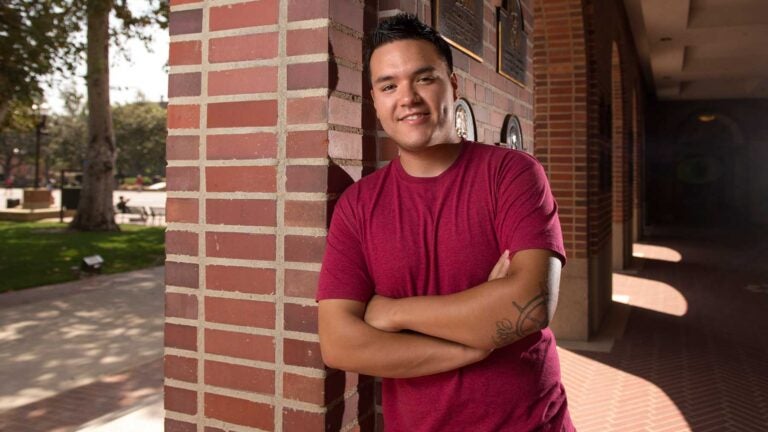 Military background is huge motivator for transfer student: 'No excuses'
First-generation student Richie Flores — a new Trojan and a new dad — has a full plate, and he wouldn't have it any other way
If someone told Richie Flores four years ago where he would be now, "I would have thought, that is crazy," he said.
Then, he was 20 years old, a third-class navigation specialist in the U.S. Navy, working on ships that traveled to places like Japan, Singapore and Guam.
He had joined straight out of Palmdale High School at age 18.
The self-discipline and "no excuses" mantra of the military come in handy now, as a freshman at USC and as the proud father of a 1-month-old baby girl, Aubrey.
Instead of traveling to the site of catastrophic tsunamis or hurricanes in the Pacific, he's traversing the Antelope Valley Freeway up to four hours a day to get from his home in Palmdale to the USC University Park Campus.
When Flores first returned to civilian life in 2014, he didn't have high expectations for his schooling: He just remembered school not being his thing.
A after A
Then, in community college classes at Antelope Valley College in Lancaster, "I started getting an A and another A and another A," he said.
The military ingrains that there's no excuse for not using all your resources for a mission. He realized there was no excuse for not continuing to get high marks.
"If I really want to achieve this dream, I was going to make it happen," said Flores, now 24.
He remembers the day he found out he was accepted to USC as transfer student. It was June 1, and he was on the way to one of his last finals and nervously refreshing his email on his phone.
At 6:58 p.m., just two minutes until class, he hit refresh the last time. At that moment, Flores became the first in his family to go to a four-year college.
I jumped for excitement. I didn't know how to control myself.

Richie Flores
"I jumped for excitement. I didn't know how to control myself," he said.
"Growing up an hour away from here, USC was like Harvard. I'm from a Hispanic background, first generation, low income — it was almost impossible to dream of."
His parents both immigrated to California from Mexico, working long hours to raise him and his five siblings. His dad started an air conditioning business; his mom cleaned houses and worked at restaurants.
Mom cried when he told her he'd been accepted to USC, and she took him out for ice cream to celebrate.
"It was her dream come true to come to this country, and it was everything she wanted that came true — so it was like two dreams in one," said Flores, who is studying computer engineering and computer science at the USC Viterbi School of Engineering.
Flores also found out he received a Norman Topping Scholarship, a student body-funded scholarship that targets students with financial need.
Working in his field
A few weeks ago, he applied and accepted a work-study job at USC Viterbi, doing front-end development for its website.
"Right away I'm working within my field," he said. "I know at my community college I wouldn't have gotten that."
The timing of his new adventure couldn't come at a more hectic time. Just a few months earlier, his girlfriend Sylvia Ramos, found out she was pregnant with their baby girl. Her due date? The first week of school. It was just his luck that the baby was born just a few days early.
Flores' days are long. He wakes up at 4:45 a.m., hitting the road before 6 a.m. to get to campus by 8 a.m. He usually isn't home until 6:30 p.m. at the earliest.
"Sometimes when I come home I'm putting her to sleep and then I'm opening my calculus book," he said.
But he knows the hard work is worth it. And he says it's special to have his child during this time.
"It's nice to show all this to her," he said. "She can always look back and say: 'I've been a Trojan since birth.' "