Milton Curry Named New Dean at USC School of Architecture
CONTACT: Allison Engel 213/740-1927 allison.engel@usc.edu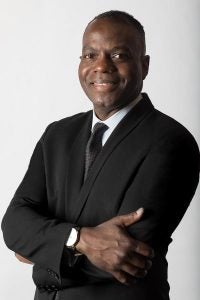 Milton S. F. Curry has been named dean of the USC School of Architecture, effective July 1. He will hold the Della and Harry MacDonald Dean's Chair in Architecture.
Curry comes to USC from the University of Michigan Taubman College of Architecture and Urban Planning, where he is associate dean for academic affairs and strategic initiatives. Chosen after an extensive national search, Curry is at the forefront of disciplinary areas on race, architecture and urbanism that engages cultural theory and humanities research.
"We are honored and excited to welcome Professor Curry to the USC School of Architecture," said Provost Michael Quick. "Architecture has a profound impact on our culture. It is a profession and an art, local and global, and extremely creative. We know that Professor Curry will lead our students, faculty, research and practice to new heights."
Curry is founder of CriticalProductive Journal, an academic journal focused on scholarship and creative work on architecture, urbanism and cultural theory; and was co-founder of Appendx Journal in the early 1990s. As an architectural designer, he has engaged in strategic projects including an invited exhibition project at the Studio Museum in Harlem, speculative large-scale urban real estate and redevelopment work in Oakland, California, and speculative work for DefJam entertainment company, among others.
Curry obtained a bachelor of architecture degree from Cornell University and a master in architecture post-professional degree with distinction from Harvard Graduate School of Design. His concentration was architecture theory.
Curry began his teaching career at Arizona State University, where he was an assistant professor from 1992 to 1995. He then was a visiting assistant professor at the Cornell University Department of Architecture, where he was promoted to an assistant professor in 1995 and a tenured associate professor in 2002. In 2010, he became an associate professor with tenure at the University of Michigan. He has also held teaching positions at Harvard University Graduate School of Design, where he taught a graduate design studio in 1999 and was an instructor in the Harvard Career Discovery program in 1991.
Professor Curry has coordinated graduate and undergraduate design studios at all levels, and has taught seminars on subjects ranging from architecture and cultural theory to urbanism and housing.
His spouse, Reighan A. Gillam, who studies race and media in Brazil, will be joining USC Dornsife College of Letters, Arts and Sciences as assistant professor of anthropology.
Curry succeeds Qingyun Ma, who served two 5-year terms as dean, and will remain on the faculty.
[Photo of Milton Curry by Tafari K. Stevenson-Howard]