More than 1 billion people are at risk for this skin disease: Have you heard of it?
Graduate student at USC's Spatial Sciences Institute wants to boost awareness for a disease caused by a parasitic flea
Tungiasis is not well known in the Western world. However, USC graduate student Kelly Wright was so horrified by what she learned about the far-reaching negative effects of the inflammatory skin disease that she became determined to help increase awareness about it.
Tungiasis is caused by the Chigoe flea (Tunga penetrans), a parasitic insect also known as a jigger or sand flea. The pregnant female burrows into the skin of its mammal host and becomes embedded, feeding on the host's blood and producing eggs for the remainder of its life. Secondary infection is common and can lead to gangrene and amputation of fingers and toes, while pain leaves many unable to walk or care for themselves. Afflicted children are likely to stop attending school due to unsightly, painful lesions, insomnia caused by itching, and fear of persecution and ostracism.
Wright, who is working on her master's degree in geographic information science and technology (GIST) at USC's Spatial Sciences Institute, first learned about tungiasis by chance after a friend's boyfriend was bitten by a bug Midwesterners refer to as a "chigger."
"When I saw the marks, I said 'Those are chigger bites.' And he replied, 'No, those aren't jigger bites,' but he said it with a 'J.' I googled 'jigger' and I was horrified by what I discovered."
More than 1 billion people are at risk for the disease, primarily children, the elderly and the developmentally disabled.
"Despite that fact, I'd never heard of it," she said.
When Wright researched the topic further, she realized one of the reasons it hasn't received much press coverage is that tungiasis is not one of the 17 declared neglected tropical diseases (NTD) recognized by the World Health Organization.
Wright's interest in tungiasis deepened while taking the course "Web GIS" with Jennifer Swift, associate professor (teaching) of spatial sciences.
"We were looking into how we could use GIST to help humanitarian aid workers in the field when they are working with diseases in underdeveloped countries," Wright said.
There's an app for that
She designed an app with Swift to enable humanitarian aid workers to gather demographic and medical information on tungiasis that might reveal treatment options. In May, she was excited to learn the WHO had published a process that would allow member nations to request NTD status for previously unrecognized diseases.
"However," she noted, "there are many requirements that WHO member states must go through in order to have a disease reclassified, and one of them is the existence of a body of evidence. The WHO wants to see scientific literature and prevalence and distribution data. Sadly, that data just doesn't exist for tungiasis because it is such a neglected issue."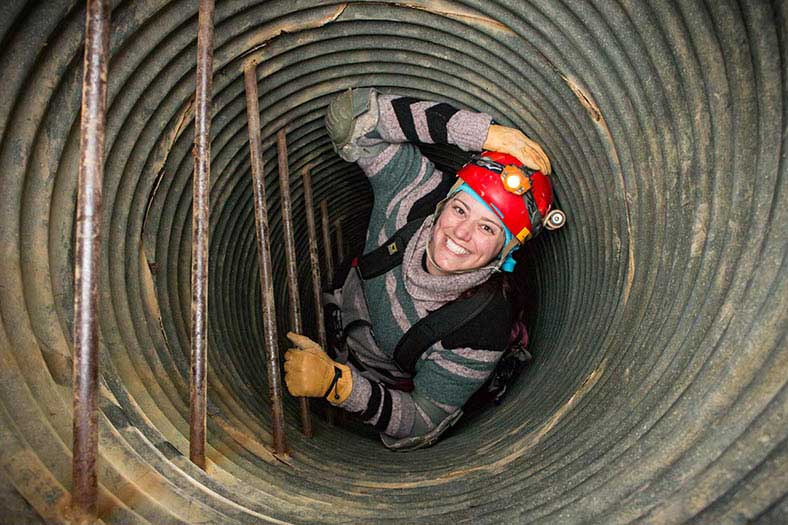 Wright decided this was where she could use her GIST training to remove this obstacle to reclassification.
While privacy issues made her existing app of little help in amassing a body of evidence, Wright took a new path. She collected all the scientific literature she could find pertaining to tungiasis and mapped it in a web application. She then created a significant body of evidence on the condition that will now enable WHO member states to apply for funding to combat the disease.
"The web mapping application I used … enables us to create a one-stop e-library for tungiasis that any WHO member state can now access at any time."
A change in direction
Wright, a former park ranger who had to move back home to Ohio after losing her job in the 2008 economic downturn, decided to pursue an online master's degree in GIST at the USC Dornsife College of Letters, Arts and Sciences after an advertisement popped up while she was working on her resume online.
"I was looking for a career change when I saw the ad for a two-year master's program in GIST. I requested more information, got a return phone call within 24 hours and within a month I was enrolled. That's not something that can happen in a traditional brick-and-mortar master's program. As an older student, I didn't want to waste any time getting started."
Wright wanted a career with a future.
When I started looking into it, I realized there are a lot of opportunities for women and for movement in this field.

Kelly Wright
"When I started looking into it, I realized there are a lot of opportunities for women and for movement in this field."
What she discovered at USC Dornsife was not simply the path to a career that could provide both job satisfaction and economic security, but much more — the opportunity to make a real difference in the world.
A perfect fit
The GIST master's program turned out to be a perfect fit for Wright, who in addition to a bachelor's degree in geography and several years' data analysis experience, had previously studied immunology.
"My experience has played out very nicely into how I like to use GIS. I'm not interested in real estate or business. What I want to know is how we can use this technology to make things better for everyone, not just the people paying for it."
Wright credits Swift with inspiring her to live up to her potential.
"Dr. Swift made me realize this is not 'just' an online program but a real master's program I could get behind and believe in. She convinced me that my work was valuable and worthy of pursuing."
When she graduates, Wright plans to continue her work on behalf of those suffering from tungiasis.
"I want to work for a nonprofit or an NGO that strives to make lives better for people who don't have a voice," Wright said. "I'd like to spend my life helping children of the next generation have a better one."