USC Iovine and Young's Inaugural Class
The USC Iovine and Young Academy welcomes its first class of innovators, artists and entrepreneurs.
When the USC Jimmy Iovine and Andre Young Academy for Arts, Technology and the Business of Innovation started taking applications for its first class, Erica Muhl was unsure what to expect. Muhl, the program's executive director and dean of the USC Roski School of Art and Design, knew that diverse applicants would apply, but would they understand the nature of the program?
As applications poured in, the admission committee breathed a sigh of relief. Soon that turned into what Muhl calls "delirious delight."
"We are in awe of who these students are and what they have accomplished," she says, "and it's much more than their academic stats, which are very impressive. They're unafraid to question assumptions and to create entirely new paths for themselves, and others, to follow."
As part of the application, students submitted a 60-second video detailing an original idea for a product, system, technology or other potential solution for an existing problem. Applicants presented so many outstanding pitches that administrators expanded this fall's entering class from 25 to 31.
"We wanted the USC Iovine and Young Academy to be a home for students who can merge disciplines and who are not afraid of creative risk taking," says co-founder Jimmy Iovine. "The profile of this new class matches that perfectly."
Adds co-founder Andre Young (aka Dr. Dre): "These students have incredible talents, great ideas and a desire to change the world. We can't wait to see what they'll do."
Not just dreamers, but doers
Some students' careers have had a jump-start. At age 12, Macki Alvarez-Mena caused a sensation at her school with her hand-painted tote bags. The demand triggered such a school-wide distraction that her principal issued a moratorium on sales.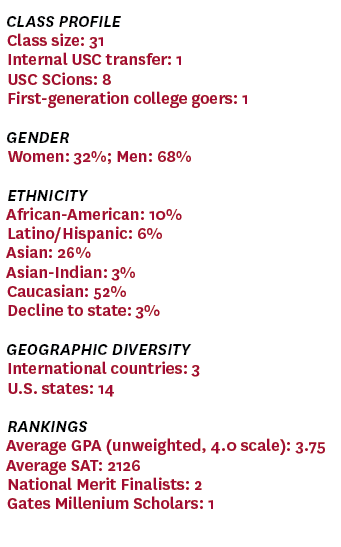 Undeterred, Alvarez-Mena quickly found a new way to distribute her bags. Her fledgling company, Macki & Co., scaled up in partnership with a screenprinter and sold bags in over 30 stores along the East Coast. "I want to create something great, and I know that if I work hard and never take no for answer, anything is possible," she says.
In seventh grade, Arjun Mehta co-founded PlaySpan, a Web marketplace that evolved into a digital payment platform. Visa acquired it in 2011 for nearly $200 million. Mehta later built Stoodle, a free online learning platform now used by tens of thousands of students and teachers around the world. "I want to use technology and entrepreneurship to make the world a better place," Mehta says. He wrestled with skipping college to launch more startups, but the unique educational experience swayed him to come to USC.
Serene Boachie is an artist, singer and musician long fascinated by electronics. While still in high school, she started an engineering club and took nearly all the engineering classes offered at a local technical school. Her USC application video pitched her concept for a battery-powered infant car seat that would stay cool even in extreme temperatures—a project inspired by research she'd conducted for her digital electronics class.
With Luke McGartland's talents spanning design, filmmaking and robotics, no college programs piqued his interest—until he found out about the USC Iovine and Young Academy. McGartland is a consummate problem solver. Dissatisfied with the dictionaries used in his Latin classes, he founded Appineering LLC in eighth grade and launched Pocket Latin, a Latin-English dictionary app. "Every problem has a solution," he says. "And every solution can be improved."
Bright futures ahead
The centerpiece of the students' first year is the Innovator's Forum, a yearlong workshop series with innovators who challenge students to solve problems. As they progress, the students will choose an area of focus: visual design, technology, venture management, audio design or communication. In the fourth-year "Garage" experience, they'll take concept to prototype, using a state-of-the-art workspace to create and test new products, systems and business solutions.
"We feel tremendously fortunate and honored," Muhl says, "to be part of the future of these remarkable students."
---
Creativity With No Limits: Meet USC Iovine and Young Freshmen
The USC Iovine and Young Academy's students can seamlessly merge disciplines as they take creative risks. The 31 incoming freshmen traverse the worlds of entrepreneurship, public service, creative arts, technology and beyond.
MACKI ALVAREZ-MENA
At age 12, Alvarez-Mena launched a successful tote bag company, and sold her designs in 30 stores on the East Coast.
JARED BASS
Bass has won national recognition from Scholastic Books for his writing and is also a talented mechanical engineer. One of his recent design projects involved the complete restoration of a 1971 Corvette.
SERENE BOACHIE
Boachie is an artist and musician with a flair for engineering. She wants to build a battery-powered car seat to help infants stay cool.
JANE BYON
An artistically minded scientist, Byon dazzled the application review committee with her product proposal, which not only incorporated sophisticated graphics, but also anticipated every possible hurdle in development, demographics and marketing.
JENNIFER HAACK
A world-class guitarist with a passion for social justice, Haack has set the ambitious goal of becoming a "humanitarian rock 'n' roll star."
LOUIS HARBOE
Harboe got his first freelance tech job at age 12, designing the interface for an iPhone game. Last year, he was one of the youngest developers ever to be invited to attend Apple's exclusive Worldwide Developers Conference.
LUKE MCGARTLAND
Unhappy with the dictionaries in his Latin classes, McGartland created his own Latin-English digital app.
ARJUN MEHTA
Mehta has already created two hugely successful online platforms, including one that was acquired by Visa in 2011.
MONTANA REED
Reed has started two businesses: one that creates outdoor furniture from found materials, and another that provides home repair and maintenance, while employing six people from his local community. He plans to use 3-D design and fabrication in his next venture.