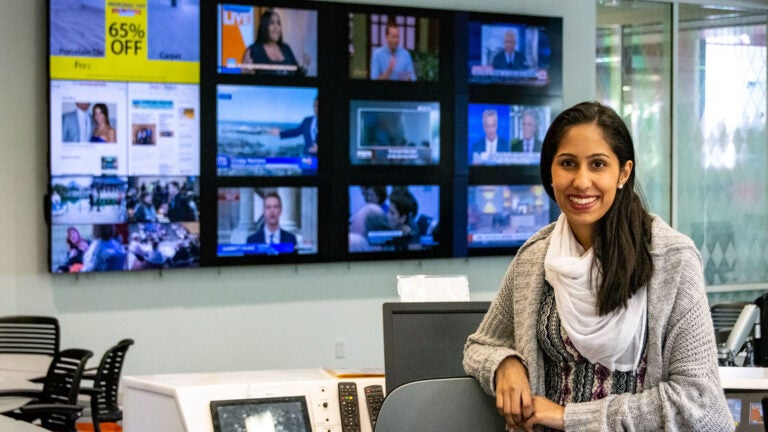 Multimedia journalist wants to rebuild the industry's reputation
Alumna Sanika Bhargaw is confident she has the skills to succeed no matter how the industry evolves, thanks to the knowledge she gained at USC Annenberg
In today's fast-paced, multimedia news scene, competition is fierce. Journalists have to report stories quickly using compelling images, sounds and words that draw attention in the overwhelming din of the information age.
Although some have struggled to adjust to journalism's new technology and tempo, USC alumna Sanika Bhargaw learned the tools right from the beginning. She earned her broadcast and digital journalism degree from the USC Annenberg School for Communication and Journalism this spring. As an anchor, producer and reporter at the student-run Annenberg TV News, she covered major breaking news, trained with the latest high-tech gear and learned social media tips and tricks from working professionals.
The media business remains in upheaval, she admits. But her experience gathering and explaining breaking news on video and audio — and through digital platforms — gives Bhargaw confidence in her future as a journalist.
All of us graduate with skills that will serve us in whatever way journalism goes. We have the storytelling skills and the practical skills.

Sanika Bhargaw
"Everyone coming out of Annenberg, we are all prepared to ride the wave," she said. "All of us graduate with skills that will serve us in whatever way journalism goes, whether it's digital or broadcast or something else. We have the storytelling skills and the practical skills."
Multimedia journalist drawn to USC's embrace of digital media revolution
Bhargaw seemed destined for a career in media, growing up in a family of news junkies in the suburbs of Chicago. Her parents often had the TV news playing in the background as she ate breakfast and when she returned from school. A voracious reader and talented writer, she gravitated to journalism in high school, spending many late nights editing the school paper.
When she began scoping out colleges with strong journalism programs, Bhargaw took a hard-hat tour of USC Annenberg's digital media-focused Wallis Annenberg Hall, then still under construction. She was sold.
"They were incorporating all these different platforms and embracing the future of where journalism is going," she said. "I didn't see that anywhere else I had been."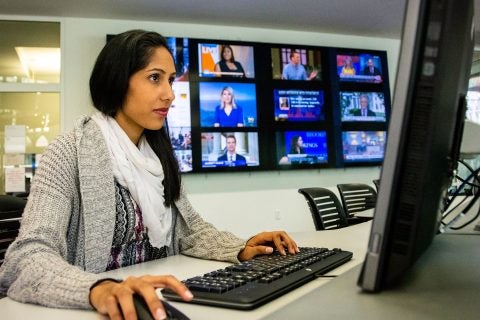 Although she enrolled at USC as a print journalism major, her passion for broadcast and digital news grew after she began volunteering with Annenberg TV News — although she admits to being terrified when her producers sent her out alone with a video camera just a week into the job.
She had been tasked with capturing the reactions of people on the streets around USC to a major national news story.
"This was the first time I had ever been out with a camera, so I was convinced I was going to mess something up," she said. "I triple checked all my equipment to make sure everything was working."
Despite her nerves, she returned to the studio with plenty of material for the evening broadcast. And rather than being scared off by the experience, Bhargaw relished the adrenaline rush of approaching strangers and covering breaking news in the field.
Bringing stories to life with new resources and tools
In her initial role as a multimedia journalist, Bhargaw did a bit of everything — shooting video, interviewing sources, writing scripts and editing together news packages. Soon the job became second nature. Over the next three years, she rotated among the station's many roles, from camera operator and director to anchor and executive producer.
"I know how the whole operation works and how I fit into that picture," she said. "I understand what it takes to put a newscast together."
She also put her multimedia skills to good use capturing the emotion and poignancy of a news story. When reports of the recent school shooting emerged in Parkland, Fla., Bhargaw quickly jumped on social media platforms like Twitter and Instagram to connect with students at the scene. They shared audio and video of kids being shepherded to safety and gave background information about the terrifying experience.
Those details created a more visceral and personal story than just repeating the facts being reported by major news outlets.
"That is something Annenberg really emphasizes," Bhargaw said. "What can we, even as a student outlet, add to a national story?"
Journalists can regain credibility despite rise of fake news
Bhargaw acknowledges that the media industry is in the midst of an ongoing crisis. Information overload, the proliferation of free online content and the emergence of fake news have chipped away at the reputation of journalists and other media professionals.
"I've grown up in this period of upheaval and increasing distrust of media, and I want to reclaim the profession," she said. "My generation is taking on the mantle. We have to figure out how to reestablish journalism as reliable and important."
Part of her strategy is letting people tell their story in their own words. Journalism can still deliver powerful messages by giving a platform to the voiceless and vulnerable, she said.
She also sees local news as playing a critical role in rebuilding trust in the media. Journalists who work at smaller news stations and other outlets can develop personal relationships and become members of their community, rather than outsiders who drop in to cover a tragedy.
That's why Bhargaw is pursuing TV reporting jobs in small and mid-size markets, with her sights set on the Midwest and the southeastern coast of the United States. Having grown up in Chicago and spent her college years in Los Angeles, she is ready to experience life outside of a major urban center.
"I want to be out in the field talking to people and figuring out what's going on," she said. "It's really cliché, but that's why I jumped head on into journalism. It's constantly pushing me to go to places I'd never go and talk to people I'd not cross paths with otherwise."
Scholarship enables deeper understanding of international media
Thanks to generous merit-based financial aid provided through a Stamps Scholarship, Bhargaw had plenty of opportunities to broaden her boundaries as an undergrad at USC. In addition to covering her tuition, the prestigious program provided a $20,000 enrichment fund that she used to explore multimedia approaches to communication and journalism across the globe.
During a five-city tour of Europe's media landscape through USC Annenberg's International Communication Studies program, she got an inside look at how outlets like the BBC and Vatican Radio handle challenges of the digital news era. A visit to New York as part of the school's Maymester initiative allowed her to quiz journalists at CNN and Good Morning America.
Those experiences inspired her long-term dream to work internationally as an on-camera reporter covering politics or foreign affairs. She envisions bringing important stories to light and breaking down complex issues, a role she sees as increasingly vital for the news industry.
"The job of the journalist is no longer just to inform, because the information is out there," she said. "Now it's more important than ever to play an analytical role and contextual role — to explain whether an issue is important and why."