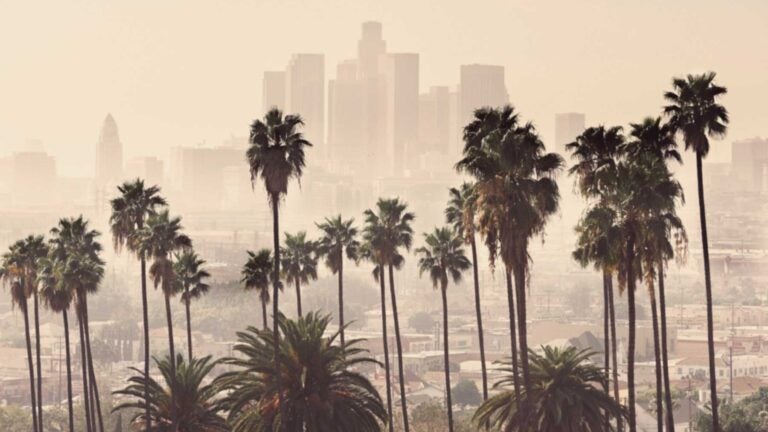 $11 million National Institute on Aging grant supports research on air pollution and Alzheimer's
Research will address the neglected role of environmental neurotoxins in the development of Alzheimer's
A new National Institute on Aging program grant awarded to USC researchers focuses on air pollution and Alzheimer's disease. The five-year grant will examine how urban air pollution contributes to accelerated brain aging and dementia risk.
"The aging brain is vulnerable to air pollution," said USC University Professor Caleb Finch, holder of the ARCO-William F. Kieschnick Chair in the Neurobiology of Aging at the USC Leonard Davis School of Gerontology and the co-principal investigator on the project. "This new program of research will address the neglected role of environmental neurotoxins — in this case, small particles from cars and trucks which are commonly found in the urban areas where most older Americans live — in the development of Alzheimer's disease and in interactions with Alzheimer's risk genes."
The four-part project brings together researchers from the USC Leonard Davis School, the Keck School of Medicine of USC, the USC Viterbi School of Engineering and the USC Dornsife College of Letters, Arts and Sciences, as well as collaborators from the University of California, San Diego, Wake Forest University School of Medicine and the University of Washington.
With their complementary expertise in environmental health sciences, gerontology, neurology, psychology and the neurosciences, the research team will jointly study human populations and experimental models. The four studies under the $11.5 million grant "Urban Air Pollution and Alzheimer's Disease: Risk, Heterogeneity, and Mechanisms" (P01AG055367) will examine the brain pathways that are specific for Alzheimer's disease. They also will identify gene, gender and age differences in terms of vulnerability to traffic-related air pollution.
"The intersection of these projects has great potential to generate novel data of major clinical significance and public health impact to better understand the neuropsychological processes and what happens in the brain that can help explain why outdoor air pollution increases the risk for dementia," said Jiu-Chiuan Chen, the co-principal investigator and associate professor of preventive medicine at the Keck School of Medicine of USC.
Air pollution and Alzheimer's: environmental neurosciences emerges
In 2010, Chen and Finch developed the AirPollBrain Network and have since recruited more than 20 faculty from five USC schools into this growing field of environmental neurosciences. The recent findings of Chen and Finch linking air pollution to dementia provided the first scientific evidence that a critical Alzheimer's risk gene, APOE4, interacts with air particles to accelerate brain aging.
"Preventing Alzheimer's disease and related dementia by 2025 is a top priority set by the National Plan to Address Alzheimer's Disease, and we hope the coordinated effort at USC can help achieve this ambitious goal," Chen said.
Air particles and brain analysis
The new project continues Chen and Finch's work in this area and their collaboration with Constantinos Sioutas, the Fred Champion Professor of Civil and Environmental Engineering at USC Viterbi, who invented the technology to collect air particles for controlled exposure of mouse models. William Mack of the Keck School of Medicine and Carol Franz of UC San Diego are additional subproject leaders. USC's Paul Thompson will lead brain imaging and analysis for all human and animal studies.
"We expect results of this program to advance understanding of how traffic-related air pollution contributes to Alzheimer's risk and accelerates cognitive decline, and to provide a rationale for interventions that can prevent exposure to such neurotoxic agents in our environment," Finch said.