Newly renamed: USC Roski School of Art and Design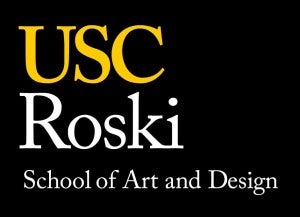 The USC Roski School of Fine Arts has received approval to change its name to the USC Roski School of Art and Design.
"The new name represents a subtle yet momentous shift in how our students identify themselves and their work within contemporary visual culture," said USC Roski Dean Erica Muhl. "Tailoring 'Fine Arts' to 'Art' reflects an expanded definition of contemporary art practice, inclusive of traditional and new media.
"The addition of 'Design' to the name of the school recognizes the long-standing impact of the design area within USC Roski," she explained. "It also celebrates the successes of a close-knit network of alumni whose professional specialties range from typography to art direction to brand-identity development."
USC Roski offers a BA and BFA at the undergraduate level, and an MFA and Master in Curatorial Studies at the graduate level. The theory and practice of intradisciplinary study at USC Roski has played a vital role in upholding the school's reputation for producing influential alumni across a constellation of creative industries. In 2012, U.S. News & World Report ranked the school No. 8 in the nation in multimedia and visual communication.
"USC Roski's intradisciplinary program fosters a community of artistic exchange in which students engage with traditional techniques and cutting-edge technologies," said Elizabeth Garrett, USC provost and senior vice president for academic affairs. "USC scholars in virtually every field rely on visual strategies of perception and communication to imagine, explain and transmit their work in the world."
Ultimately, the name signals an expanding future for USC Roski. This year the school introduced its first course in graphic design in fashion marketing and announced a new minor in 3-D design. In addition to its signature intradisciplinary emphasis, the MFA program recently initiated a seminar in the theories and applications of arts pedagogy. The MA program has forged collaborative relationships with LA><ART and the Museum of Contemporary Art, Los Angeles, and second-year students are in the midst of producing an exhibition, catalogue and public program conceived over three semesters of research.
USC Roski's lecture program will expand this spring to include both art and design talks, engaging students in real-time dialogues surrounding recent work, current research and the evolving field of visual communication.
The curatorial studies offerings at USC Roski are being strengthened significantly with the Nov. 19 announcement that the university and Pacific Asia Museum of Pasadena, Calif., are forming an alliance to preserve the museum and its collection of more than 17,000 items from across Asia and the Pacific Islands.
The ubiquity of cutting-edge art and design in Los Angeles creates an ideal laboratory for USC Roski students. Institutions, galleries, production studios and independent publishers reflect the city's cultural and economic diversity, offering unparalleled fabrication technologies and a wealth of intellectual currents.
"USC Roski students are inherently attuned to these influences," Muhl said.
In 2006, arts patrons Gayle Garner Roski and Edward P. Roski Jr. announced the naming gift for the school, expanding its facilities, technology and tenure-track faculty. Garner Roski, the school's namesake, is an accomplished painter and alumna of the school. Edward Roski graduated with a degree in business from USC and serves as a member and immediate past chair of the USC Board of Trustees.