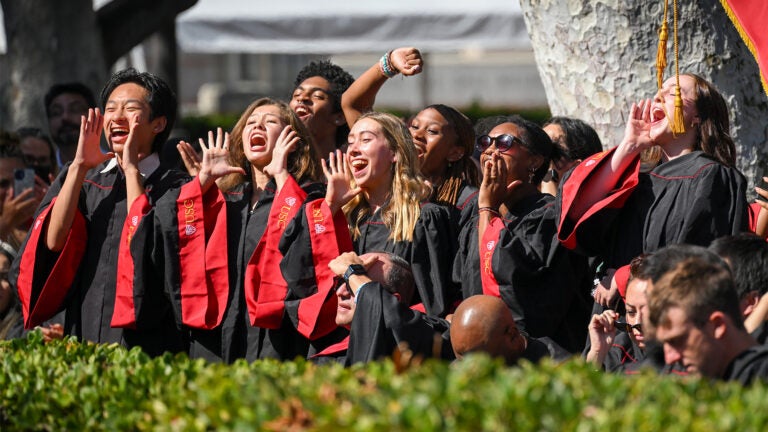 Convocation welcomes newest members of the Trojan Family
President Carol L. Folt joins in celebrating the new students as they begin their USC academic journey.
The University Park Campus came alive Thursday morning as the newest Trojans — in full academic regalia — made their way through crowds of cardinal-and-gold-clad family members as part of USC's new student convocation. Members of the Class of 2026 exuded a sense of hope and excitement as they took their first true step in their USC journey.
"Convocation is a joyful celebration, but it's serious too," said USC President Carol L. Folt. "It is the official start of your academic journey here. This is an immense privilege, and it carries with it, of course, a great responsibility."
As the sun shone on Alumni Park, Folt, Provost Charles Zukoski and the university's deans welcomed nearly 13,000 new undergraduate and graduate students from 49 states and 82 countries along with their families.
As a biologist with a lifelong passion for sustainability, Folt reminded the new students to seek joy and purpose in everything they pursue. She also encouraged students to work together — regardless of their disciplines — to find solutions to the common issues we face and explained why USC is the perfect place to do just that.
"Being at USC is a learner's dream," Folt said. "You'll delight in each other's cultures, and I guarantee you are going to be spurred on by the excellence of all of your friends."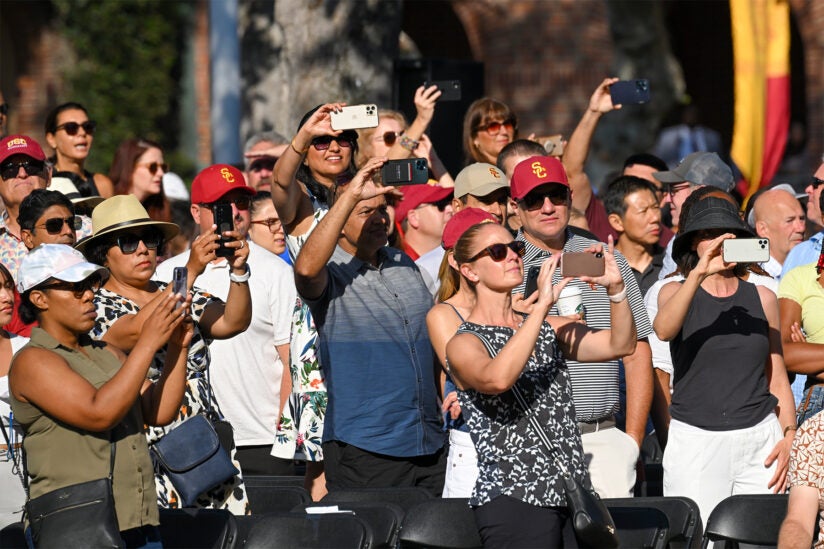 USC new student convocation: Students inspiring students
In addition to Folt, students also heard from some of their own as senior Hannah Woodworth, Undergraduate Student Government president, spoke to the next generation of the Trojan Family. As someone who skipped her own convocation three years ago due to her own fears, Woodworth encouraged students to break out of their comfort zones.
"USC is a big school, but this means there's an extraordinary range of people," she said. "In a big school like USC, some people struggle with finding their place, their community and their people. College is all about finding these people and I promise you will, but it takes time and sometimes even a bit of discomfort."
Graduate Student Government President Sam Garza urged students to always remember that they belong here.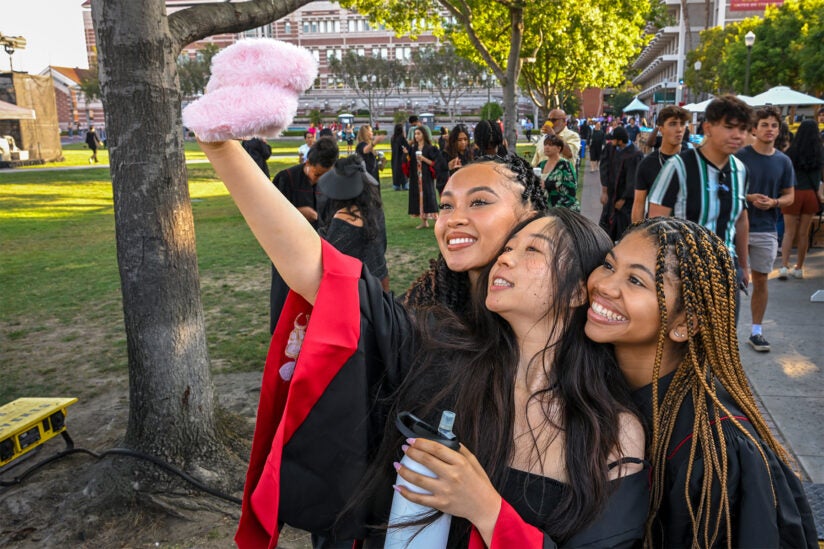 "There was always one thing that kept me grounded: my acceptance letter into my program," Garza said. "Whenever you're feeling overwhelmed, think back to that acceptance letter, think of this moment, this convocation, and remember that by being here, you've already accomplished something incredible."
Alums share success story at USC new student convocation
The newest Trojans also heard real-world success stories from USC alumni Ryan and Adam Goldston, who, in addition to being multi-sport athletes in college, also started their own company, Athletic Propulsion Labs. What started as an idea in their dorm room — one that didn't even make the top 10 in the school's business plan competition — is now a multimillion-dollar business that is the second-largest independent athletic footwear company in the world.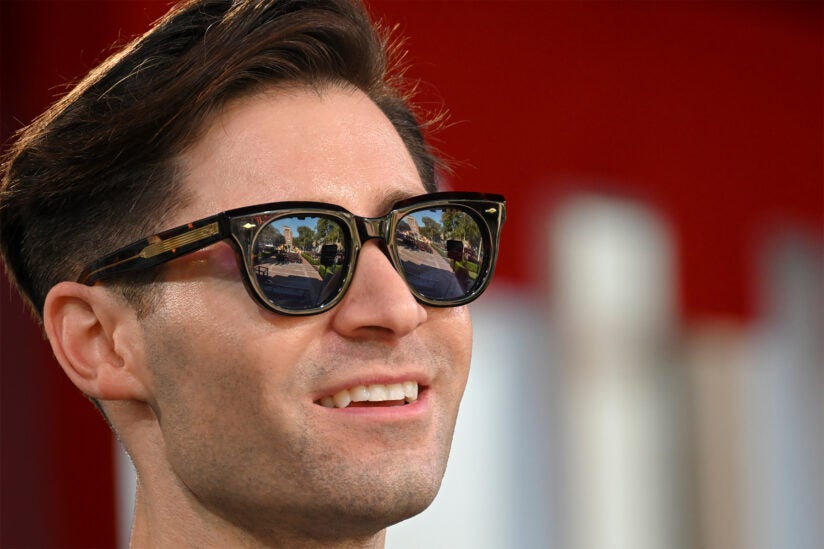 "The easiest way to get where you're going is one step at a time," Adam Goldston said. "When you enjoy the journey, the destination will take care of itself — so here's to today and the first step in your journey as a USC Trojan."
Before each individual dean welcomed the new Trojans into their respective colleges, Allissa Richardson, associate professor of journalism and communication at the USC Annenberg School for Communication and Journalism, talked about the long path many students faced to get to USC and paralleled that with her own academic journey. As a someone who had never been away from her home state of Maryland before attending college in New Orleans, Richardson found the confidence within herself to pursue her passions and found her calling in both journalism and academia.
"College is magical, and the University of Southern California is powerful — you could not have chosen a better place to come learn who you are," Richardson said. "You will realize that the most important relationship you will gain here at USC is the one you have with yourself. This is where your journey begins — your journey to becoming the very best you that you can be."