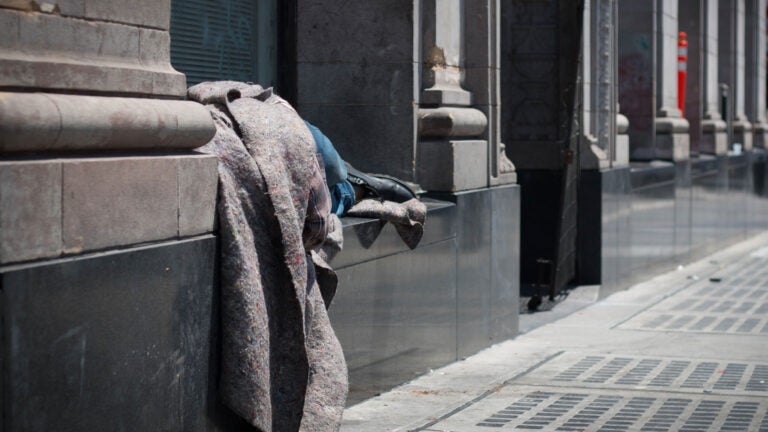 New two-year project looks at needs of L.A.'s chronically homeless
Project will explore ways to reduce the gap between the needs of L.A.'s chronically homeless and existing housing and support service options
Second of two reports.
Nearly 44,000 people are homeless in Los Angeles County — about 30 percent of whom are chronically homeless. Chronically homeless individuals are likely to be older than the general homeless population and have remained homeless for long periods of time — sometimes years or even decades.
Typically, they have a disabling health condition such as mental health or substance abuse problems, making it difficult for them to maintain stable housing and employment. Most do not have a support network and rely on an already over-taxed social service system.
A new two-year project led by Ben Henwood, an assistant professor at the USC Suzanne Dworak-Peck School of Social Work and an affiliate faculty member with the USC Edward R. Roybal Institute on Aging, will explore ways to reduce the gap between the needs of L.A.'s chronically homeless and existing housing and support service options.
"Many of the chronic homeless have been disenfranchised and on the streets for some time," Henwood said. "When the homelessness crisis came about in the 1980s, they were in their 30s. Now, several decades later, the majority of them are 50 or older."
Permanent supportive housing
Studies show that permanent supportive housing — subsidized housing paired with supportive services — can be a cost-effective solution to help those experiencing long-term homelessness. This is the first National Institutes of Health-funded study to consider factors related to aging in place in a permanent supportive housing environment.
"They finally are being targeted for supportive housing," Henwood said. "This is a population I have been working with my entire social work career. It's not just people who fall in and out of homelessness."
The research team will work with Skid Row Housing Trust, which provides 1,800 supportive homes to formerly homeless and at-risk people across greater Los Angeles.
Costs of being homeless
Research indicates that permanent supportive housing can improve the health of those who were formerly unsheltered, thus potentially lowering the costs and strain on publicly funded services.
According to one estimate, Los Angeles spends about $965 million per year on health care, social services and law enforcement for homeless adults.
"They are severely compromised medically because of the long time they've spent on the street," Henwood said.
The study will specifically focus on geriatric syndromes — symptoms in older people that do not fit into particular disease categories — such as delirium, falls, incontinence and frailty, which are known to be more common in homeless adults.
Henwood's study will provide new data on how evidence-based prevention and management strategies that target age-related health conditions can be integrated with permanent supportive housing. One of the specific aims is to adapt a screening program for geriatric syndrome for use in a unique non-clinical setting.
We hope this project can help foster collaborations and conversations between systems of care.

Ben Henwood
Integrating services
"Homeless services are often divorced from other service sectors," Henwood said. "We hope this project can help foster collaborations and conversations between systems of care."
Addressing homelessness is a complex issue because of its many interconnected causes. Some causes are personal. Others are societal.
"Most people focus on the individual risk factors like mental illness and addictions, but we also know that issues like the lack of affordable housing and institutional discrimination play a role," Henwood said. "Homelessness is a symptom and manifestations of all of these issues."
The research team includes Research Assistant Professor Harmony Rhoades of the USC Suzanne Dworak-Peck School of Social Work along with UPS Foundation Professor of Gerontology, Policy and Planning Jon Pynoos of the USC Leonard Davis School of Gerontology; Assistant Professor of Clinical Occupational Therapy Deborah Pitts of the USC Mrs. T.H. Chan Division of Occupational Science and Occupational Therapy; and Assistant Professor Rebecca Brown of the University of California, San Francisco School of Medicine.
In addition to his leadership on this project, Henwood will lead USC's new partnership with the Los Angeles Homeless Services Authority to collect and analyze data from the 2017 Los Angeles County Homeless Count.