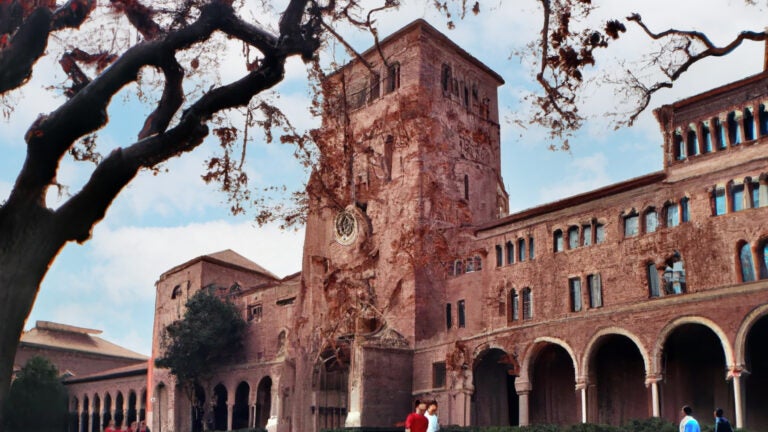 USC dives into AI research, education with new Center for Generative AI and Society
Amid the buzz about generative AI tools like ChatGPT, USC forms research center with $10 million in seed money and influential experts from the fields of computer science, film, media, education and more.
USC President Carol L. Folt on Thursday announced a new Center for Generative AI and Society to explore the transformative impact of artificial intelligence on culture, education, media and society.
The new $10 million center will seed research, convene experts and expand the university's national leadership with a special focus on the ethical use and innovation of generative AI.
"USC is uniquely positioned to understand and influence how this emerging technology is changing the ways we live, work and play," Folt said.
"Our 22 schools are long-standing leaders in fields like the creative arts, media, health, education, engineering and business. Working across disciplines, USC will vigorously explore the intersection of ethics and the use and evolution of generative AI."
---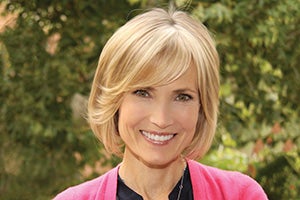 "AI is poised to redefine how we communicate, create content and contemplate our world and its truths. We have an imperative to unite journalists, media makers, artists and storytellers to design new investigative methods and technical tools that interrogate AI's transformative power, helping to realize its potential as a positive force."
— WILLOW BAY
Dean, USC Annenberg School for Communication and Journalism
---
The center reinforces USC's historic influence on computing and its reputation for nurturing generations of engineers, entrepreneurs, scientists and creative artists.
The university is already a pioneer in these areas with interdisciplinary education, award-winning alumni and faculty, and students who are creators, disruptors and innovators.
The timing of the center's opening comes amid the buzz over generative AI technology such as OpenAI's ChatGPT and DALL-E, the former of which launched with the aid of USC alumni.
Center for Generative AI and Society: revolutionizing a variety of industries
Generative AI has the potential to revolutionize a variety of industries such as cinema, gaming, journalism, education and even the next generation of drug therapies — among many other parts of our work and daily lives.
AI technology is already a tool to augment film editing, screenwriting, and cinematography, and many filmmakers are using machine learning to create new kinds of computer-generated animation, images and whole story worlds, as James Cameron achieved with Avatar: The Way of Water.
---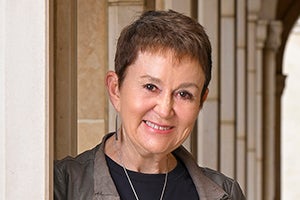 "Our USC is incredibly privileged to be home to some of the most creative minds in the world, to the writers, filmmakers, game designers and theorists who have shaped so much of contemporary culture through visual expression, narrative, game design and critical thought. It would be wrong not to bring that incredible expertise to one of our current moment's most significant topics, and to do so with an emphasis on the powers of creativity, imagination, inquiry and criticality."
— ELIZABETH DALEY
Dean, USC School of Cinematic Arts
---
AI-based tools are advancing so quickly that USC leaders say they are forming the center at a critical point in the technology's development. The center aims to prepare students for the jobs of tomorrow by giving them access to the latest AI technology.
"The genie is out of the bottle, and we're not going back," said Ishwar K. Puri, senior vice president for research and innovation.
"Our students are going to use this technology, and we need to teach them how to use it responsibly. We want to harness the power of AI for the public good."
A core group of leaders and faculty from the following USC schools will spring the university into an immersive exploration of generative AI, its benefits and its challenges: the USC Annenberg School for Communication and Journalism, the USC Rossier School of Education, the USC School of Cinematic Arts, the USC Jimmy Iovine and Andre Young Academy and the USC Viterbi School of Engineering.
---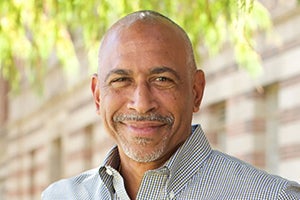 "AI, like other technological breakthroughs, has the potential to transform education. However, we must make sure that its extraordinary potential is utilized in ways that advance knowledge and creativity rather than threatening or undermining the integrity of education. I believe that if we are thoughtful in how we approach its application, this can be accomplished."
— PEDRO NOGUERA
Dean, USC Rossier School of Education
---
The center will mobilize the expertise of USC's schools to explore themes across multiple industry sectors and professions, as well as support further research and the development of educational programs.
USC is at the forefront of innovation in education, computer science and the arts. The Iovine and Young Academy, for instance, bridges arts, technology and business to offer a multidisciplined, intersectional education in an ever-changing world. The university also has a unique position and influence in Los Angeles, where our students and faculty are at the forefront of the creative arts, media and education, among other fields.
The center's realm of influence will span the disciplines of arts, media, education and beyond, with the potential to influence the economy, health care, law, medicine, policy and science.
USC alumni already influential in the field
In fact, USC alumni already are influential, as they played a formative role in generative AI. Ashish Vaswani, a doctoral computer science graduate of USC Viterbi, co-authored a paper, "Attention Is All You Need," with Niki Parmar and other researchers that proved a foundational text in ChatGPT's creation and other generative AI. (Parmar earned a master's degree in computer science from USC Viterbi.)
---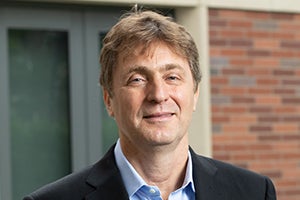 "The intersection of generative AI with human creativity and learning holds great potential for USC's Iovine and Young Academy and other institutions to enrich our existing training for students who augment the human experience through the co-design of physical, digital and social components. The center holds the promise to shape their worldviews on the potential of technology."
— THANASSIS RIKAKIS
Dean, USC Jimmy Iovine and Andre Young Academy
---
"USC is not just an intellectual environment. There was a certain culture at USC that focused on pragmatic, real results, and communication was so important," said Vaswani.
"Everything I learned at USC shaped how I do my research and how I learn and absorb information. It was a vibrant, tremendous research group pursuing bold ideas, and that's rare."
The center will be co-directed by Holly Willis, a professor and chair of the media arts + practice divisions at the USC School of Cinematic Arts, and Bill Swartout, a computer science research professor at USC Viterbi and chief technology officer for USC Viterbi's Institute for Creative Technologies.
---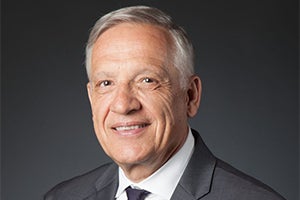 "Throughout the millennia, human ingenuity has advanced science and created new technologies that have dramatically improved the human condition. Today, we are experiencing another transformative moment through computational technologies such as generative AI. The implementation requires innovative, courageous and socially responsible action. This new center will be the crucible of such thought and practical leadership."
— YANNIS YORTSOS
Dean, USC Viterbi School of Engineering
---
Puri anticipates that USC researchers involved with the center may also tap AI technologies to solve problems in drug discovery and develop new diagnostic techniques.
"We have a duty to develop solutions that are ethical and that benefit society as a whole," Puri said.
"This is an exciting time for USC, and we're looking forward to working with our faculty and students to explore the possibilities of generative AI."