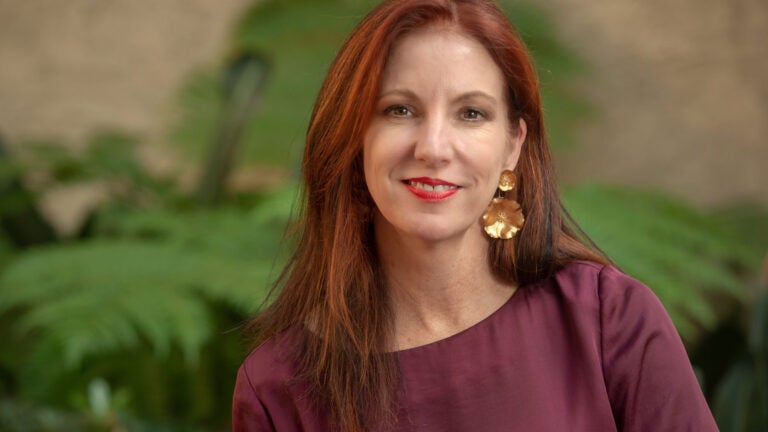 New ethics and compliance leader brings a focus on values
Stacy Giwa is helping the university reflect on and strengthen its culture, emphasizing ethical decision-making and transparency
Stacy Giwa has joined USC as vice president of ethics and compliance — with a focus on values and culture and the goal of strengthening integrity and ethical decision-making across the university. She is an experienced leader in ethics and compliance, culture, investigations and human resources.
Hiring Giwa to oversee the USC Office of Ethics and Compliance is an element of USC's ongoing, sweeping efforts to review its core values and recommit itself to them. She is now part of the leadership team reporting to Carol Mauch Amir, senior vice president for legal affairs and professionalism who also oversees the university's risk management, internal audit and legal matters, as well as the newly formed investigative oversight division, the Office of Professionalism and Ethics.
"Ms. Giwa is taking on an important role in our university community," USC interim President Wanda M. Austin said. "She is leading the strategic development and execution of an integrated ethics and compliance program, ensuring we meet our legal and regulatory requirements, while further instilling a culture of values and principles into the cultural fabric of the USC community."
Giwa believes the effort is vital to the university's future, and she aims to ensure that faculty members, employees and students have a voice in shaping USC's culture and mission moving forward.
For all the right reasons, USC is taking a step back to see what we can learn from our key stakeholders about our values.

Stacy Giwa
"For all the right reasons, USC is taking a step back to see what we can learn from our key stakeholders about our values," she said.
"It's a really pivotal time. There are a lot of great things happening here, so to be part of helping people engage around values as a core element of meeting our objectives of being a top research university and outstanding medical enterprise is exciting."
USC ethics and compliance leader drawn to the human element
Trained as a lawyer, Giwa started her career in labor and employment litigation with Southern California Edison. During her time there, she held leadership roles in diversity and inclusion, human resources, and ethics and compliance.
"Seeing the impact on people when you end up in litigation, was a trigger for me to get more involved in culture initiatives and proactive policies that could help prevent bad things from happening," she said.
Giwa led a diversity and inclusion initiative at Southern California Edison, helping promote respect and engagement among people with varying perspectives and backgrounds throughout the large investor-owned utility.
During a later role in human resources, she conducted surveys and outreach to gain feedback from employees on topics like benefits and pay, how the company's leaders could better communicate their vision and priorities, opportunities for career growth and other critical issues. Giwa used that information to work with key stakeholders across the enterprise to develop new programs and services, an approach she envisions replicating at USC.
"I'm very much a believer that we all need to be able to talk freely about our values and culture and that putting plans in place to enable those conversations is very important," she said. "It's not about doing a survey about values and that's it. It's about engaging folks about our values and using that feedback to make action plans, things we can do to make a difference."
In 2009, Giwa became vice president and chief ethics and compliance officer at Southern California Edison, establishing a companywide compliance program now held up as an example of best practices in the industry. She focused on helping leaders and supervisors at all levels of the organization embrace and emphasize company values and ethical behavior.
Before joining USC in November, she worked as a partner at Ernst & Young, assisting clients with assessing their compliance risk, investigating allegations of misconduct and launching initiatives to improve ethical practices.
USC ethics and compliance leader: Encouraging a culture of respect
At USC, she is responsible for helping people across the university comply with legal and regulatory requirements, especially in areas like research, data privacy and health care services. The other component of her position involves promoting ethics and integrity, and Giwa plans to stimulate discussions about USC's mission and overarching values.
Culture doesn't live in an office. Values and culture are something we are all responsible for.

Stacy Giwa
"Culture doesn't live in an office," she said. "Values and culture are something we are all responsible for. Leadership is about facilitating that and being accountable for creating the dynamic that allows us to have those conversations."
She works alongside representatives from across the university who make up the recently established President's Culture Commission, a group tasked with assessing and strengthening USC's campus culture. Giwa is also part of the Working Group on University Culture being formed to help implement culture initiatives and ensure the commission is receiving input from the community. The working group will use feedback from surveys and interactions with students, faculty members and employees to develop concrete steps to fulfill the commission's goals and recommendations.
Giwa also collaborates with other compliance leaders at USC, such as Michael Blanton, USC's vice president of professionalism and ethics, to ensure investigations into sensitive issues are handled appropriately. Other major initiatives involve updating the USC Code of Ethics and establishing training and outreach programs to spread positive messages about integrity, making ethical decisions and reporting concerns about misconduct or other serious issues.
"The role of our office is to put the engine behind this effort to strengthen our culture," Giwa said. "We want to ensure we are moving forward on enabling these discussions of our culture and values throughout the university. This is an important journey, and everyone in the USC community has a role to play."
Giwa is a California native who attended San Diego State University and earned her law degree from Pepperdine University School of Law. She lives in Glendale and enjoys weekend barbecues with her husband, four kids and her rescue dog, Zep.