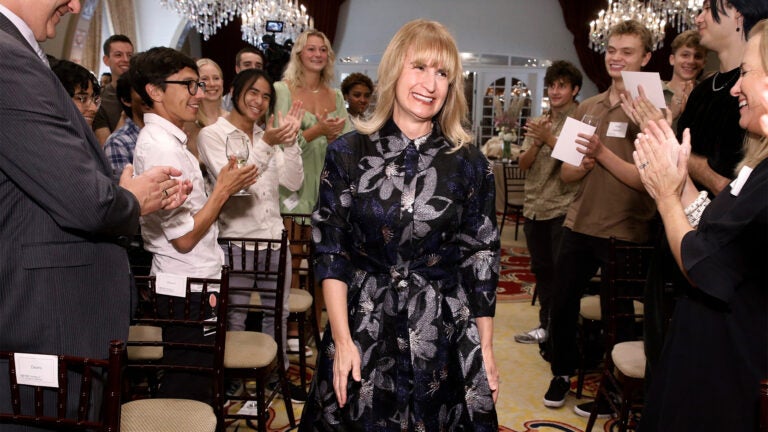 Julia M. Ritter installed as dean of the USC Kaufman School of Dance
The accomplished public artist and academic leader promises to be a "partner in dance to do things that matter."
The USC Town and Gown ballroom was abuzz with excitement — especially in the back two rows. There, dozens of USC Kaufman School of Dance students, seated with perfect posture, joined university faculty and staff to enthusiastically welcome the school's new dean, Julia M. Ritter.
"She sees interdisciplinary collaboration as the ultimate dance expression, and she's worked with professional dancers, students of all ages and self-described non-dancers, including people who are unhoused or incarcerated," said USC President Carol L. Folt, who hosted Monday's installation ceremony.
Addressing the lively crowd, Ritter — an acclaimed public artist and academic leader — discussed the undeniable and unforgettable power of movement.
I view dance as an immersive way of being in the world.

Julia M. Ritter, USC Kaufman dean
"I view dance as an immersive way of being in the world," Ritter said. "To paraphrase performance studies scholar Rebekah Kowal, 'dance does things,' and I'll add to that — that dance does things that matter."
The new dean discussed the rich history of dance in Los Angeles and Southern California.
"Within the Los Angeles area, almost any kind of dance can be found doing things that matter: connecting past to present, generating cultural presence, supporting spiritual experiences, producing economic benefits, fostering democracy, improving health and staving off decline, researching the possibilities of movement, discovery and expression, and of course, excelling in artistry," Ritter said.
USC Kaufman dean sees school's unique positioning
"Thus, the [USC Kaufman] School of Dance is distinctly positioned as a central intersection of this creative city and global hub. I'm thrilled to join this very special school to build upon foundations that honor diverse heritages and techniques."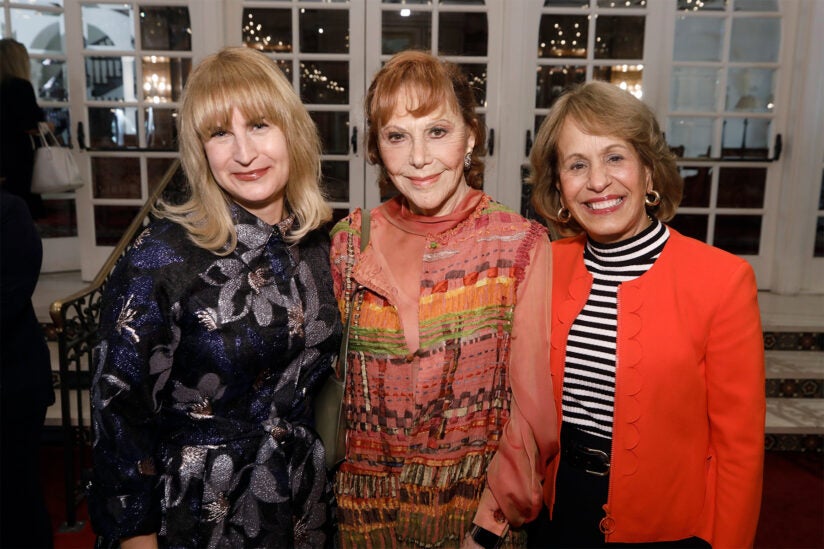 Ritter also emphasized myriad benefits of dance, including its ability to reinforce the human connection and champion greater diversity, equity and inclusion.
"Dance supports the cultivation of identity and autonomy, as well as a communal sense of belonging. For these reasons, dance is a productive realm for biopsychosocial research toward health and human development," Ritter said. "This means that dancing generates both diversity and connection as a methodology for empathy for all participants: performers, audiences and passersby."
New USC Kaufman dean: a history of accomplishments
The new dean comes to USC from the Mason Gross School of the Arts at Rutgers University, where she served as chair and artistic director of the department of dance for more than a decade. There, she launched a wide range of academic initiatives, established two new graduate degrees, created multiple study abroad programs­ and implemented numerous community engagement projects.
Her many accolades include the inaugural Rutgers Presidential Outstanding Faculty Scholar Award in 2021 and three Fulbright Scholar awards for choreographic research.
Ritter also thanked the USC dance school's founder, Glorya Kaufman, "for envisioning a school where dancers are supported to be risk-takers and adventurers."
She continued, "I'm excited for Kaufman's future as it grows in eminence as a global leader of artistic achievement and exemplar of intercultural dance education, and I look forward to the possibility of engaging each of you as a partner in dance to do things that matter."