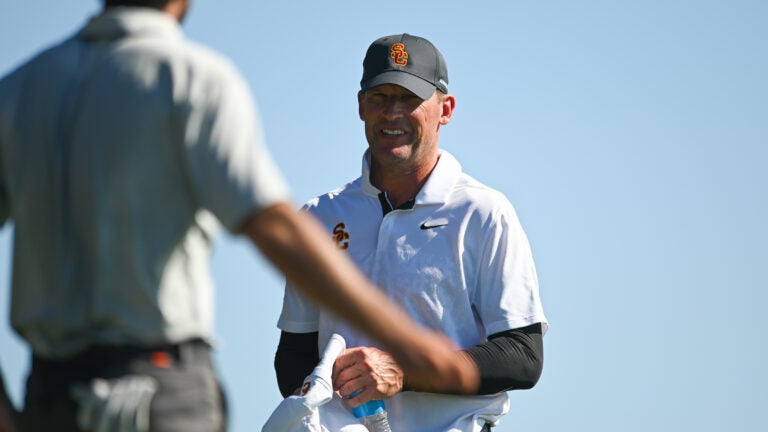 Mark Hankins leans on Big Ten success to guide Trojan men's golf program
Hankins has previous head coaching experience at Michigan State, Iowa and Nebraska.
As USC prepares to enter the Big Ten Conference next year, new men's golf coach Mark Hankins stands poised to lead his team into a new era. He steps into this role with more knowledge of Big Ten golf than most, with successful head coaching stints at Michigan State, Iowa and Nebraska.
But aside from a familiarity with the region, Hankins also can draw on his previous roles in athletics administration — combined with his experience in the sport at the professional and international level — to give him his biggest edge at USC.
"This is an elite place," Hankins said. "I played professional golf out here for a few years and lived in Southern California, and I realized how important golf is in certain areas of the country. You want to be at a place that really appreciates your sport."
For new USC golf coach, a road back to college
A native of Mount Pleasant, Iowa, Hankins began his collegiate career at Iowa State, where he was a first team all-conference golfer and academic all-American. After a successful collegiate career, Hankins played professionally on a few tours and PGA-qualifying tournaments around the country before deciding the life of a touring golfer wasn't for him.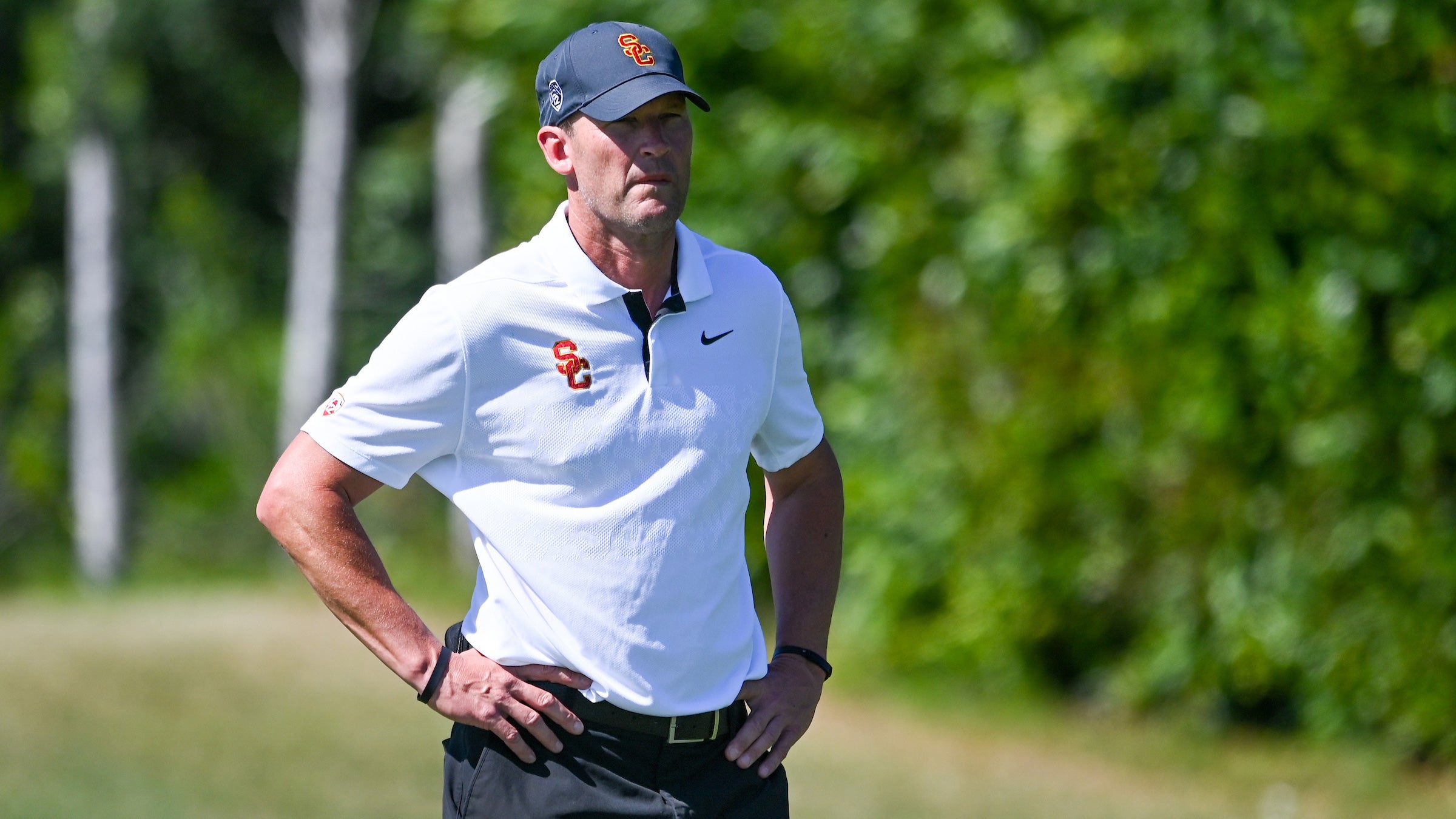 "I love golf, but I'm a pretty healthy guy and I was just traveling literally every day, living out of my car or in hotels," he said. "There just weren't as many options back then and the money was pretty minimal unless you were on a PGA Tour."
Fortunately for Hankins, he was able to find opportunities at the collegiate level with his alma mater. While earning his MBA from Iowa State, the Cyclones men's and women's golf teams created a golf assistant position for Hankins, which gave him his first taste of coaching at the NCAA Division I level.
"I love college athletics," Hankins said. "I think it's one of the coolest jobs in America, to be able to be called coach and work with these players that have put in so much of their time and are already at an elite level."
Hankins took his first head coaching position in golf with the University of Texas at Arlington in 1997. Two years later he transitioned to Michigan State, where he eventually guided the Spartans to two Big Ten Conference team championships, five NCAA Championship Regional appearances and 11 tournament titles, all while earning Big Ten Coach of the Year twice.
In 2007 he returned home to coach at Iowa, where he led the Hawkeyes to 11 tournament titles and six consecutive NCAA Championship Regional appearances. Hankins turned Iowa into a perennial top-25 team, coaching three All-Americans, 16 All-Midwest Region selections, 11 first-team All-Big Ten honorees and seven Academic All-Americans in his seven years with the Hawkeyes.
"Golf is basically an entirely learned sport," Hankins said. "You're just not naturally good at golf. The key is to figure out what your niche is, expand on the advantages and try to minimize whatever disadvantages you have."
New USC golf coach: Administrative roles and moving west
Following the 2014 season, Hankins stepped down from his role as head coach of the Hawkeyes to work in athletic administration. He served as the sport administrator and supervisor for the men's and women's swimming and diving, cross country, track and field and tennis teams, as well as women's soccer. Hankins also supervised the university golf course and served as the university's representative to the Sport Management Committee at the Big Ten Conference.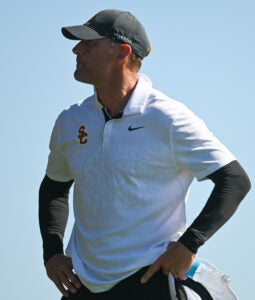 "That experience allowed me to see behind the curtain a little bit," he said. "Regardless of the sport, we all do similar things, and ultimately we just want to inspire young student-athletes to be the best that they can be in all phases of life."
In 2018 he took those lessons learned as an administrator and returned to coaching as head coach at Nebraska, and by the next year he had guided the Cornhuskers to their best-ever finish at the Big Ten Conference Championship. In 2021, Hankins accepted a co-head coaching position at Missouri, with the intent of succeeding Mizzou head golf coach Mark Leroux upon his retirement.
As a golf coach, Hankins said the focus was always on his team and preparing his players. His role as an administrator allowed him to see what other universities were doing in terms of culture, recruiting and the caliber of facilities.
Which is why he jumped at the opportunity to coach the Trojans.
"At USC, you just have this unbelievable university where kids want to come and the education is sought after," he said.
"We need someone who can handle the class load, but also spend enough time practicing their sport, all while being focused enough in Los Angeles to compete in golf at the highest level in the NCAA."
Recruiting globally and keys to success
Hankins said that at previous schools, he had to retain and cultivate local talent to be successful. That sentiment still holds true at USC, but with the university's international recognition, Hankins said his recruiting territory has expanded dramatically.
"USC has such an international footprint to where we can go out and recruit those kids at the highest level," he said.
Hankins began recruiting immediately — before his USC office was fully set up — and is already seeing results. Earlier this summer, the Trojans signed one of the top recruits in Mexico.
"But whether you recruit Southern California or recruit the world, you want to get the player that's the right fit, that has continued upside to their game, and then we coach and mentor them from there," he said.
Hankins knows that building a program takes time, but he's confident in the pieces and players he currently has that are going to build that foundation. But as someone who has been involved with golf at almost every level, he also recognizes what success means at USC both on and off the course.
"We're looking for kids that are motivated to be great students and great players, and maybe move on and be professional golfers themselves, which I've done. That puts me in a good position to guide them through their journey," Hankins said.
"They only have four years to be great — it's a short period of their life — but if they work hard, they can realize their collegiate goals and set themselves on the path to success in their future careers."