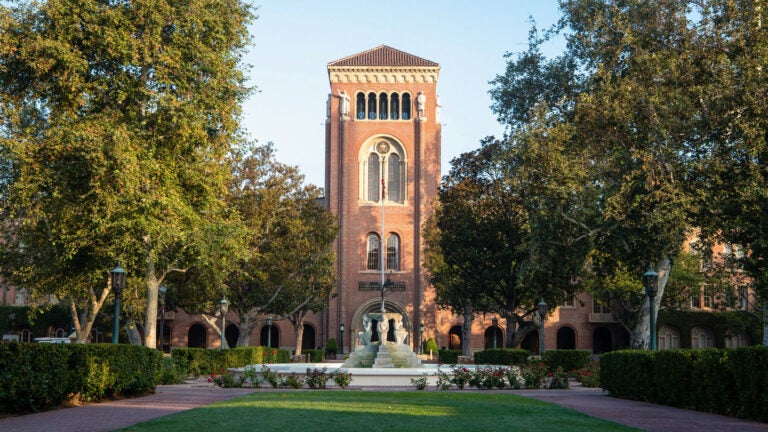 C. L. Max Nikias steps down as president, as search for new leader is underway
USC president agrees to step aside immediately, will continue as a tenured professor and assist with the transition of the incoming president
C. L. Max Nikias has agreed to step down, effective immediately, and will move into the role of President Emeritus and Life Trustee of the University. This decision follows the announcement, earlier this summer, that the USC Board of Trustees and Nikias had agreed to an orderly transition and that a special committee of the board would commence a search for a new president.
Among other responsibilities, Nikias will continue to serve as a tenured professor and holder of the Malcolm R. Curry Chair in Technology and the Humanities, and will assist with the transition of the incoming president. The Board of Trustees has appointed Wanda M. Austin as interim president.
The Board of Trustees expressed its gratitude to Nikias for his dedication and outstanding contributions to the university over the past 27 years, as a professor, director of national research centers, dean, provost and president. Since taking on the role of president in 2010, Nikias pioneered strategic initiatives that include recruiting a world-class faculty, accelerating the expansion of the university's academic medical enterprise, broadening USC's international presence and expanding the breadth and quality of our student body. In addition, under Nikias' leadership, the university successfully completed one of the largest fundraising campaign efforts in its history dedicated to academic research, student financial aid and campus development, including the development of USC Village, and it has been consistently recognized among the top universities in academic rankings.
Rick Caruso, chair of the USC Board of Trustees, said, "As a USC alumnus, and on behalf of the entire Board of Trustees, I am very grateful for everything Max and Niki have done to propel USC into a world-class university.
"As he has always done, Max is taking this action in what he believes to be in the best interest of the university following controversies that have arisen from the unfortunate and unacceptable acts of others. From our investigations, which are not yet completed, we have found absolutely no wrongdoing on Max's part."
Nikias said, "It has been a profound privilege for Niki and me to serve as president and first lady of USC, and to work alongside the Trojan Family all over the world. I am extremely proud of all that we have accomplished together on behalf of our students, faculty, staff, alumni and local communities. Together, we helped USC become a truly elite academic institution, while increasing accessibility for students, recruiting transformative faculty and building world-class campuses that meet the needs of our world-class students and faculty.
"I regret profoundly that those shared accomplishments have been overshadowed by recent events, but I am confident that the USC community will remain strong and resilient, and build on a very solid foundation to take USC to even greater heights. As I begin a new role as president emeritus and return to the faculty, Niki and I will continue to support our beloved university. Fight On."
---
MORE: Letter from Rick Caruso, Board of Trustees chairman, regarding C. L. Max Nikias' stepping down, appointment of Wanda Austin as interim president and search for a new USC president