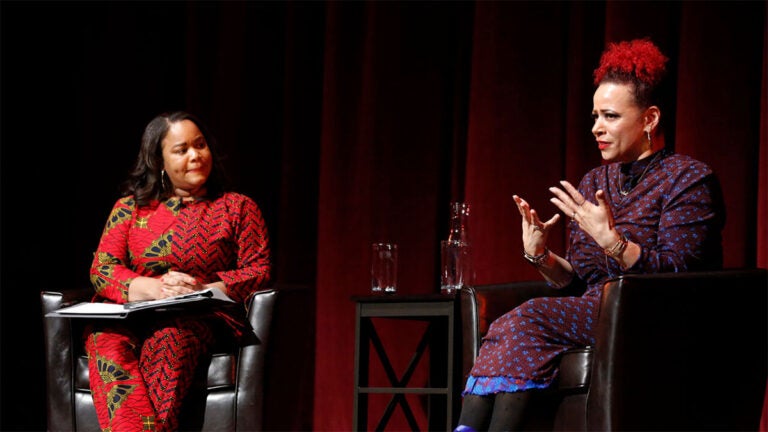 'The 1619 Project' creator takes a sharp look at Black American history
"We can be the country of our greatest ideals, but we have to tell the truth first," Nikole Hannah-Jones says at debut of Charlotta Bass Media Trailblazer Speaker Series.
The moment Nikole Hannah-Jones walked onto the stage of USC's Bovard Auditorium, the at-capacity audience of more than 1,200 people immediately rose to their feet to give the creator of The 1619 Project a prolonged standing ovation.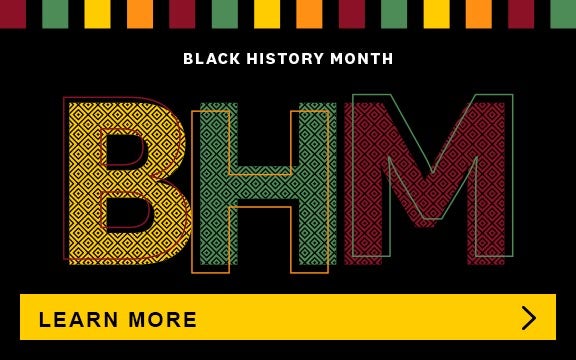 The Pulitzer Prize-winning journalist had not yet uttered a single word, but over the next hour she would have plenty to say about the legacy of slavery and the many ways it continues to influence contemporary life in the United States — a topic explored in-depth in the bestselling The 1619 Project book, a digital collection of essays, a podcast series and a new, six-part docuseries that premiered last month on Hulu.
"I wanted to answer the question that every Black person in America has gotten asked at least once: 'Slavery was a long time ago. Why don't you get over it?'" Hannah-Jones told the crowd on Tuesday.
"Nobody wants to get over slavery more than Black people. This is not beneficial to us. But we can't get over something that our country has never fully acknowledged."
She added: "Everything that we faced — school segregation, housing segregation, employment segregation — is not because we're Black; it's because we're descendants of slavery."
Hannah-Jones, a staff writer for The New York Times Magazine, was the headliner of the inaugural event for the Charlotta Bass Media Trailblazer Speaker Series. She was interviewed by USC Annenberg School for Communication and Journalism Professor Allissa V. Richardson, founding director of the USC Annenberg Charlotta Bass Journalism and Justice Lab. The lab — which officially opened earlier this month — saves, studies and shares news stories and oral histories about Black social justice trailblazers on the West Coast.
Bass was a groundbreaking journalist, editor and activist who owned and operated the California Eagle newspaper, one of the first, largest and longest-running Black publications in the West. She used the newspaper to fight against injustices such as segregation and discrimination in employment and housing.
"I didn't know who Charlotta Bass was until I was an adult," Hannah-Jones said. "So often, the contributions of Black people just get erased. You hear about great journalists in journalism school, but you don't hear about Black journalists. Lifting her up in the way that you are is so important."
The teacher who changed The 1619 Project creator's life
Hannah-Jones spoke at length about growing up in Waterloo, Iowa, and being bused to a largely white school far from her neighborhood as part of a desegregation program. Her life changed because of her high school Black studies teacher, Orlando Ray Dial, who helped to put her on the path of what would become her life's work as an investigative reporter covering civil rights, discrimination and institutional racism.
"I take this class, this one-semester class, and I learn more about Black people in the United States than I've learned in my entire life, and my mind was just blown," she said. "I became really angry that all of this knowledge existed and no one thought it was important for us to learn."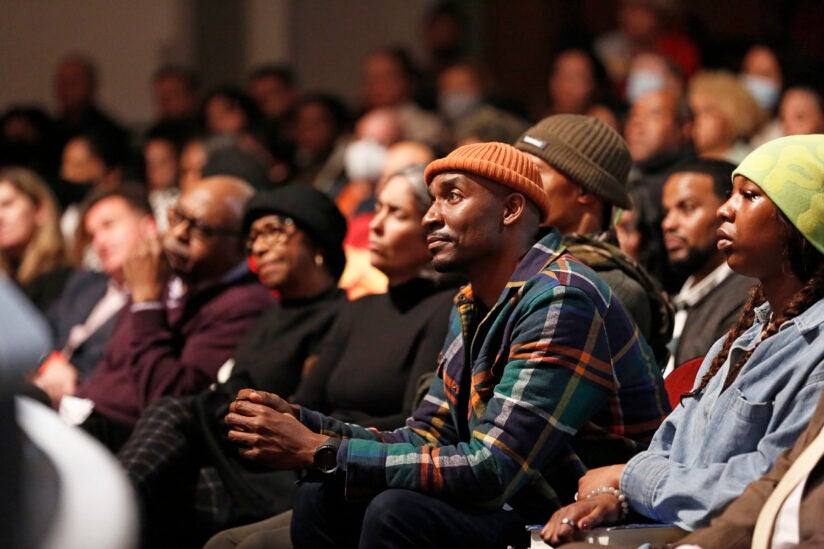 Among the books the teacher gave her to read was Before the Mayflower: A History of Black America by Lerone Bennett Jr. Hannah-Jones recalled that she was about 30 pages in when she first came across the year 1619 and a ship called the White Lion that brought the first Africans to the English colony of Virginia a year before the arrival of the Mayflower in New England.
"Few people knew about the White Lion of 1619, but every child learned about the Mayflower of 1620," she said. "The White Lion had been erased, and I understood that that's intentional."
Just 15 years old, Hannah-Jones was deeply affected when she realized the history of Black people was largely being ignored.
"When you are not one of those marginalized groups who has been erased, I think it can be so hard to understand what it's like — how demeaning and degrading it is to never see yourself in the story. Like not ever. Not in history class, not in the literature you learn, not in who the schools named are named for, not in the monuments," she said. "And so you really believe that your teachers are teaching what's important to know."
Around the same time, Hannah-Jones complained to Dial about not seeing Black kids and their experiences being written about in the school newspaper. His advice was that if she didn't like it, she should stop complaining, join the newspaper and write the stories herself.
She was aware of the country's racial divide at an early age, growing up with a Black father and white mother. She said this interracial upbringing disabused her of all of the common notions about why white people have more and Black people have less in the United States. She attributes the inequities to a caste system and notes that while both sides of her family were working class, the white side had land and the Black side did not.
Backlash against The 1619 Project based on fear
Hannah-Jones has experienced both acclaim and backlash for The 1619 Project. Her work on the project began in 2019 as a series of articles for a special issue of The New York Times Magazine. She believes a widespread desire to treat slavery as an aberration in order to preserve the idea of American exceptionalism is at the core of the criticism against the work.
The history we learn is designed to maintain the hierarchies that we have.

Nikole Hannah-Jones, The 1619 Project creator
"The history we learn is designed to maintain the hierarchies that we have," she said. "It's to maintain power, to make us accept inequalities that we all experience. There's a fear that if we have a different understanding of our society, if our memory of who we are as a country is different and more truthful, then that challenges power."
Hannah-Jones said that even if the history of Black people is "inconvenient to the narrative," it must be told to all Americans and that "amnesia about Black history and the history of race in this country" cannot continue.
"I just want us to one day understand that this country would not exist as it does without us," she said. "And one day, we can recognize all of our humanity. We can be the country of our greatest ideals, but we have to tell the truth first."
When asked about withstanding backlash from critics, Hannah-Jones said she is motivated each day by her deep desire to pay a debt to those who came before her.
"This project exists to be a testament to all of us," she said. "To all of our collective ancestors and all of us descendants who are the greatest testament to their survival, to their determination to fight for a world that most of them didn't get to see."
'I am in awe of what she does,' says President Folt
Hannah-Jones was introduced by USC President Carol L. Folt, who praised the journalist for her work and for the courage she exhibits when faced with backlash to her research.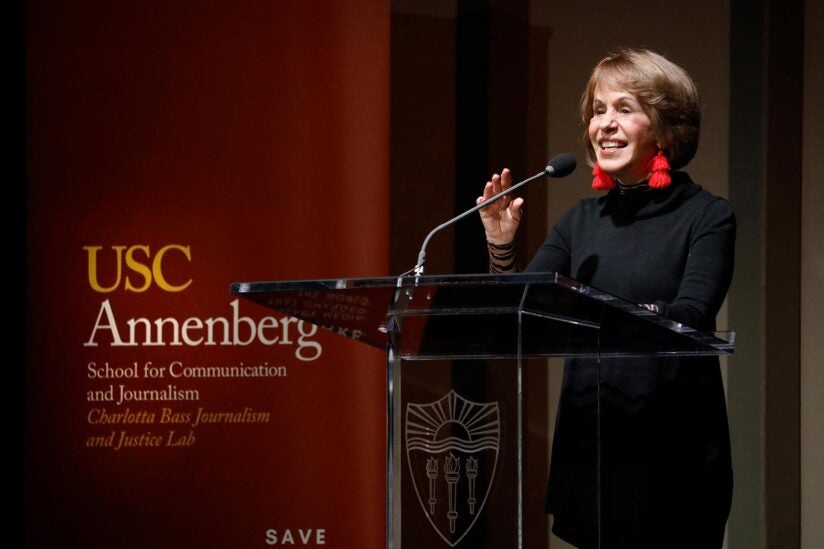 "She has not stopped," Folt said. "She's been pushing forward, and she does it with such grace. I am in awe of what she does."
Folt described Hannah-Jones' work as "confronting the hypocrisy and the uncomfortable truths that we all need to deal with."
"That's what we should be doing at universities," Folt said. "We need to always be helping to support and push forward that desire to learn from our history and tell the truth."
Moments after the talk ended, USC student Rachel Wiggins leaned against a wall in the Bovard Auditorium lobby processing all that had just been said.
"It was very transformative for me," Wiggins said. "I feel different. I think I'm walking different now."
The USC School of Architecture sophomore said she really connected to the working-class family stories that Hannah-Jones shared and saw similarities to her own parents and grandparents.
"I think one of the most important things you can learn from someone who's kind of like you and has come from a similar background is that there's so much that Black people are capable of," Wiggins said. "She talked about how history very much has a white focus narrative. She's bringing back Black history and making sure that we're aware of it. As an educated Black person, I might have missed that."
USC Dornsife College of Letters, Arts and Sciences sophomore Cameron Bassett said the event moved him, as well.
"I think having someone verbalize how you feel is definitely very reassuring," said the political science major, who described himself as a "future historian."
"Being written out of history is deeply disappointing, and I see a lot of what she said about it being foundational in America as being true. She is pushing our history to the forefront, and that is very important to me and amazing to see."