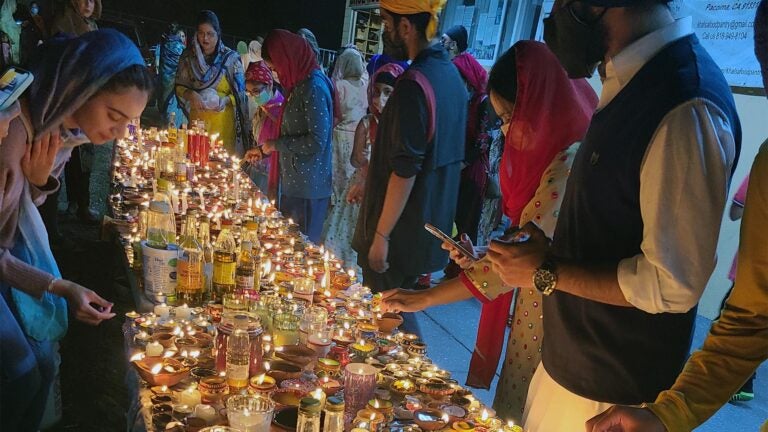 Offering community and friendship for students of all faiths, spiritualities and life philosophies
USC Office of Religious and Spiritual Life provides many opportunities to make friendships and meaningful connections
There are so many opportunities to make intentional friendships and meaningful connections at USC's Office of Religious and Spiritual Life. On any given night, the building provides space for multiple student clubs and spiritual practices to come together and find meaning regardless of their religious affiliation or lack thereof. The center also recognizes over 80 student religious organizations on campus.
"We are here to help nurture every student's spiritual development," said the Rev. Jim Burklo, senior associate dean of religious life. "Every student is looking to find meaning during this time in their lives whether through religion, philosophical debate, or spirituality."
Burklo says his office is here to offer exploratory and welcoming opportunities for everyone.
"The ORSL is really great at meeting students where they're at," said Raynooka Kabir, former president of the Interfaith Council. "I feel like the core of the ORSL [even beyond religiosity and spirituality] is building community."
Kabir says the Office of Religious and Spiritual Life encourages mindfulness, interfaith dialogue and diversity — plus the staff helped connect Kabir to different spiritual experiences and exposed her to different cultural and religious traditions.
"I've never been particularly religious personally," she said. "But being involved at ORSL has taught me the importance of navigating religiosity, spirituality, and culture while engaging with people."
Office of Religious and Spiritual Life can offer sense of spiritual fulfillment
The office is a great place for community-seeking students, especially those looking for some sense of spiritual fulfillment, exposure to new ideas and a welcoming bunch of kind individuals, says David Krieger, a member of the Secular Student Fellowship.
"There is something special about a group of like-minded individuals making a conscious, unrequired choice to come together and ponder our place in the world and universe," Krieger said. "Everyone I've encountered is searching for a welcoming community and wants to provide that same environment they're looking for."
The University Religious Center, in which the Office of Religious and Spiritual Life is located, houses multiple meeting rooms and worship spaces for students of all backgrounds to meditate, pray, reflect, or gather for discussions, including large prayer rooms for Hindu and Muslim students the Kilgore Chapel for Christian students. Additionally, the Office of Religious and Spiritual Life maintains close relationships with neighboring religious sites such as Hillel, Chabad, the Caruso Catholic Center, Art of Living, Masjid Omar ibn Al-Khattab and the Church of Jesus Christ of Latter-day Saints, all of which have affiliated student groups on campus.
The student lounge space "is super welcoming, as are the courtyard spaces in the URC," said Kabir.
"I always stop by the building itself in between classes to make myself some tea in the student lounge and pick up candy. It generally feels like a very safe and welcoming space, and it's a nice space to pause from the bustle of my academic schedule."
But it's not just the space. Students value the sense of belonging that they feel with the deans and staff at ORSL.
Burklo and Vanessa Gomez Brake, associate dean of religions life, and the staff "have a very personal touch, and they're great at connecting with students and connecting us to organizations, people, and opportunities that interest us," said Kabir. "They also make time in their busy schedules to connect with individual students, which is amazing and super supportive."
The staff and faculty regularly attend the events held at the University Religious Center, and "they are always engaging, advising people to join other communities' events and encouraging them to attend," said Jasmine Kaur, the director of finance for the Sikh club on campus and the Sikh Interfaith Council representative. "They foster your different identities and help you learn and grow."
Support from the Office of Religious and Spiritual Life staff
Kaur says students can really see the support from staff. For Hanukkah, the Office of Religious and Spiritual Life helped support the organization of the menorah lighting celebration at Tommy Trojan with USC Chabad and President Carol L. Folt. For Diwali, the office provided red and yellow candles to celebrate and put up a Diwali altar in the University Religious Center's courtyard. Besides these little things, Kaur really appreciates the help in coordinating group trips. Students can request a van to go to their space of worship off-campus on Sundays and on special days of worship.
"You can see that they [the staff] support us," said Kaur. The Office of Religious and Spiritual Life also has strong ties with the student-run organizations like the Interfaith Council, USC Chabad Jewish Student Center, USC Hillel, the Muslim Student Union, USC Caruso Catholic Center, the Sikh Student Association, and others.
The Office of Religious and Spiritual Life is devoted to diversity, equity and inclusion initiatives on campus and beyond. From leading workshops during USC's annual DEI week, to guest lecturing in courses at USC"s various schools. Varun Soni, vice provost for Campus Wellness and Crisis Intervention and the dean of religious life, also convenes committees devoted to combatting antisemitism and islamophobia on campus, in addition to helping USC staff understand and prioritize needs for religious students, such as finding kosher, halal and vegan food options for Jewish, Muslim, Hindu and Jain students.
Simardeep Singh Gawra, Jasmine Kaur's brother and director of operations for the Sikh Student Association, says USC has made it easy for him to "really be out there" and hold events like Tie Your Own Turban.
"I've never felt a lack of confidence to advocate for my religion in public," he said. "There's never been a moment where we've been at a disadvantage which I really appreciate."
The Office of Religious and Spiritual Life also offers plenty of programming in mindfulness, wellness, grief, stress management, and culturally specific topics/events.
"Their animal therapy and tea events throughout the semester are so nice, and I regularly make use of the one-on-one Spiritual Care Checks that the Deans offer," said Kabir. "My conversations aren't even always related to spirituality — sometimes we just talk about the kind of balance I want in life and how my semester is going."