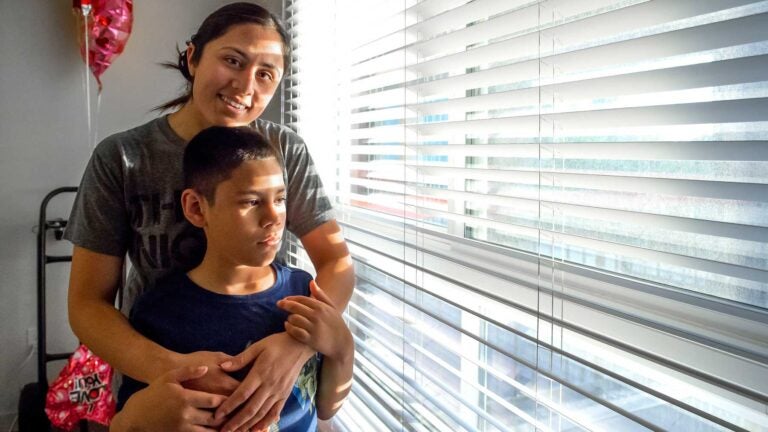 Once a foster youth, Carmen Noyola succeeds as student and single mom — with plenty of Trojan help
Her long-range plan: Use her USC education to create permanent housing for former foster and probation youth, providing them a base as they enter adulthood
[new_royalslider id="179″]
Carmen Noyola circles a few words on a sheet of her son's English homework in her Los Angeles apartment.
"Read this, Adam. Read me what you wrote," says Noyola, 25, sitting at her kitchen counter next to the 7-year-old.
It's a scene played out in homes across the nation: a single-working mom on a limited income trying to get her child through school. Except that after his homework is done and Adam goes to bed, it will be Mom's turn to study late into the night.
Noyola is a USC student working on her bachelor's in NGOs and Social Change at the USC Dornsife College of Letters, Arts and Sciences. She's not stopping there, either: She just got into USC's progressive Master of Planning program.
But to Noyola, the difficulties of balancing motherhood, work and college are worth it. It'll mean a new life for her and Adam.
Noyola is one of a small group of former foster youths at USC, a population that faces a tough climb in higher education.
While most former foster youth — 70 percent — aspire to attend a university, only 3 percent graduate with degrees, according to the organization Foster Care Counts.
New challenges
Young adults aging out of the foster care system battle challenges such as homelessness, unemployment, incarceration, substance abuse and early parenthood. They're all issues Noyola knows firsthand, whether herself or through her immediate family.
In recent years, USC has devoted more intensive resources to students coming out of the foster care system, providing support such as tutoring and guidance on applying for financial aid. The university sees the programs as a key part of its effort to open college to highly academically qualified students regardless of their socioeconomic background and help the students successfully maneuver through college life. Students like Noyola also bring a unique perspective to their coursework, classes and relationships on campus, making a stronger student body.
When Noyola graduates in 2019, she'll join her sister as the first generation in the family to have a high school diploma, much less a college education.
She wants to use her education to help other youth like her by working to create affordable, permanent housing for former foster and probation youth aging out of the system.
"They're expected to have their lives together and make it own their own," she said, noting many are without financial resources or family. "Many become homeless or incarcerated because they do things to survive that are not always the best."
While on campus or in a lecture hall, sometimes with Adam by her side working on his homework, it sometimes hits it her how far she has come.
I don't think I would have ever dreamed of being at USC.

Carmen Noyola
"I don't think I would have ever dreamed of being at USC," she said.
Into foster care
A judge placed Noyola in foster care as a teenager, after school fights and messing with drugs led her to stints in juvenile hall.
She said much of her issues stemmed from trauma. At 5 years old, she was sexually abused. It created an anger that grew up with time. Her family didn't know how to deal with it, she said.
She ended up finishing high school, walking at graduation just days after giving birth to Adam. "It's because of him I am where I am today," she said of Adam.
She tried to make it work with his dad but eventually left him, deciding to dedicate herself to school at East Los Angeles College and finding housing in Whittier.
Her identical twin, Lucero Noyola — also a former foster probation youth and teen mom — had transferred to USC. When Carmen Noyola realized she missed other schools' deadlines, her sister called to see if USC was still accepting applications. It was — and she got in.
She says when times get tough, USC's Trojan Guardian Scholars program has been there for her. Since 2013, the program has offered services to former and current foster youth — at least 18 students so far. Noyola has gone to them for help with rent or paying a babysitter, which they can sort out by connecting her to outside organizations. She has received free tutoring, counseling and found a sense of community, going to holiday dinners. She participated in a pilot program to address food scarcity, the Virtual Food Pantry, receiving up to three $25 Ralph's gift cards a semester.
She says she often skips meals. "Trust me, there's no time to prep. I try and do the best I can," she said.
Financial help
Noyola wouldn't be at USC without financial support, either. The biggest chunk is a USC university grant, aid that doesn't have to be repaid. The rest of her tuition is supported by Cal Grants, federal grants and donations from organizations that support foster and probation youth.
Juggling parenting, a full course load and a 20-hour a week work-study job at the USC Marshall School of Business, sometimes Noyola feels like she's barely keeping her head above water.
"I just think if I was able to make it this far, I can push through," she said.
Professor Wendy Smith of the USC Suzanne Dworak-Peck School of Social Work knows Carmen and Lucero through the Guardian Scholars program, which started a few years ago to support former foster youth on campus. It can connect them to resources and offers tutoring and counseling.
She said the women, both teen moms juggling education and work, are a testament to perseverance.
"They have really not only been able to excel educationally given a kind of unstable adolescence but also being parents at an early age – it's remarkable," Smith said. "I think it speaks to their characteristics as people. They're both determined."
Feeling guilt
Carmen Noyola feels guilt — guilt for being so busy, for not being able to take Adam hiking, the thing he loves doing most with her.
"I think that's always affecting me," she said, tears in her eyes.
Lately her schoolwork is mounting. She has to maintain good grades to receive financial aid.
She worries about Adam. His dad has been in jail and Adam has had some bullying at school. She wishes she could be more of a mom.
But it's clear Noyola is a role model.
Adam runs from the kitchen to his room and goes through a cabinet, pulling out USC T-shirts of different colors and holding them up. Noyola asks about his favorite.
All of them, he says.
Adam says he wants to go to college someday, "especially the one she goes to because it's USC and it's like our whole town." He might be a paleontologist, but he's keeping options open.
When Noyola thinks about how hectic Adam's life is — and hers — it can make her emotional. But she knows they will make it.
"I just want him to have a good life — experience stuff I never got to experience. A good stable family, a secure foundation," she said, tears falling down her face. "I want him to think, 'My Mom did her best.' I want him to be proud of me."