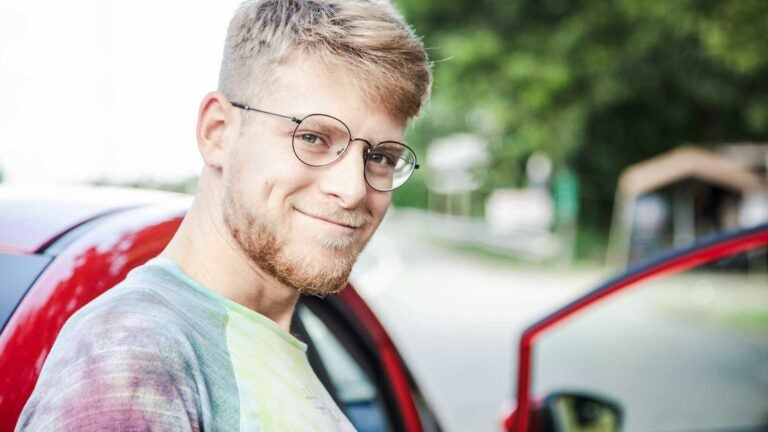 One student, three months, nine cities and a hackathon every weekend
Follow the caffeine-fueled junket of USC programmer Jonathan Grant, who hacked his way to happiness with complete strangers
Jonathan Grant, a senior studying computer science at the USC Viterbi School of Engineering, set off on his life's quest one morning last fall.
For almost three months, he lived in his car, driving across the country and spending every weekend on a different college campus. But Grant wasn't on your typical college-hopping adventure. He was competing in hackathons.
Grant meticulously planned every detail with spreadsheets and maps, admission tickets to every event and a carefully calculated wad of cash. With a formal notice of temporary leave from USC Viterbi stamped and signed, he set out on his journey. And he kept a video blog of the entire journey.
Hackathons — nonstop events where people click away in a test of collaborative computer programming, sometimes over several days — are a proving ground. Grant got a taste of the circuit in his first year of college at Hackpoly, the annual hackathon held by Cal Poly Pomona. It was there he discovered how hacking "could change your life," he said, and found his calling before transferring from Cal Poly to USC.
"I could barely code, but I had so much fun learning," he said. Now, four years later, and a lot more experienced after serious coding classes in USC's Department of Computer Science, Grant wanted to learn like he had never learned before.
Team up with total strangers
Hacking is creative problem-solving. It brings together like-minded people who want to dive head first into problems.
Groups of two to five individuals form around a project, such as building a game or creating new data visualization. Participants bring laptops, lots of snacks and caffeine, connect to power and Wi-Fi and then start working against the clock. Sometimes that clock is set for 36 hours. The victorious team wins swag and bragging rights. But the real prize is the community that is formed.
Grant formed powerful bonds with coders from across the country — strangers, and now friends, who spent three sleepless days with him toiling over a problem.
Instead of focusing on finding good programmers, I focused on who I was going to be working with.

Jonathan Grant
"Instead of focusing on finding good programmers, I focused on who I was going to be working with," he said. "I went up to people and figured 'Can I be friends with this person?'" The teams that he built as a result were so strong he was reluctant to leave them.
Grant is the first to admit that not every project is a good hackathon project. It has to be something attainable and with impact. At each event, he toyed with code to create things ranging from an app to send you Ubering on a random food restaurant exploration at the touch of a button, a virtual reality game where you punch balloons of a politician's head or an anti-cyberbullying program that turns hate messages into positive messages and cat photos.
And through the sweat, tears and yelps of success when 3 a.m. hits and everything begins working, Grant knew he found his passion over and over again. Every day was a new team, a new moment to work to the absolute limit and even win some awards along the way.
"What I learned at a hackathon is that you should think super, super high, like the coolest thing you can think of and build the worst version of it that works and then once you get there, add over it."
End of a journey
After months of traveling, sleeping in cars and parking lots and staying up through the weekend to create, Grant decided it was time to end his journey. He finished his last hackathon of the season in Illinois and returned home, marking one big item off his bucket list and documenting everything he's since learned.
Now he's expanded his dream of programming through an internship and is in the midst of his final semester at USC.
Season ended, dream fulfilled, a lifetime of friendships just beginning.
"People really motivate you and when you meet the right people and when you're happy, it's just crazy," Grant said. "But it felt like time to come home."