Dance adaptation: USC Kaufman student teachers keep kids moving through online classes
Elementary students dance like no one's watching as they step into their virtual studio, taking part in a key program that's expanding during a tough time.
https://youtu.be/EtBgCODRxvA
"We're just going to take a few bounces, step side to side," a teaching artist shouts out to an online class full of third graders from 32nd Street Elementary School in Los Angeles. "Scoop left, scoop right."
The words describe the moves, making it easy for kids to follow. Some move in sync with the instructor, while a few others bounce and some just shift side to side. One mixes dance and baseball practice, swinging a bat and swaying at the same time. Young dancers move in and out of frame.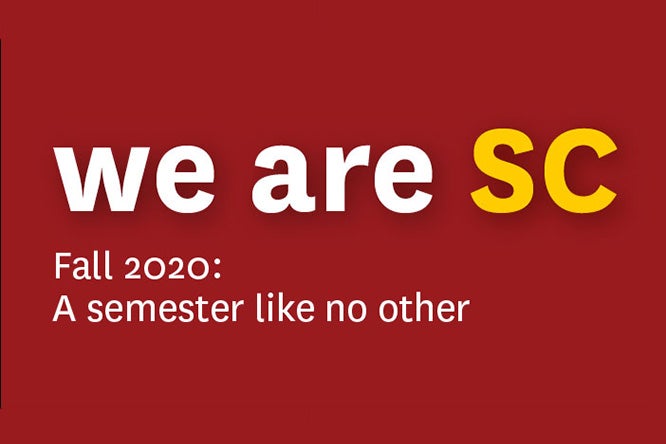 In the background are TV sets, sofas, schoolwork art hung on bedroom walls, bunk beds and microwaves — all the visual elements of home learning.
"Do we want to try that one more time, same speed or a little faster?" calls out the instructor. "Faster!" they answer, and the tempo increases.
Leading the class from an off-campus apartment is Emily Carr, a junior at the USC Kaufman School of Dance. Now 20, she started dancing when she was 2 years old and has appeared on So You Think You Can Dance.
"I've seen so much change in them," she said. "Maybe they don't even see it themselves."
Despite the pandemic, USC Kaufman virtual classrooms thrive
Carr is one of 17 USC Kaufman student teaching artists leading online classes for 32nd Street Elementary through Kaufman Connections, a community engagement initiative now in its third year. With a recently renewed grant from USC's Good Neighbors Campaign, along with support from the American Dance Movement and Arts in Action, the program has its biggest-ever cohort of teaching artists. They lead 11 virtual classrooms.
This season, Kaufman Connections added two grade levels and brought participation up to 274 kids from 32nd Street Elementary. All get an introduction to choreography with a focus on hip-hop.
"The impetus for a lot of dance — including hip-hop — is the need to connect, a need to release emotional energy whatever it may be," said Tiffany Bong, program director and lecturer at USC Kaufman. "This is where dance really shines."
Online dance classes bring energy into kids' homes
For the kids of 32nd Street Elementary, online dance classes are defying the pitfalls of remote learning. The classes bring dance directly into homes, and Carr often sees aunts, uncles, parents and grandparents join, giving cooped-up families a chance to move. Kids who are shy about dancing in front of others may feel less inhibited in their own rooms.
I've watched them grow in new ways through this.

Nikki Feldman
"I've watched them grow in new ways through this," teaching artist Nikki Feldman said. "They didn't know what to expect, and a lot of them aren't getting outside. By week 3, they had their water bottles next to them and they were ready to go."
Just as she would in the classroom, Feldman keeps a careful eye on every kid, telling one girl to remove her socks so she doesn't slip on the hardwood floor. Carr, meanwhile, continues her relentlessly positive and energetic coaching-style instruction that seems to draw even shy kids into movement.
"It's not only training for physical activity, but it's very disciplined and mentally and emotionally stimulating," Carr said. "I think it's important at this age they have the ability and the tools to better express themselves."
As the class winds down, Carr calls out her last encouragement of the day like a cheerleader:
"I am so proud of you, you picked up everything so fast! You rattled off all the movement vocabulary, even the hard ones. Give yourselves a huge round of applause!"