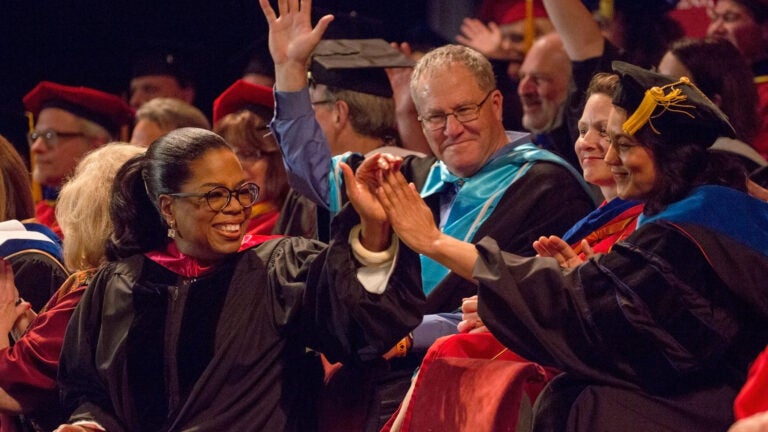 Oprah Winfrey urges USC Annenberg graduates to seek truth
"Show up, do the work, get your hands dirty," the media mogul tells a captivated crowd at the school's commencement ceremony
In a stirring speech that called on graduates to seek truth and help others, former talk show host turned media mogul Oprah Winfrey offered practical advice, shared personal anecdotes and challenged students to tackle real-world problems.
Winfrey, the veteran television journalist, Academy Award-nominated actress, media multihyphenate and philanthropist so beloved that she's better known by one name, had one question for graduates of the USC Annenberg School for Communication and Journalism at today's commencement ceremony: "What are you willing to stand for?"
That question, she told the captivated crowd inside the Shrine Auditorium, "is going to follow you for the rest of your life."
Luckily, Winfrey had an answer to it: "Put your honor where your mouth is. When you give your word, keep it," she said, wearing a black robe and a red sash. "Show up, do the work, get your hands dirty."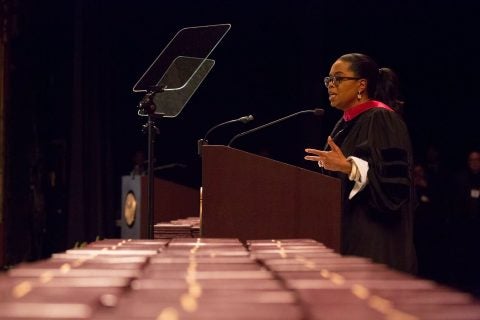 The advice was delivered about halfway through an incisive rallying cry of a commencement speech in which Winfrey, speaking for more than 20 minutes and quoting the likes of Maya Angelou, Michelle Obama and Albert Einstein, urged graduates to use their degrees to find truth, challenge cynicism and use their gifts to tell stories that make the world a better, brighter and just place.
That challenge won't be easy, Winfrey acknowledged, at a time when the internet and social media are being used to erode trust in public institutions, shorten attention spans and allow misinformation to run wild. But just as Winfrey offered an answer to her question for graduates, she also came equipped with a solution to the problem plaguing journalism in the social media era: truth.
"You will become the new editorial gatekeepers, an ambitious army of truth seekers who will arm yourselves with the intelligence, with the insight and with the facts necessary to strike down deceit," she told the more than 900 students receiving bachelor's, master's and doctoral degrees in communication, journalism, public diplomacy and public relations. "You're in a position to keep all of those who now disparage real news — you all are the ones who are going to keep those people in check."
Winfrey's words about the state of the industry and the responsibility of the graduates echoed remarks given earlier by USC Annenberg Dean Willow Bay, who said that critical and active listening has never been a more important skill than it is today. Calling the future of journalism "turbulent and exciting," Bay advised graduates to listen with compassion and empathy in a "world where so many are shouting to be heard."
Wallis Annenberg: Oprah embodies the school's ethos
Wallis Annenberg, the philanthropist and Annenberg Foundation president, chair and CEO who lent her name and vision to USC Annenberg, noted in her speech that Winfrey embodies the ethos of the school: "Telling stories that don't revolve around explosions and vulgarity, but on the struggle to fulfill our true humanity," she said. "Shining a spotlight not on those who dish out cheap sound bites by the hour, but on those who strive for something deeper, something greater."
Winfrey, who founded O, the Oprah magazine, oversees Harpo Films and serves as chairman and CEO of OWN: Oprah Winfrey Network, has become such a powerful storyteller and riveting public speaker that her Golden Globes speech in January sparked rumors that she was planning to run for U.S. president in 2020.
She didn't shy away from covering politics. She implored graduates to find and solve problems, to hold their elected officials accountable and to vote in elections.
"People died for that right," she said. "I think about it every time I vote, so don't let their sacrifice be in vain."
Though much of her speech was a rousing call to action for journalists and other truth-tellers, she also offered a great deal of common-sense advice even to those outside of the media world. Among her most practical tips for success: Eat a good breakfast, pay your bills on time, make your bed, be careful what you tweet, invest in a quality mattress and don't cheap out on your shoes.
Don't ever confuse what is legal with what is moral because they are entirely different.

Oprah Winfrey
"Don't ever confuse what is legal with what is moral because they are entirely different," she said. "Do the right thing. Especially when no one's looking."
Oprah Winfrey at USC exhorts grads to use their skills
The stirring speech met with loud cheers and applause, but Winfrey said she would've attended it even if she weren't the commencement speaker. That's because one of her "daughter-girls" — Thando Dlomo, a student from her Oprah Winfrey Leadership Academy for Girls in South Africa — is a member of the 2018 graduating class of USC Annenberg.
Referring to a degree from USC as a "privilege," Winfrey implored all of the graduates to use their skills to help others who aren't as fortunate and don't have the same opportunities.
"I wish you curiosity and confidence and I wish you ethics and enlightenment. I wish you guts," she said, adding that all of her great decisions came from trusting her gut. "I hope you shake things up and when the time comes to bet on yourself, I hope you double down."