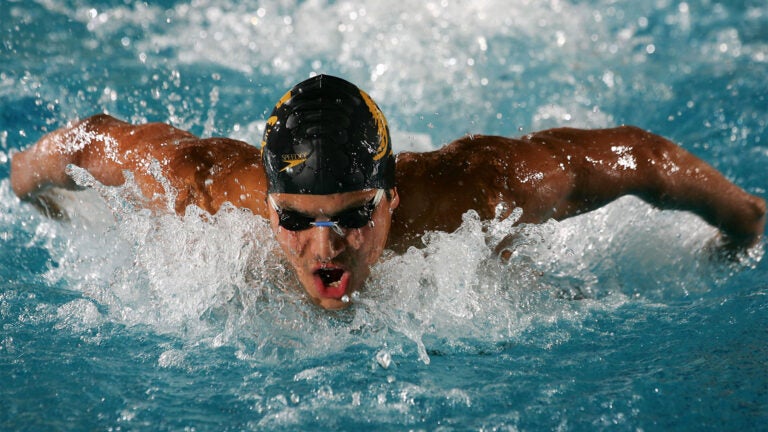 Nothing but a number: At 37, former Trojan swimmer heads into sixth Olympics
Oussama "Ous" Mellouli is one of only four swimmers in history to participate in this many Olympic Games. But before he made his name as an all-time great, he was a proud All-American at USC.
At 37 years old, Oussama "Ous" Mellouli has been an Olympian longer than some athletes in this year's Games have been alive. It's a fact he's well aware of, and something he had to take into consideration after an admittedly disappointing showing at the 2016 Games in Rio.
But the Tunisian national and former USC swimmer did what he always does after each Olympics — he evaluated and redefined his goals heading into Tokyo. He's gotten the hang of it, considering this will be his sixth Olympics, making him one of only four swimmers in history to claim such a feat.
"It's basically chasing the numbers," he said. "Can you do it again? Every Olympics has its own vibe and its own set of challenges, and I'm very blessed to still be here competing with the best in the world."
At only 16 years old, Mellouli made his Olympic debut at the 2000 Games in Sydney. As a fresh-faced swimmer more than 10,000 miles away from his home, he admitted to being in awe of the spectacle.
"I landed in Sydney and found myself in a huge Olympic Village with all these superstars, like the U.S. basketball team, and then you get into the pool and see thousands and thousands of screaming crazy fans," he said. "That was an insane adventure for a little kid from Africa to be on."
Ous Mellouli sets records at USC, leaps onto the international stage
Growing up in Tunis, Mellouli followed his older brothers' footsteps into the pool. By the time he was 15, he had become one of the top swimmers in his country, but the federation that oversaw swimming in Tunisia felt he needed to seek tougher competition elsewhere.
To prevent him from hitting a plateau in his young career, Mellouli moved to France to compete at a higher level and train for his first Olympics. He finished high school in Marseille, which is when he began looking at colleges in the United States. Wanting to swim competitively and study engineering, Mellouli's options were somewhat limited, but the desire to live in L.A. and swim for legendary coach Mark Schubert made USC the easy choice.
"USC just made the most sense for me," he said. "We had a star-studded team that I thought I would benefit from tremendously by being in the same pool training with them day in and day out."
Mellouli not only benefitted but also contributed, setting several USC records, becoming an All-American and winning an NCAA championship in the 400-meter individual medley — or 400 IM — in 2005. On the international stage, Mellouli was starting to make a name for himself as one of the best in the world, winning bronze at the 2003 World Championships in Barcelona. The gold winner that year? Michael Phelps.
After finishing fifth in the 400 IM at the 2004 Olympics in Athens, Mellouli said his feelings of disappointment helped fuel him towards the Beijing Games in 2008.
"After that, I knew I had to either win or just kind of move on with the sport," he said.
Luckily, 2008 saw Mellouli take home his first gold medal in the 1,500-meter freestyle, becoming the first Tunisian — and first African — to win a gold in swimming at the Olympics.
"After that, my life changed and I became one of the most well-known athletes for all sports combined in my home country, and the pressure was on for London [2012]," he said.
USC swimmer works through highs and lows while competing for Tunisia
Much of that pressure comes from more than adding another medal to his accolades or simply competing for his country. In early 2011, Tunisia underwent a revolution that resulted in the ousting of longtime president Zine El Abidine Ben Ali. With the resulting overhaul and democratization of Tunisia, Mellouli felt an even greater calling to represent his country.
"I really wanted to excel and show some pride for this new democracy that we're living here in Tunisia and give some success to the revolution," he said.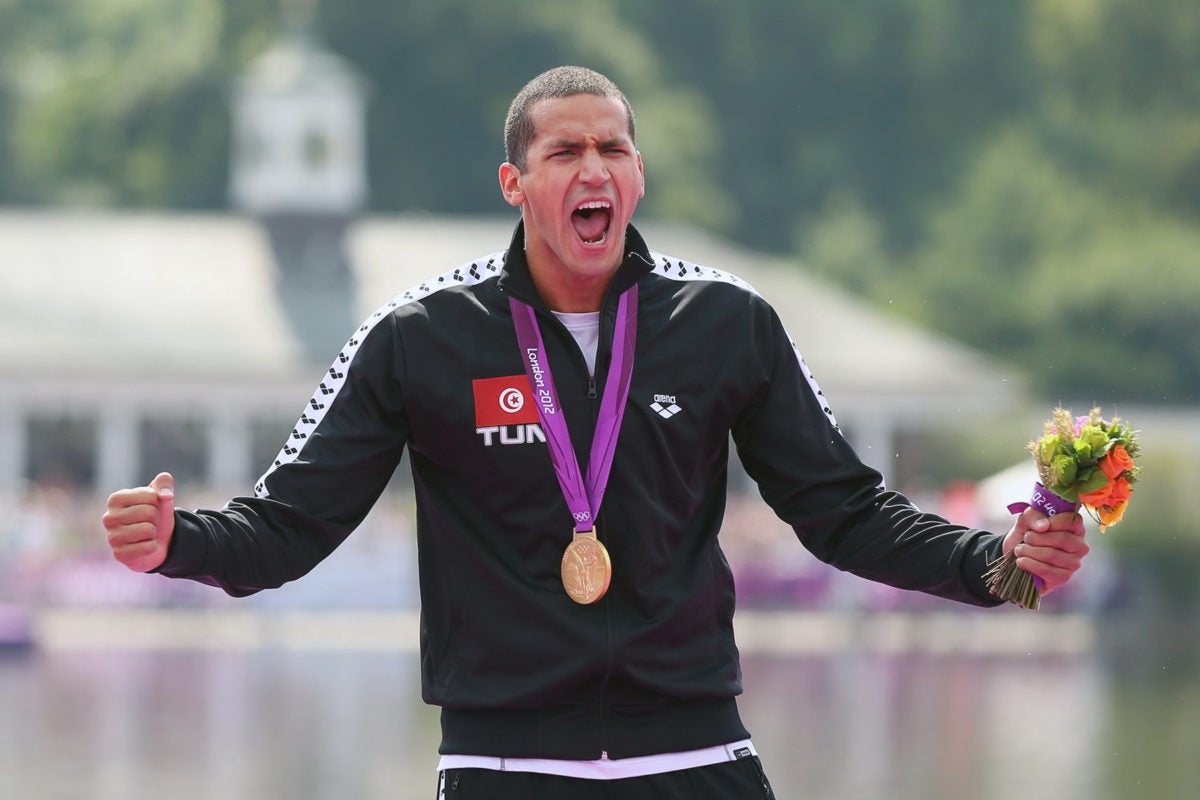 Mellouli took bronze in the 1,500-meter freestyle and gold in the 10K open water marathon, becoming the first swimmer to win medals in both pool and open water swimming events at the same Olympics.
After another gold medal in the 5K swim marathon at the 2013 World Championships, Mellouli headed into the 2016 Olympics in Rio "chasing the impossible." His goal was to stand on the podium in three successive Olympics but he fell short, finishing 12th in the 10K swim marathon. With 2020 on his radar, it was again time to re-evaluate and realign his goals and get back to work.
He'll head into Tokyo with only the 10K open water marathon on his mind. After taking the gold in 2012, Mellouli called the 10K — a grueling swim equal to 200 laps of an Olympic pool — the hardest event in swimming and potentially the hardest event in all of sport.
"I stick by that statement for sure," he said with a laugh. "It's torture for two hours. Open water conditions are very tough for that length of time and that distance, so it's a very tough physical and mental challenge."
Then why do it at this age? It's just how Mellouli operates. He's a workhorse, which is just as evident out of the pool, as he has as many degrees as Olympic medals. After graduating from the USC Viterbi School of Engineering with a degree in computer science in 2007, he went on to earn a master's in education from the USC Rossier School of Education. Most recently, he earned a degree in finance from the University of Essex in the U.K.
However, simply focusing on his work ethic only scratches the surface of Mellouli's approach to swimming, education and life in general. He still has his hobbies — yoga, traveling and spending time with family and friends — but he's not someone that needs to escape or take a break from it all, because he genuinely enjoys it all. It's an attitude that he's developed throughout his career, and it's a key factor in his longevity.
"Trying to escape it is not the way if you want to get to this level and if you want to do it for this long," he said. "I'd rather feel grateful for doing what I do, which is an amazing thing that I enjoy every single minute of."
Ous Mellouli may aim to make it a record seven Olympic Games
Mellouli's Olympic career has been the definition of a roller coaster. He's achieved the highest level an athlete could ever dream of and has also fallen short. But if there's one constant to be taken from his story, it's him — it's Ous Mellouli.
He's a legend in his home country, owning both Tunisian and African records, which gives him the unique platform to serve as an ambassador to the sport in both Africa and the Middle East. And every four years — well, five this time — for the past two decades, Mellouli has adorned his country's colors in front of the entire world. He's medaled in more Olympics than most athletes have even been to, so naturally, with the 2024 Olympics in Paris only three years away, can he be the first swimmer to appear in seven Olympic games?
"If you asked me this question a month ago, I would've been like, 'Hell no,'" he joked. "But Paris is in three years, so I think it would be cool to become the first swimmer that's been to seven Olympics.
"I always try to keep an open mind about things. I think it's good to keep a curious mind and a grateful heart. And I'm really grateful to have this opportunity to go to Tokyo and see what I can do."
Then potentially Los Angeles — Mellouli's current home base — in 2028?
He let out a big laugh: "Let's just take care of Tokyo and see what happens."