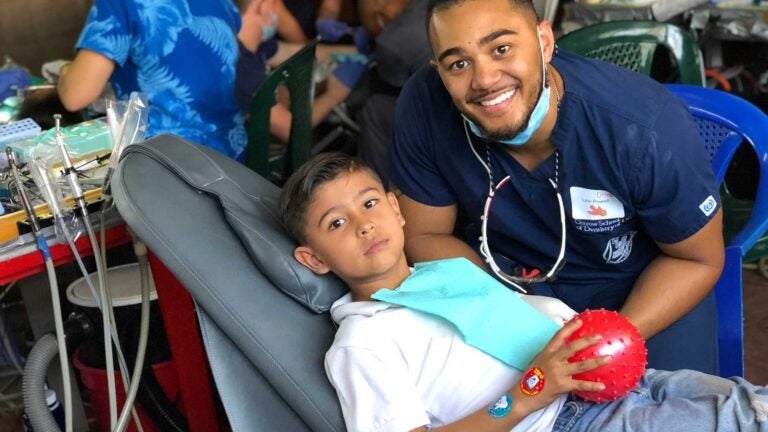 Outreach mission takes Trojans to Nicaragua to provide desperately needed dental care
Fifty students and 16 faculty members travel to a school where patients received oral surgery and more
For many students, packing up after fall semester finals means getting ready for family meals and winter vacation. For some students at the Herman Ostrow School of Dentistry of USC, it means boxing up clinical supplies for an international mission to spread smiles in developing countries.
This year, approximately 50 dental students and 16 faculty members from USC are traveling to Masaya, Nicaragua, and setting up at the Las Conchitas elementary school to provide oral health care to pediatric patients as part of the USC Dental Humanitarian Outreach Program. Led by students, with the active participation of faculty and alumni, the program provides periodontal treatment, operative dentistry and oral surgery to those who need it most.
The all-volunteer mission group includes students like Levi Powell, a DDS student whose passion for community service began as an undergraduate student at USC; he was active in fundraising for AIDS awareness and in student government, and is currently advising on new Black History Month banners to be installed on the University Park Campus in February. The Nicaragua mission is Powell's second humanitarian trip with the dentistry program, having also traveled as part of a previous mission to Guatemala.
I've always been raised with the idea that giving back to the community is really important.

Levi Powell
"I've always been raised with the idea that giving back to the community is really important," Powell said. "My parents instilled that value in me and all my siblings. And this mission was really working every aspect from the ground up — getting donated supplies, packing, carrying them to the site. I loved every minute and plan to go on missions every year to offer dental services with the school."
The annual program has been in operation since 2010, when a group of 10 dental students went on a self-financed humanitarian mission to Honduras. Over the eight years since its founding, the program has reprised a week-long mission each winter break and has served communities in Colombia, Kenya, Jamaica, the Philippines, Belize and Cambodia, providing care to more than 2,400 patients. Supplies are donated from generous alumni and supporters, and each student and faculty participant covers the cost of her or his own travel and housing.
And just as one mission comes to a close, faculty member Sunny Fereshteh will start meeting with students in January to start planning the next one, resulting in a cycle of service — and smiles — that runs year-round.