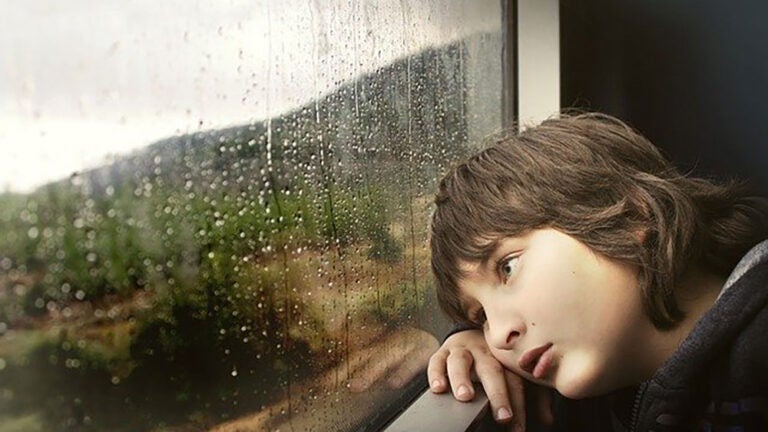 How parents can talk to their kids about COVID-19
From taking their fears seriously to finding new ways to be active together, USC experts offer insight into how parents can help their children during the COVID-19 pandemic.
To stop the spread of the new coronavirus, states, cities and towns throughout the United States and the world are increasingly calling on residents to stay at home. With approximately half the population of the U.S. under such orders, families are figuring out how to explain global events to their children while keeping them safe, healthy and active.
"For cohabiting families, 'social distancing' actually means 'enforced intimacy.' Many family members are spending more time together under the same roof, with fewer outlets for socializing and recreation," said Darby Saxbe, an associate professor of psychology at the USC Dornsife College of Letters, Arts and Sciences and director of the USC Center for the Changing Family.
In some ways, life under social distancing echoes a trend that has already been happening in modern industrialized societies.

Darby Saxbe
"In some ways, life under social distancing echoes a trend that has already been happening in modern industrialized societies. As household sizes shrink and the birth rate declines — and as families live geographically farther away from each other — more pressure gets put on the immediate family."
Saxbe's research on couples and on parents and children shows interconnected levels of the stress hormone cortisol. Family members can influence each others' emotions, behaviors and even physiology, with more strongly linked cortisol levels in families that report more conflict and relationship dissatisfaction.
"Stress can actually make us more reactive to each other and erode the quality of our relationships over time," she said.
All of that raises the question: How do parents and other primary caregivers reduce stress for the whole family during a prolonged period of social distancing?
Don't dismiss children's fears
In her research into how children respond to natural disasters like earthquakes, Gayla Margolin finds children take their cues from parents. The more that parents can convey the spirit of being able to get through unsettling and scary times, the better for children. Conversely, if parents panic, kids will follow their example.
"Parents should not undermine the reality of the situation or be dismissive of children's fears," said Margolin, a USC Dornsife professor of psychology and pediatrics and an expert on family dynamics. "Conveying specific information about how the family will cope can be reassuring."
Margolin said children should not be inundated with constant news; however, their questions should be answered in a straightforward, honest and age-appropriate fashion. Another way to maintain a sense of calm and normalcy, she said, is to continue familiar routines around meals, bedtime and other daily rituals.
Talk to children about what they're losing during COVID-19
As many working adults scramble to set up home offices while helping their children continue their education, their focus is on the practical needs of their families. But many children are left without a space to process their feelings of loss, said Julie Cederbaum, an associate professor at the USC Suzanne Dworak-Peck School of Social Work and an expert on parenting.
"Children are naturally resilient, experiencing exceptional cognitive and social-emotional growth in short periods of time," she said. "However, children are not immune to the distress of adults, and changes to their routines create strain as they also navigate the changes COVID-19 is bringing to their daily lives."
Cederbaum explained that we often think of loss as feelings associated with something concrete, like a death of a loved one. However, in reality, much of the loss that children experience has little to do with a biological death. This type of loss is called ambiguous loss.
"Many children are currently experiencing ambiguous losses, such as loss of access to friends and teachers, loss of routine and loss of experiences, like school field trips, dances and graduation events," she said. "Parents can hold space for their children's need to mourn the disruptions and losses associated with the pandemic."
Find new ways to be physically active together
With gyms shuttered and recreational youth sports canceled, finding ways to exercise can be difficult for adults and kids. However, health experts say maintaining adequate levels of physical activity is critical for physical and emotional health, and our immune system is better equipped when we're active.
"As they are working on distance learning and homeschooling, children need regular stretch and activity breaks throughout the day," said Genevieve Dunton, an associate professor of preventive medicine and psychology at the Keck School of Medicine of USC and an expert on physical activity and nutrition within families.
"Parents should encourage physical activity breaks that mirror the school schedule and last the same amount of time as those periods normally would. Also, it is important for kids to also break up long bouts of sedentary behavior with opportunities to stand, stretch and jump around," she advised.
Parents should also strive to stand up at least once per hour to stretch their legs and consider ways to be physically active with their children. Dunton suggests afternoon or nightly walks, bike rides or scootering around neighborhoods, as long as families follow public health guidelines and maintain at least 6 feet of separation from other people.
When learning goes beyond reading, writing and arithmetic
Margolin says there are opportunities in this crisis to teach children something other than what their teachers have assigned. Children will learn from what the parents do: the attitudes they convey, the resilience they display and the care they show for others.
It takes a village to raise a child. We become especially aware of that when we lose access to our villages.

Darby Saxbe
"The caring and concern that parents show for vulnerable persons provides invaluable lessons for children," she said. "If parents offer to buy groceries for an elderly neighbor or family member, or just reach out to others — for example, stopping to wave to an elderly person in a window — this can model kindness for their children."
Saxbe is hopeful that the crisis can provide an opportunity to reflect on the value of the larger society's importance to raising the next generation.
"Child-rearing has become a private, individualized choice rather than a public, collective activity," she said. "It takes a village to raise a child. We become especially aware of that when we lose access to our villages."