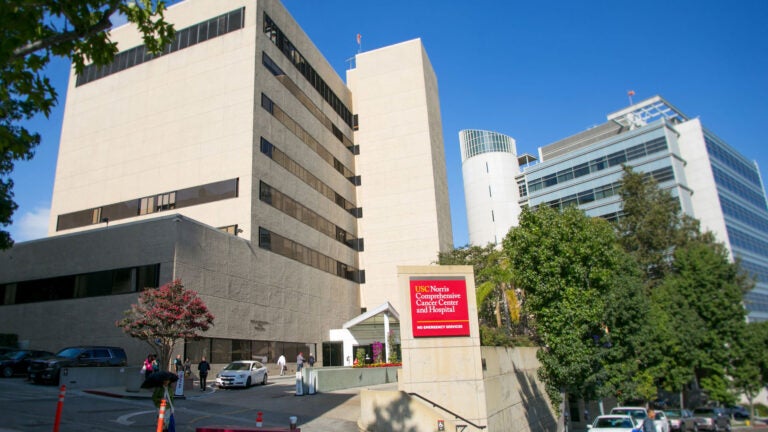 Patient boosts USC Norris gynecologic cancer research with $1.1 million estate gift
The Hilda and Bruno Haug Ovarian Cancer Research Fund will support genetic sequencing for women's cancers, among other projects
The Division of Gynecologic Oncology at the USC Norris Comprehensive Cancer Center has received a $1.1 million estate gift from a grateful former patient, establishing the Hilda and Bruno Haug Ovarian Cancer Research Fund. The funds were donated toward the research of Lynda Roman, associate professor of obstetrics and gynecology and division chief of gynecologic oncology at the Keck School of Medicine of USC. This is the largest gift the division has ever received.
Hilda Haug, who generously willed the donation, first became familiar with USC Norris while her husband Bruno was treated at the center for lymphoma. Haug spent nearly two decades as her husband's dedicated full-time caregiver, becoming highly engaged in his medical care. Shortly after Bruno passed away in 2015, Haug was diagnosed with ovarian cancer and saw Roman for treatment. Haug extensively researched her disease and found that there were limited treatment options and a general lack of information compared to other types of cancer.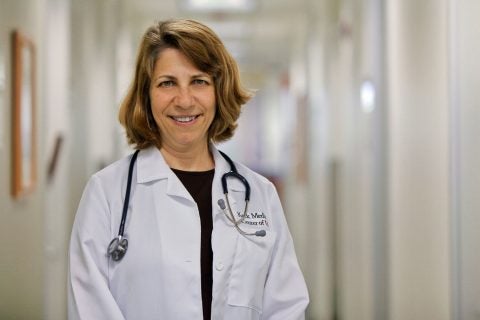 "Hilda recognized the need for more research about gynecologic cancers, and it is a great testament to her kindness that she will help make that possible for future patients," Roman said. "While I met her under unfortunate circumstances, I am grateful for the time I was able to treat her and will ensure that her legacy has an impact in this field.
An investment in ovarian cancer research at USC
Haug passed away in 2017 at age 78 and is survived by her brother. In the last few years of her life, she often spoke about how much she missed her husband and how her own cancer diagnosis made her appreciate each day all the more. In addition to the research fund, she left Roman a collection of hand-stitched embroidery, one of Haug's favorite hobbies.
About 20,000 women are diagnosed with ovarian cancer each year, according to the Centers for Disease Control and Prevention. Among women, it is the 10th most common cancer and the fifth-leading cause of cancer death. Funding for gynecologic oncology research is considerably lower than other types of cancer research. National Cancer Institute funding from the last reported fiscal year shows ovarian cancer research received only 18 percent of the total financial support received for breast cancer research. This is due to a lack of awareness of women's cancers as well as a lower incidence rate.
Ovarian cancer research looks at targets for diagnosis, treatment
A portion of Haug's donation will support Roman's research collaboration with the Institute and Department of Translational Genomics at USC. The initiative will sequence the genes of gynecologic cancer tissue in the hopes of better understanding development, prognostic indicators or therapeutic targets of the disease.
"Although breast cancer gets a lot of attention, and rightfully so, other female reproductive and gynecologic cancers exact a heavy burden on our community and the health care system," said John Carpten, professor and chair of translational genomics at the Keck School of Medicine and director of the Institute of Translational Genomics. "This gift will allow us to grow a world-class clinical translational research program focused on gynecological cancers at the Keck School.
"We will bring to bear our considerable technology and expertise in molecular profiling to make new discoveries that will arm clinicians with new tools for precision prevention, diagnosis and treatment for ovarian, endometrial and cervical cancer."
---
If you or your family would like to support research at USC Norris, learn more on the center's giving page online.