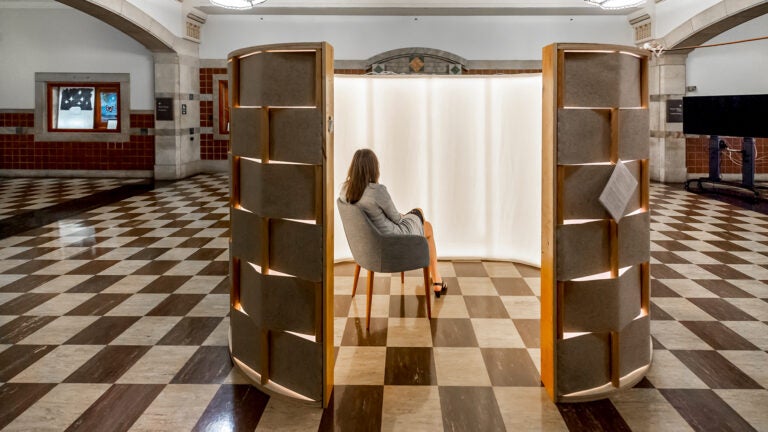 Peace Pods bring islands of serenity to USC community
The Peace Pods project, a collaborative effort of USC Arts in Action, provides solitary space for people to decompress from everyday life.
In the lower level of Doheny Library, a dimly lit cubicle stands alone in the main walkway. The semi-enclosed space embraces a single chair facing illuminated fabric walls. In the quiet of the library, the warm lighting brings an even deeper calm.
The space is called Luminescence, one of two "Peace Pods" installed earlier this month at Doheny and Leavey libraries. Designed as transitional spaces for those needing to decompress before and after therapy sessions, these USC Arts in Action projects emerged from a collaboration between the USC School of Dramatic Arts, the USC Jimmy Iovine and Andre Young Academy and Inglewood-based Open Paths Counseling Center.
Sibyl Wickersheimer, associate professor of scenic design at the USC School of Dramatic Arts, says that while these pieces might seem unusual, their purpose stands firmly within the mission of her discipline.
"They fit within that conversation of how we can use what we do as theater designers in support of the human body, in support of telling stories and communicating those stories to the world in a live experience," she said.
The project started with a simple question two years ago. With stage productions put on hiatus in 2020 during the height of the COVID-19 pandemic, Wickersheimer decided to give her set design students a different project to tackle. She approached her friend Sierra Smith, the executive director at Open Paths, and asked, "What can we build for you?"
Peace Pods: a place to transition from every life into a safe space, and vice versa
Smith explained that many of the clients they work with are marginalized women who have experienced trauma such as domestic abuse, and that there is a need for a space where they can transition from everyday life into a safe space, and vice versa.
Everybody deserves beauty in their life, and we were looking at how do we create a space that brings calm and peace.

Sierra Smith, Open Paths
"One of the things that our clinical director said early on when we started working together was that everybody deserves beauty in their life, and we were looking at how do we create a space that brings calm and peace," Smith said.
From there, Wickersheimer and her students drafted the plan for the Peace Pod project and submitted it to USC Arts in Action for funding. After the project passed the initial screening, Wickersheimer asked students from the USC Iovine and Young Academy to collaborate. The project began in earnest during the spring 2020 semeser and was completed in spring 2021.
"I think the satisfying part comes from the collaboration necessary across so many disciplines to reinvent what we think of as a spatial experience," Wickersheimer said. "Something that doesn't necessarily have performative elements to it can still perform."
While Luminescence uses light to evoke a welcoming atmosphere, The Green Experience, a three-panel design, reminds the user of the calmness of nature.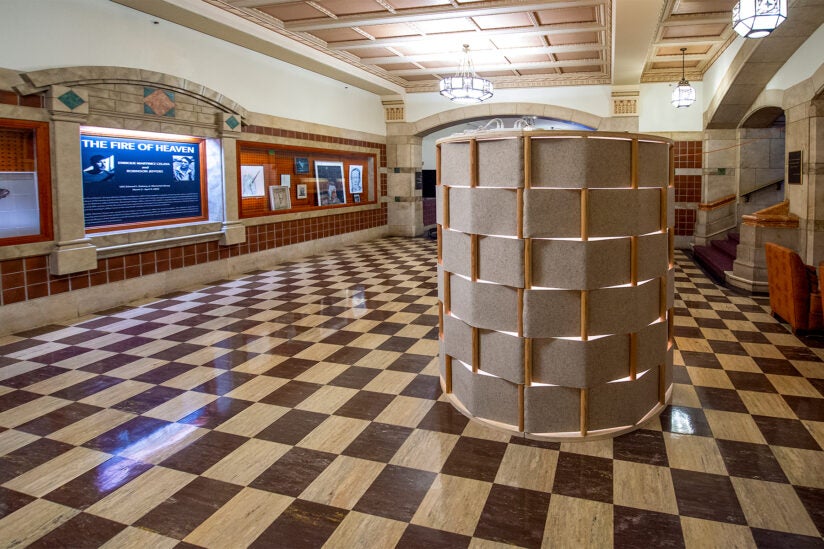 Senior Lily Lou Lundine, a technical direction major, worked on The Green Experience pod from its inception. As a survivor of domestic abuse herself, she found the project extremely therapeutic.
"At first I was nervous that it was going to be too much because I have PTSD from my abuse," Lundine said. "I thought it was going to be too triggering for me, but it actually ended up being amazing, and I almost can't describe how glad I am that I stayed on the project."
A space for connection: USC Arts in Action collaborative projects
The actual design process for the project was filled with trial and error. Lundine tried to give The Green Experience the most realistic feeling possible, so she grew moss and other plants to incorporate into the design — only to realize they weren't feasible.
"I cared for this moss for like a good month, and it quickly became obvious that it was not going to work out — it died," Lundine joked.
She turned instead to her skill with textile art to provide The Green Experience with a realistic look and feel. "I hope people know how much love was put into each and every detail," Lundine said.
Even after their completion, circumstances delayed the debut of the Peace Pods. Open Paths elected to not renew its lease in Culver City, and went completely online. So outside of a small showing last spring, the pods stayed in storage for about a year until they were brought out to the two USC libraries April 1. Since then, both Smith and Wickersheimer said they've seen people using the pods, as well as leaving inspiring messages on the chalkboard integrated into The Green Experience, currently in Leavey Library.
"It became a tool for connection in a way that I don't think we anticipated," Smith said. "It's sort of a novelty, but even a positive novelty can act as a connector."
The two pods will stay on campus until May 9, when they will be relocated to their permanent home at the new Open Paths facility in Inglewood. But even with the pods' relatively short stay at USC, all three women hope that the spaces were able to provide a little comfort to anyone who happened to pass by.
"In a world where we're on Zoom so much, transition spaces are actually very difficult to come by," Wickersheimer said. "We need to be able to give ourselves a moment in between things in order to be thoughtful humans, so I hope that has been articulated through this process. And I hope that somewhere that's what students and faculty alike get out of seeing these spaces — remembering to give yourself a moment between things, for necessary restoration or reflection."