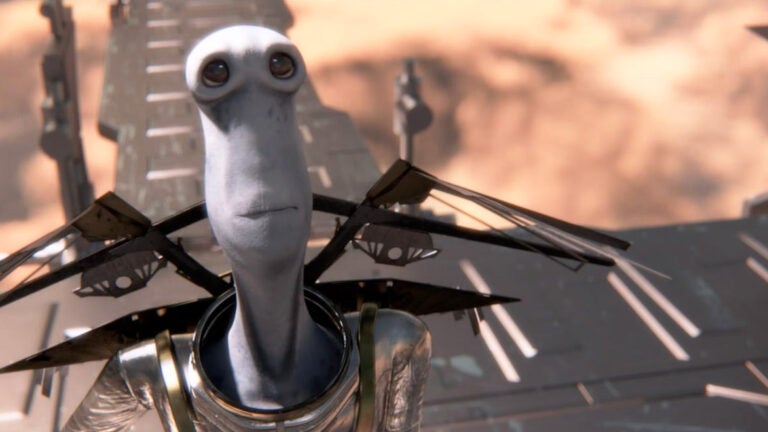 12 years in the making, alumnus' animated film premieres
USC alum uses his own money to complete the intergalactic tale
Twelve years ago, Eric Law Anderson '01 started a complex and intense short animated film, The Looking Planet, at the USC School of Cinematic Arts.
After graduating with a Master of Fine Arts, followed by many stops and starts and investing $50,000 of his own money, the 17-minute film was finished a few weeks ago. On April 26 at 1:15 p.m., it will premiere at the Newport Beach Film Festival as a testament to his persistence, artistry and the encouragement of Kathy Smith, chair of the John C. Hench Division of Animation and Digital Arts.
"This is the hardest thing I've ever tried to do in my life," Anderson said.
He is no novice at quality animation, as one of his student films, Horses on Mars, was accepted at Sundance and other festivals worldwide, winning a number of awards.
The Looking Planet was much more complicated. It is a computer-animated film that uses motion capture and compositing software. It's an intergalactic tale, "translated from the cosmic background radiation," as its tagline states, about engineers who are constructing the universe, grow tired of their work and follow a new path toward fulfillment.
"Eric has a wonderful sense of storytelling, creating universal stories through science, art and philosophy," Smith said. "His writing connects with you on a profound level."
And, she said, he is one of the most dedicated students the division has ever seen.
"When I came as a visiting scholar and had access to the labs, I would see him there 24/7," Smith said. "His work involves motion capture — 3-D animation integrated with visual effects in addition to writing. And he's a problem-solver, with a wonderful combination of artistry and innovation."
When he started the project, motion capture was at a rudimentary level. In 2007, after Anderson had finished a writing job at Columbia Pictures and moved to producing animation for an aerospace company, he contacted USC about coming back and working on The Looking Planet with the more sophisticated motion-capture equipment then available.
Smith didn't hesitate to say yes. It took him less than a day with the help of digital systems manager Eric Furie to reshoot what he had spent many days doing years earlier.
After a failed Kickstarter campaign, Anderson completed the film with his own money, getting help from about 10 freelancers along the way.
"It turned out to be a much bigger project than I thought, but it feels really great to be done," he said. "I owe Kathy a lot. I walked away from it more than once, and she felt I should do this."
The Looking Planet also will be shown at the Hollywood Chinese Theatres, 6925 Hollywood Blvd., at 5 p.m. on June 4 as part of the Dances With Films festival.