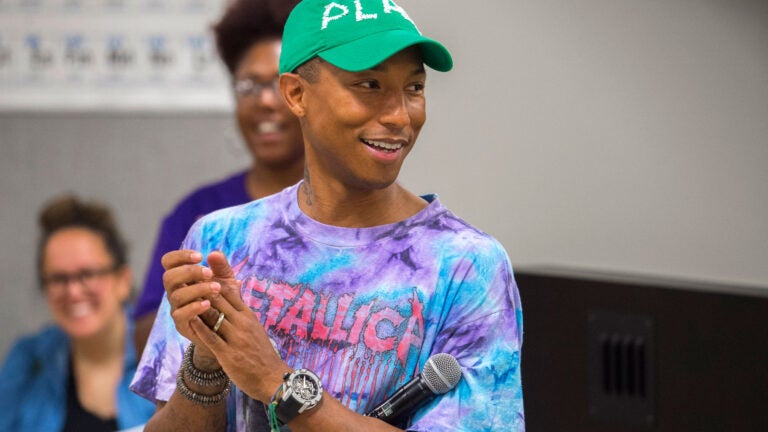 Pharrell Williams brings 'happy' message to South L.A. youth at USC
The musician encourages South Los Angeles kids to pursue their passions as participants in a nationwide literacy program
More than 100 South Los Angeles youngsters — from third graders to high school graduates — crammed into a USC lecture hall, their eyes transfixed on the speaker.
Clad in a tie-dye Metallica tee and flower-embroidered jeans, he wasn't a typical lecturer.
Pharrell Williams, the musician behind the hit song "Happy," took to the lectern on Monday to inspire his audience to reach for the stars.
"Use your strength and your weaknesses for success," Williams said. "We become a slave to our weaknesses. Take that insecurity to fuel you."
A heartfelt message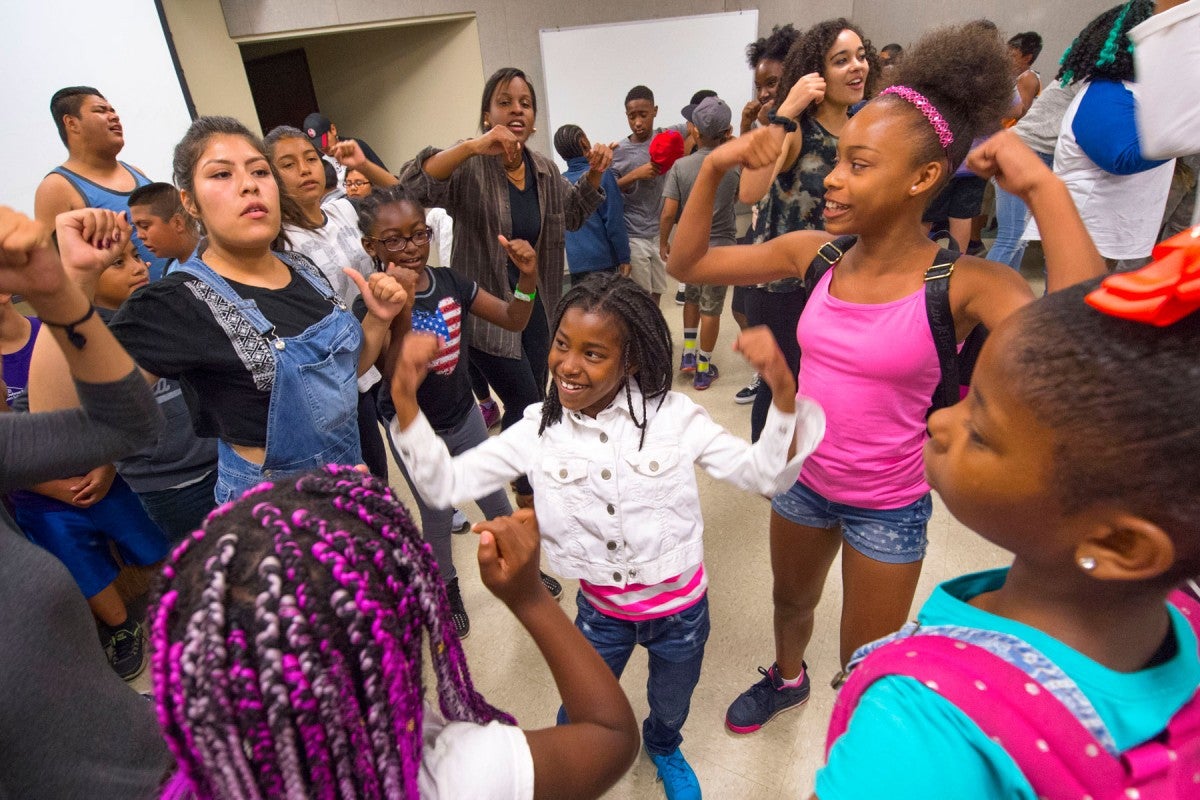 He also talked about pursuing passions.
"If you can take whatever that hobby is … if you can find a vocation connected to it, you'll never work a day in your life," he said.
The message was poignant for the youth, part of Freedom Schools, a nationwide literacy program for African-American and Latino kids from low-income families. Many come from neighborhoods where the median income is under $35,000, according to USC research.
Williams answered the questions of the kids, took pictures with them, and watched them sing and dance.
He's the inspiration
Amara Abdullah, a 9-year-old girl with a side ponytail, said he inspired her.
"He really supports that you can be what you want to be as long as you try really hard," she said. "You should have no shame in what you are or what you look like."
Williams, a Virginia native, didn't grow up in South L.A. but likely learned a lot about it as executive producer of the 2015 film Dope, which told the story of boys growing up in Inglewood struggling to make a better future for themselves despite the crime around them.
Williams said he heard about Freedom Schools through Star Wars director J.J. Abrams, who is also speaking to the kids this summer.
We need this. This is a goodwill investment for the future.

Pharrell Williams
"I just want to continue to do my part as much as possible," Williams said. "We need this. This is a goodwill investment for the future."
Freedom Schools' seven-week program aims to bump reading grade levels in just a summer. The South L.A. contingent, made up of Los Angeles Unified School District students, is organized and funded by the Community Coalition, an organization focused on transforming South L.A. It's one of 132 such programs across the United States and is part of the Children's Defense Fund.
This year, the Neighborhood Academic Initiative and El Centro Chicano at USC partnered with Community Coalition to host Freedom Schools.
"This is a concrete example of what USC can do to build ties with South L.A. community organizations like Community Coalition who have done award-winning work on education reform, youth organizing, civic engagement, and so much more," said USC Professor Manuel Pastor, who has done extensive research on South L.A. as director of the USC Center for the Study of Immigrant Integration. Pastor is a professor of sociology and American studies and ethnicity at the USC Dornsife College of Letters, Arts and Sciences.