Poll: Biden leads the Democratic field ahead of debates, but many are undecided
The latest USC Dornsife/LA Times national poll also shows it's early in the race as many Democratic primary voters are switching candidates.
Also, today: Tune in for a Facebook Live with USC political experts (Monday, July 29) at 11:30 a.m. PST as they discuss the 2020 Election.
Contact: Emily Gersema, (213) 361-6730 or gersema@usc.edu; or Jenesse Miller, (213) 810‑8554 or jenessem@usc.edu
Former Vice President Joe Biden still leads the large Democratic field, but many Democratic voters have not settled on a candidate, according to a national USC Dornsife/Los Angeles Times poll released Monday.
Biden currently leads with 28% of Democratic primary voters, followed by a three-way tie between U.S. Sens. Bernie Sanders (I-Vermont) with 11%, Elizabeth Warren at 10% and Kamala Harris (D-California) at 10%. One quarter of voters remain undecided.
A nearly equal number of voters are undecided as back Biden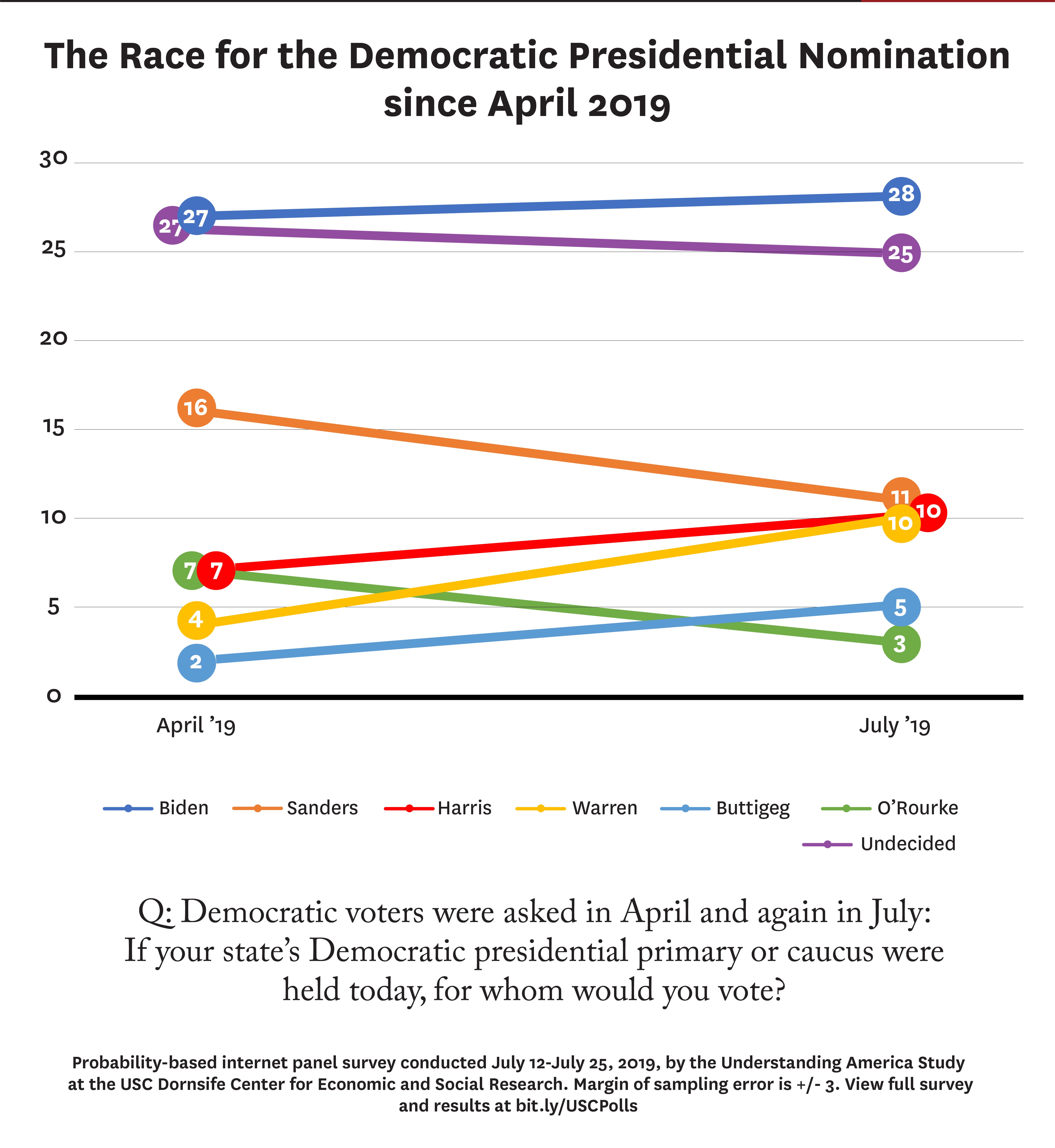 "What's holding Biden up is the perception that he can win," says Robert Shrum, director of the USC Dornsife Center for the Political Future, which operates the poll. "Fifty-five percent of the Democratic voters think he has the best chance to win against Trump."
Shrum and the center's co-director, Mike Murphy, say that Biden made some missteps in the Florida debate last month when Harris attacked his record on segregation and busing and he did not counter.
Harris gained some voters in the period since the last poll was conducted in April, the poll indicates. Murphy says the next round of debates this week could help or hurt Biden, depending on what transpires.
"He's got the opportunity for a rematch" this week, Murphy says. "If he's doddering, despite his fundamental selling position as the guy who can take on Trump, then I don't think he's going to make it to Christmas. But we don't know. He's got to show us."
The Best Chance Against Trump?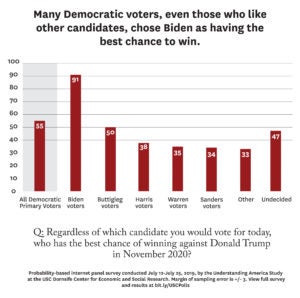 When presented with the entire field of candidates, more than half of Democratic primary voters chose Biden as having the best chance of winning. This includes roughly a third of Harris, Sanders and Warren supporters who indicated that they thought Biden, not their own candidate, has the best chance to win.
Only Sanders' supporters were significantly more likely to pick their own candidate than Biden. Roughly as many Harris supporters chose Harris as chose Biden (with margin of sampling error), but all others were most likely to choose Biden.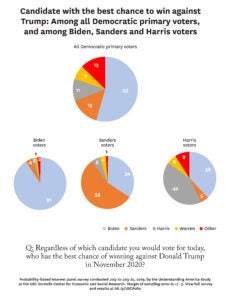 Voter churn
"The poll's finding that roughly half of voters chose a different candidate last April compared to now is another indication of the fluidity of this race in advance of the second round of debates," Darling says. "The vote looks quite different among those who are still making up their mind, compared to
those whose choice—or lack of it—has been stable since last spring. No matter how you look at these numbers, it is clear that many voters are still making up their minds."
Biden leads by 2-1, followed by Sanders among voters who chose the same candidate in April as in July. However, support for both Biden and Sanders drops and support for other candidates rises among the voters who changed their preferred candidate since April.
Shrum says the churn is a sign that it's still very early in the race.
Murphy says that while Harris gained some support after the Florida debates, "this is the tail not the dog. The debates do shake up the race, but wait until the first contest. That's the tidal wave that really shakes things up."
The Iowa caucuses are the first primary in the nation, and they will be held on Feb. 3, 2020.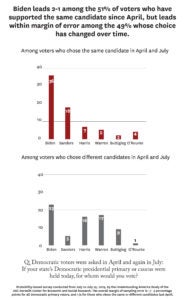 Methodology
The poll was conducted from July 12-July 25,2019, with 1,827 Democratic primary voters participating. Of those, 1,520 had participated in the April poll.
The voters are members of USC Dornsife's Center for Economic and Social Research's Understanding America Study (UAS) probability-based internet panel.
The poll was conducted online in respondents' choice of English or Spanish. The overall margin of sampling error is +/- 3 percentage points for all Democratic primary voters and +/4 for those who chose the same or different candidates last April.
Information about the poll including methodology, question wording and results, as well as the archive of results of prior USC Dornsife/LA Times polls, are available online at bit.ly/USCPolls
About the poll
The USC Dornsife/LA Times poll is a partnership of The Los Angeles Times and two institutions of the USC Dornsife College of Letters, Arts and Sciences: the Center for the Political Future and the Center for Economic and Social Research. For more information about the Center for Economic and Social Research Understanding America Study internet panel, visit https://uasdata.usc.edu.