Poll: Marijuana, ban on high-capacity ammo among ballot measures with wide CA support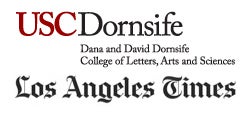 The latest USC Dornsife/Los Angeles Times poll also found Republican voters are largely disinterested in the Senate race between two Democrats, voters are split on the state's death penalty, and Clinton has a wide lead over Trump in early voting.
Contact: Emily Gersema at (213) 361-6730 or gersema@usc.edu or or Alexandra Bissonnette at (213) 740-3161 or bissonne@usc.edu
A majority of California voters support state ballot measures that would legalize recreational use of marijuana, bar possession of high-capacity ammunition, and shorten prison sentences for non-violent offenders, according to the latest USC Dornsife/Los Angeles Times statewide poll results.
The poll, conducted Oct. 22-30, showed that 58 percent of likely voters back Proposition 64, which would legalize marijuana use for adults 21 and older. An equal percentage of likely voters support Prop. 63, to require a background check on anyone purchasing high-capacity magazines and to establish procedures for enforcing laws barring certain individuals, such as felons, from possessing a firearm.
And 57 percent of likely voters support Prop. 57, which would shorten sentences for non-violent offenders and would allow juvenile court judges to determine whether a minor could be prosecuted as an adult.
Younger voters appear to be the strongest supporters of those measures. The strongest support to legalize recreational marijuana use comes from 74 percent of likely voters aged 18 to 29, compared to 46 percent who are 64 and older. The ammunition restrictions are supported by 72 percent of likely voters aged 18 to 29, compared to 59 percent of voters aged 64 and older. Prop. 57 for prison sentencing reform is backed by 67 percent of likely voters aged 18 to 29, versus 52 percent of likely voters aged 64 and older.
"Even while choosing between two of the oldest candidates for president in American history, the youngest generation of California voters are beginning to make their mark on state politics and public policy, said Dan Schnur, director of USC's Jesse M. Unruh Institute of Politics. "It's clear that millennials see these types of issues in a much different way than their parents and grandparents. If these trends continue, California will see a pronounced shift in these policy areas in the years to come."
Death penalty
While most Californians favor prison sentencing reform, they are split 44 percent in favor to 45 percent opposed on the proposed repeal of the death penalty, Prop. 62, which would sentence prisoners currently on death row to life without parole. Eight percent of the voters don't know how they feel about it, 2 percent have refused to answer the question, and 1 percent said they did not vote on the issue.
Along party lines, the measure is supported by 59 percent of Democrats and opposed by 63 percent of Republicans.
"There is a group of people who have core religious or moral issues with the death penalty," said pollster Anna Greenberg of Greenberg Quinlan Rosner Research, part of the bipartisan team of polling firms that conducted the latest USC Dornsife/Los Angeles Times poll. "That is true for people on both sides."
Many voters also are uncertain about Prop. 66, which would shorten the state's appeal process for offenders who are on death row and exempt prison officials from regulations for developing execution methods. While 42 percent of likely voters oppose the measure and 35 percent support it, 19 percent said they don't know. Another 3 percent refused to answer the question and 2 percent said they did not vote on it.
Along party lines, 45 percent of Democratic voters opposed the measure while 31 percent support it. Among Republicans, 40 percent are in favor vs. 36 percent opposed.
"The problem you have with Prop. 66 is it has pretty confusing ballot language," said pollster Randall Gutermuth of the firm American Viewpoint.
US Senate race
The race to succeed the retiring 24-year congresswoman, U.S. Sen. Barbara Boxer, D-Calif., is between two Democrats, Attorney General Kamala Harris and U.S. Rep. Loretta Sanchez. Overall, 48 percent of likely voters said they will vote for Harris, compared to 31 percent for Sanchez. Seven percent were undecided, 6 percent said they won't vote, 5 percent said they want someone else to fill the seat and 3 percent refused to answer the question.
Harris draws strong support from Democrats — 63 percent said they will vote for her vs. 28 percent for Sanchez. Sanchez has a slight edge over Harris among Republicans, 32 percent to 27 percent.
Sanchez also has an advantage over Harris among Latinos, 52 percent to 36 percent. However, Harris has strong support from whites, 51 percent vs. 27 percent for Sanchez; from African-Americans, 66 percent vs. 18 percent, and from Asian Americans, 47 percent vs. 24 percent.
Schnur said Sanchez could have a chance to close the race if she had a coalition of Latinos and Republicans, but that would have been challenging.
"It's not impossible to put together a coalition between Republicans and Latinos in California, but there's simply no precedent for it in modern political history," said Schnur.
In California, the two candidates garnering the most votes in the primary advance to the general election — regardless of party affiliation. The "top two" system was implemented before the 2012 election.
The latest poll results indicate a strong disinterest in the race among Republican voters: 16 percent said they will not vote for any candidate to succeed Boxer and 13 percent said they will vote for someone else.
Presidential race
Democratic presidential candidate Hillary Clinton leads Republican candidate Donald Trump 58 percent to 33 percent among likely voters in a two-way race in California. She leads him 54 percent to 30 percent in a four-way race that includes third-party candidates Gary Johnson (libertarian) who draws 4 percent, and Jill Stein (Green Party) who draws 3 percent. Four percent said they are undecided, 2 percent refused to answer and 2 percent said they won't vote.
Among Californians who already submitted their ballots, Clinton leads Trump 60 percent to 26 percent.
In the four-way race, whites in California support Clinton 48 percent to 36 percent, African-Americans 78 percent to 10 percent, Latinos 66 percent to 16 percent, and Asian-Americans support her 61 percent to 24 percent.
Among white men, Clinton leads Trump 48 percent to 35 percent and among white women, she leads 48 percent to 38 percent. Latino men back Clinton 63 percent to 17 percent, while Latino women support her 68 percent to 15 percent.
"There's not actually much of a gender gap," said Greenberg. "She's doing better among white men. But she's definitely not improving among uneducated white men."
Non-college educated whites back Trump 44 percent to 39 percent. Whites with a college education support Clinton 54 percent vs. 31 percent for Trump.
Clinton has strong support among Latinos regardless of their education level. Latinos who are college educated support her 69 percent to 16 percent while those who have no college experience back her 64 percent to 15 percent.
Asked to choose two categories that best describe their concerns about a Clinton presidency, 33 percent of voters said that she isn't "honest and trustworthy," 28 percent said she "has been involved in scandals and controversy" and 23 percent said "her associations with Wall Street and big money." Seventeen percent said they have no concerns, followed by 13 percent who said she represents the Washington establishment.
Voters' top concerns about Trump include his "temperament or recklessness" as president (30 percent), followed by his "lack of political experience and knowledge" (28 percent), "his style of demeaning groups like veterans, minorities and disabled people" (25 percent), and his comments about women and allegations of sexual assault (23 percent).
Fourteen percent of voters said that he only looks out for himself. An equal percentage said they have no concerns about him.
Methodology
The USC Dornsife/LA Times poll is a survey of 1,500 registered voters with a margin of error of +/- 2.3 percentage points at the 95 percent confidence level. Additional poll results and methodology are available here.
About the USC Dornsife College of Letters, Arts and Sciences/Los Angeles Times Poll: The USC Dornsife/Los Angeles Times Poll is a series of statewide public opinion polls in California, designed to survey voter attitudes on a wide range of political, policy, social and cultural issues.
Conducted at regular intervals throughout the year, the USC Dornsife/Los Angeles Times Poll is the largest statewide poll of registered voters and has been widely cited, helping to inform the public and to encourage discourse on key political and policy issues.
About the Jesse M. Unruh Institute of Politics: The Jesse M. Unruh Institute of Politics is dedicated to bridging the academic study of politics with practical experience in the field. The Unruh Institute channels its efforts by offering courses in applied politics, a variety of speaker series, and an extensive political internship program. Its goals are to engage public officials with the USC community and to facilitate the discussion of relevant issues across campus.
About USC Dornsife College of Letters, Arts and Sciences: The USC Dornsife College of Letters, Arts and Sciences is the heart of the university. The largest, oldest and most diverse of USC's 19 schools, USC Dornsife is composed of more than 30 academic departments and dozens of research centers and institutes. USC Dornsife is home to approximately 10,000 undergraduate and graduate students and more than 750 faculty members with expertise across the humanities, social sciences and sciences.
About the Los Angeles Times: The Los Angeles Times is the largest metropolitan daily newspaper in the country, with a daily readership of 2 million and 3 million on Sunday, and a combined print and interactive local weekly audience of 4.5 million. The fast-growing latimes.com draws over 10 million unique visitors monthly.
# # #