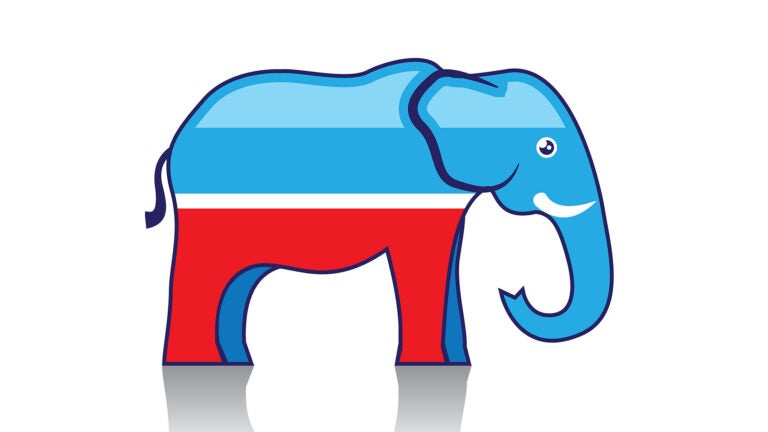 USC Dornsife/Times Poll: Trump leads among California Republicans, with Cruz close behind
"There may be a ceiling on his support," poll director Dan Schnur says of the front-runner
With the California primary less than three months away, Donald Trump leads among registered Republican voters in the state with Ted Cruz a close second, according to the latest USC Dornsife/Los Angeles Times Poll.
When asked to choose from a list of Republican candidates for whom they would vote if the presidential election were held today, 37 percent of Republicans said they would support Trump while 30 percent said they would support Cruz. Twelve percent said they would vote for John Kasich.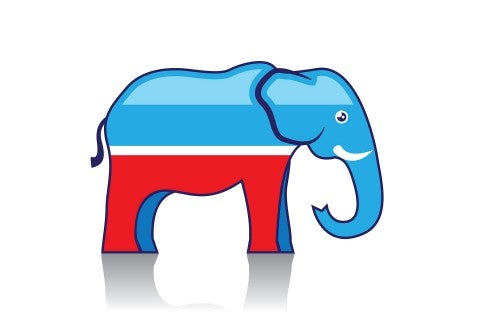 Some voters remain on the fence or prefer other candidates: 9 percent of registered Republicans said they will vote for another candidate while another 9 percent were undecided.
"Donald Trump is still the Republican front-runner, both in California and nationally, but it appears that there may be a ceiling on his support," said Dan Schnur, director of the USC Dornsife/LA Times Poll and director of USC's Jesse M. Unruh Institute of Politics. "About 35 to 40 percent of primary voters are strong supporters of his candidacy, but there is still great resistance among the majority of Republicans."
If Trump wins the nomination at the Republican National Convention in July, 42 percent of registered Republican voters in California would offer him their "enthusiastic support." He draws tentative support from 27 percent who would "reluctantly vote for him," but another 27 percent said they would "refuse to vote for him."
Violence at Trump rallies
When asked to choose from a group of statements the one that best reflects their views on the recent violence at Trump rallies between his supporters and protesters, 54 percent of all likely voters said Trump is encouraging violence with his rhetoric, while 22 percent said protesters are interfering with Trump's right of free speech and inciting violence.
Another 19 percent said that the violence occurred in just a few small incidents and that the media blew it out of proportion. The remaining 5 percent either refused to answer, didn't know or didn't agree with any of the statements.
The likely voters then responded to a question about what should be done about the violence at Trump's rallies. Most – 65 percent – said that Trump should tone down his rhetoric because he is worsening divisions in American society. But 27 percent said Trump should continue speaking out because the country's problems are too serious to worry about offending people.
Four percent disagreed with those statements and 1 percent agreed with both. Three percent refused to answer or didn't know.
Immigration
Trump has been outspoken on issues of immigration and refugees from Middle Eastern countries. When asked whether they support Trump's proposal to ban Muslims from entering the United States, 72 percent of voters said they oppose the idea while 22 percent support it.
All of the registered voters polled were asked about their views on what to do about immigrants who live in the country illegally.
A majority – 65 percent – said they believe the immigrants should be allowed to stay and work in the United States and eventually apply for citizenship. Another 14 percent believe they should be allowed to stay and work but could not apply for citizenship, and 16 percent said the immigrants should have to leave the country. Five percent didn't know or refused to answer.
When asked about Trump's views on dealing with Mexican immigration and the border, 68 percent said they oppose his views and 28 percent said they support them. The voters were also asked whether they favor or oppose an increase on security at the Mexican border to keep out illegal immigrants. Sixty percent were in favor of it and 35 percent opposed the idea.
When asked about Trump's proposal to build a wall on the Mexican border to keep out undocumented immigrants, 66 percent of all registered voters said they oppose it and 31 percent said they support it.
"These are the types of things that have kept Trump from expanding his support base," Schnur said. "If he does become the Republican nominee, the fact that so many GOP voters are unenthusiastic or opposed to his candidacy will be a huge obstacle in the general election."
Favorability
Kasich was the only Republican candidate viewed favorably overall: 38 percent of voters had a favorable view of him versus 30 percent unfavorable. Among whites, 46 percent were favorable versus 31 percent unfavorable. Among Latinos, 29 percent were favorable versus 26 percent unfavorable.
When asked about Cruz, 57 percent of voters viewed him unfavorably versus 29 percent favorably. Among whites, 61 percent viewed him unfavorably versus 30 percent favorably. Among Latinos, 46 percent viewed him unfavorably versus 31 percent favorably.
Regarding Trump, 73 percent of all likely voters viewed him unfavorably versus 23 percent favorably. Among whites, 67 percent viewed him unfavorably versus 29 percent. Among Latinos, 87 percent have an unfavorable view of him versus 9 percent favorable.
Poll participants were also asked about their views of President Barack Obama. Overall, 65 percent viewed him favorably versus 33 percent unfavorably. Among whites, 56 percent viewed him favorably versus 43 percent unfavorably. Among Latinos, 78 percent viewed him favorably versus 19 percent unfavorably.
California registered voters were asked whether they felt very favorable, somewhat favorable, somewhat unfavorable or very unfavorable to the candidates – or whether they hadn't heard enough about them to say.
The latest USC Dornsife/LA Times Poll, the largest statewide survey of registered voters, was conducted March 16-23, and includes a significant oversample of Latino voters as well as one of the most robust cellphone samples in the state. The full sample of 1,500 voters has a margin of error of +/- 2.8 percentage points. Additional poll results and methodology are available online.
---
About the USC Dornsife College of Letters, Arts and Sciences/Los Angeles Times Poll: The USC Dornsife/LA Times Poll is a series of statewide public opinion polls in California, designed to survey voter attitudes on a wide range of political, policy, social and cultural issues.
Conducted at regular intervals throughout the year, the poll is the largest statewide poll of registered voters and has been widely cited, helping to inform the public and to encourage discourse on key political and policy issues.
About the Jesse M. Unruh Institute of Politics: The Unruh Institute of Politics is dedicated to bridging the academic study of politics with practical experience in the field. The Unruh Institute channels its efforts by offering courses in applied politics, a variety of speaker series, and an extensive political internship program. Its goals are to engage public officials with the USC community and to facilitate the discussion of relevant issues across campus.
About USC Dornsife College of Letters, Arts and Sciences: USC Dornsife is the heart of the university. The largest, oldest and most diverse of USC's 19 schools, USC Dornsife is composed of more than 30 academic departments and dozens of research centers and institutes. USC Dornsife is home to approximately 10,000 undergraduate and graduate students and more than 750 faculty members with expertise across the humanities, social sciences and sciences.
About the Los Angeles Times: The Times is the largest metropolitan daily newspaper in the country, with a daily readership of 2 million and 3 million on Sunday, and a combined print and interactive local weekly audience of 4.5 million. The fast-growing latimes.com draws over 10 million unique visitors monthly.