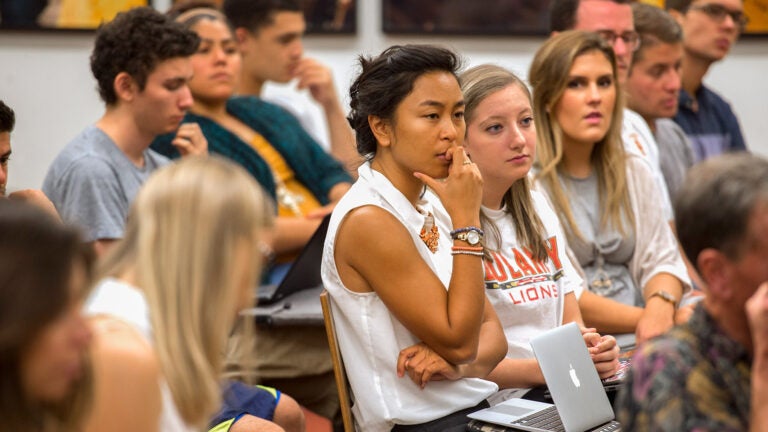 Post-election panel offers students answers, support
Tuesday's election brought anxiety and uncertainty to some students, many of whom had just voted for the first time
For some USC students, like many people around the country, the unexpected upset in Tuesday's presidential election brought anxiety and uncertainty — and for many students, it was their first time voting.
In response, the USC Jesse Unruh Institute of Politics brought together a panel of political and legal experts for a post-election discussion Wednesday about "What Comes Next."
"Regardless of how you voted, we want you to feel comfortable participating in this conversation," Dan Schnur, director of the Unruh Institute at the USC Dornsife College of Letters, Arts and Sciences, told the roughly 100 students in attendance. "And for those upset by the outcome, we want to offer some guidance."
Clare Pastore, USC Gould School of Law professor, said that policy was much more important to her than personality.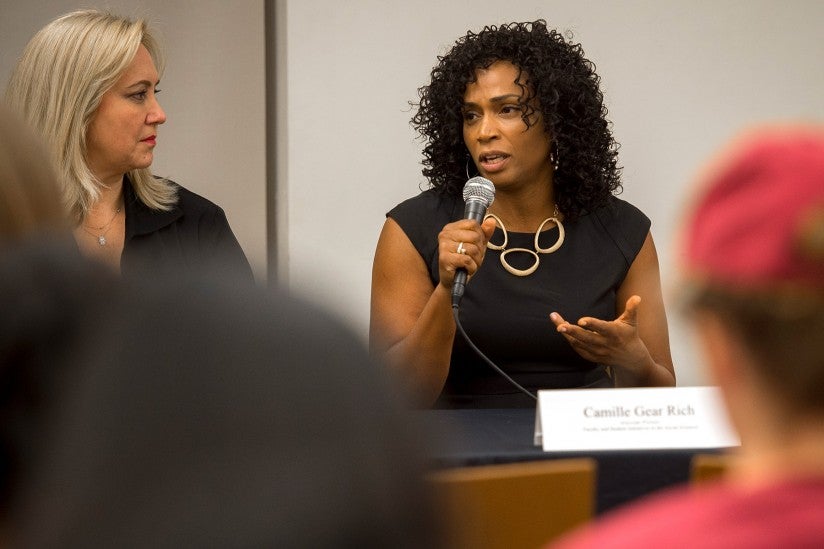 "I'm startled like many of you that the nation would find Donald Trump presidential," Pastore said. "But I'm a lot more worried about all three branches of government with agendas that threaten the federal safety net for some of the most vulnerable people in our society."
She told students, however, that progressive policy was not at a dead end.
"California is very different than the rest of the nation, and it has the power to do many things at the state level," she said. "And in terms of the future, if only 18- to 25-year-olds voted in this election, Donald Trump would have only won five states."
Immigration implications
USC Gould Professor Niels Frenzen talked about the implications for Deferred Action for Childhood Arrivals (DACA), which offers certain undocumented immigrants with legal status.
"Immigration is one area where the president has a lot of authority, and Trump has indicated that he will eliminate DACA," Frenzen said . "The question is, what happens to the 700,000 people who signed up for this program? I don't think he will come after them because there is a lack of resources."
Panelist Margita Thompson, vice president for communications for California Resources Corp., urged students to seek common ground with those who hold different views.
"On social media, you have confirmation bias because your feed is filled with those who think like you," she said. "And when you equate things you disagree with to being evil, it has a silencing effect. But there is an opportunity to form unexpected alliances."
Talking back
Schnur noted that technology has allowed us to talk back to power and organize with like-minded people, but it also has an insulating effect.
"We are a divided country. You have one person watching Fox and another, Comedy Central, one Huffington Post and another, Hannity," Schnur said. "We're not just disagreeing; we're having two completely different experiences of reality."
Schnur reminded students that they could take active role in the political process.
"It's worth remembering that you have the ability to stand up, in a peaceful and respectful way, and have a profound impact on policy," he said. "And if there's an injustice you see in society, find an organization making a change in that area."
USC junior Isaias Benavides said the panel offered him some solace.
"As one of those distraught voters," he said, "tonight had a calming effect."