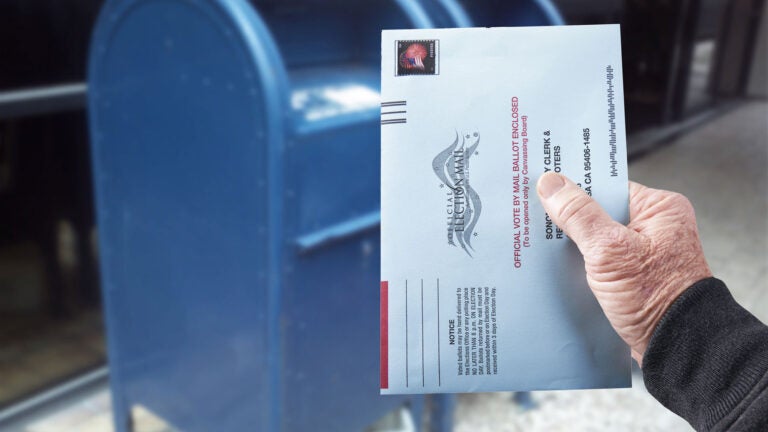 Postal Service and voting by mail under fire as 2020 election looms
USC experts address President Trump's unfounded claims that voting by mail leads to fraud while noting genuine issues that the Postal Service must address regarding mail-in ballots.
Neither snow nor rain nor heat nor … political standoff?
The U.S. Postal Service, normally a low-profile agency, has become a political football during the 2020 presidential election. President Donald Trump has repeatedly claimed that voting by mail is rife with fraud at a time when some states are expanding the practice amid the COVID-19 pandemic.
Crowded polling stations and waiting in lines for hours would pose increased health risks during a time when the pandemic will coincide with flu season.
The debate over voting by mail reached a peak in mid-August with increasing reports of controversial Postal Service initiatives, including canceling services, restricting overtime and removing mail-sorting machines and collection boxes. Petitions to "save the post office" sprang up online, and #SaveTheUSPS began trending on social media.
In response to the public outcry, nearly two dozen states announced plans to sue the Postal Service and Postmaster General Louis DeJoy. The USPS swiftly announced that it will pause several changes until after the November election, but it wasn't enough to halt demands that DeJoy testify before the U.S. Senate and House committees about how the agency will prepare for the influx of mail-in ballots during the November election.
Does voting by mail open the door to fraud?
According to a Pew Research Center analysis of census data, the share of voters who cast ballots via mail-in methods increased nearly threefold between 1996 and 2016 — from 7.8% to nearly 21%.
What's more, "there isn't widespread evidence that voting by mail is fraudulent," said Franita Tolson, vice dean for faculty and academic affairs and a professor of law at the USC Gould School of Law.
Tolson, along with other voting experts and election officials, disputes Trump's claims that voting by mail leads to fraud, pointing to safeguards that states use to protect the authenticity of absentee ballots.
"The National Council of State Legislators, which is a bipartisan group, has information about how each state verifies absentee ballots. Voters have access to information that can put to rest some of the concerns they have, and it will go a long way to ensuring the legitimacy of the fall election," she said.
Mail voting is now widespread, and there is no evidence of fraud.

Robert Shrum
A recent Washington Post analysis of data collected by three vote-by-mail states — Colorado, Oregon and Washington — found 372 possible cases of double voting or voting on behalf of deceased people, out of about 14.6 million votes cast by mail in the 2016 and 2018 general elections — a tiny 0.0025% of votes.
"To be clear, this is the first election cycle when we will have people voting by mail in these numbers," Tolson said. "States are underfunded and don't have the apparatus in place to accommodate that, but that is a separate issue than saying the system itself is rife with fraud or any more insecure than voting in person."
Robert Shrum, director of the Center for the Political Future at the USC Dornsife College of Letters, Arts and Sciences, agreed: "We have been using mail voting in America since at least the Civil War, when Union soldiers cast their ballots by mail. Mail voting is now widespread, and there is no evidence of fraud."
But Tolson said the unprecedented demand for mail-in ballots is cause for other concerns.
"My single biggest concern is the ability of the states to handle the volume of the mail-in ballots that will be received because they are underfunded. There are issues with the post office and with the delivery of mail, and that suggests there may be problems in November," she said.
"My second concern is the misinformation that may come out between Election Day and when we finally have a winner. Traditionally, we have announced the winner on election night. But because a lot of voting will take place by mail, it is entirely possible that it will be days or weeks before we know who actually won."
In California, voting by mail is embraced by all parties
"Even among his political base in California, President Donald Trump will find few allies in his fight against voting by mail," said Mindy Romero, director of the Center for Inclusive Democracy at the USC Price School of Public Policy.
"Historically, there has not been significant partisan disagreement over voting by mail in the Golden State. Republicans, Democrats and independents alike have used it more and more over the decades and are now embracing the option especially strongly in the midst of the COVID-19 pandemic. It is one of the few issues in our state that brings the parties together, rather than divides them."
Romero said that as California's counties and secretary of state administer what she calls "an election like no other," it will be important to develop plans to allow a safe, secure way to vote in person.
"While most voters want to cast a ballot that has been mailed to them, many of those who still prefer to vote in person are among our state's historically underrepresented populations," she said. "Making our electorate truly representative requires providing safe voting sites along with the mail ballot option."
Postal Service changes could pose risks to seniors
Experts on older adults say seniors may be more reliant on the Postal Service — and on voting by mail — than other groups, due to their enhanced risk for COVID-19.
"I would imagine older adults are reluctant to show up for in-person voting. Given the combination of their risk and what we now know about transmission dynamics, this is perfectly reasonable on their part," said Jennifer Ailshire, an assistant professor at the USC Leonard Davis School of Gerontology and a USC Dornsife assistant professor of sociology and spatial sciences.
I would imagine older adults are reluctant to show up for in-person voting.

Jennifer Ailshire
Ailshire, an expert in health and aging in communities, said that mail-in ballots are the best option to avoid disenfranchising older voters. And, she added, there's another reason to consider the impact of changes like removing local collection boxes.
"One thing that occurred to me with the removal of neighborhood mailboxes — including the one in my neighborhood — is that this also effectively removes the opportunity for older adults to get a walk in while running an errand and dropping off mail," she said.
Will the changes at the Postal Service result in a backlash?
"Crippling the post office to hinder mail-in ballots would delay prescriptions, Social Security checks and veterans' benefits and trigger a political backlash," Shrum said. "It's a losing tactic designed to depress the vote in the time of COVID."
But, he warned, the controversy is "just another warning sign of a stormy election season and a fraught battle if the defeated candidate refuses to concede."