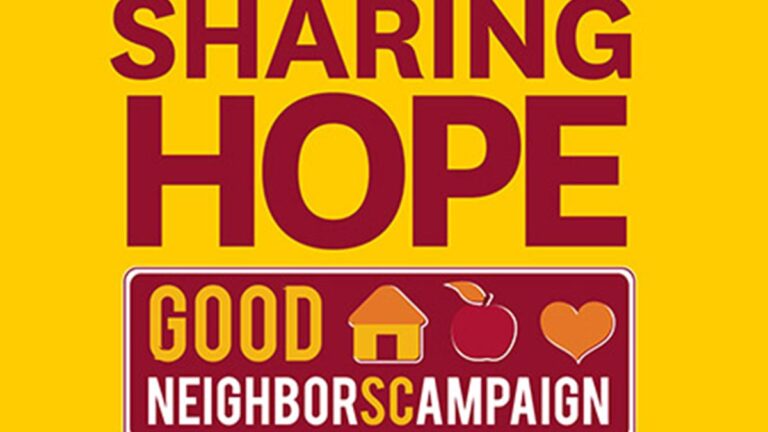 President's Leadership Circle honored for giving back to the community
The circle — USC faculty and staff members who pledged at least 1% of their salaries to the university's Good Neighbors Campaign — has helped nonprofits stay up and running during the COVID-19 pandemic.
The President's Leadership Circle — USC staff members and faculty who donate 1% or more of their salaries to the university's Good Neighbors Campaign — was honored Thursday at a virtual dinner. The campaign supports a variety of local nonprofits, and its funding has been critical to help many groups continue to provide programming amid the COVID-19 outbreak.
"Tonight is all about gratitude. I'm feeling gratitude to all of you for believing you can bring about positive change, even in a pandemic," USC President Carol L. Folt said. "This year, in the face of the pandemic, all of you stepped up again, both faculty and staff, with some of you actually giving more than 1% of your salaries."
Folt spoke fondly of the programs funded by Good Neighbors grants, including Kaufman Connections, which has pivoted its program virtually to introduce dance performance to over 270 children from 32nd Street Elementary School.
Donation from President's Leadership Circle helps fund necessary nonprofits during COVID
In a challenging year, the Good Neighbors Campaign is expected to contribute close to $1.2 million in the next grant distribution cycle to help vital programs operate.
One such program is the Boys and Girls Club of Ramona Gardens, which used grant funding to provide Wi-Fi hot spots and counseling services for youth residents. For high school freshman Elsie Cordero, those resources are vital.
"Growing up, I've had many challenges and obstacles," she said. "I had to deal with my father being deported and taken away from our home, which was very traumatic for me and my family. The club staff and mentors have helped me cope with this experience and overcome my depression and isolation."
Cordero expressed gratitude for the grants that have allowed her club to stay open, as they continue to fuel her own desire to give back to the community. She has aspirations of going to law school and becoming an immigration attorney.
Good Neighbors Campaign inspires local residents in ways big and small
Good Neighbors-supported programs have an impact that often goes beyond USC's campuses to reach a younger generation. Kendall Work, a junior at the USC Viterbi School of Engineering, said his work with the Building Opportunities with Teachers in Schools (BOTS) program has allowed him to change students' perspectives on STEM opportunities.
"Another great aspect of my job is introducing computer science and engineering careers to the elementary students," he said. "I get to explain what an engineer is and what they do while showing them that anyone can be one.
"This is especially important to me, given that most students in the BOTS program come from backgrounds that are underrepresented in STEM fields." He proudly shared that his work in the community and with the BOTS program has led to a career opportunity with Microsoft.
Above all, the Good Neighbors Campaign funds programs that continue to provide hope and opportunities to local residents.
"This is our community," Folt said, "and Good Neighbors does not happen without all of you."